Living in fear: Youth trapped by Albania's vendetta
Blood feuds between families in the country's mountainous north dating back to the 15th century spares no male in a family
They lead a life clouded by misery, often robbed of the opportunity of going to school — and the fear of being killed is a daily reality.
These are the children living under the shadow of the so-called Gjakmarrja vendetta.
AFP met several youngsters living in dread of falling victim to Albania's blood tradition — feuds between families in the mountainous north dating back to the 15th century that spare no male in a family capable of holding a weapon.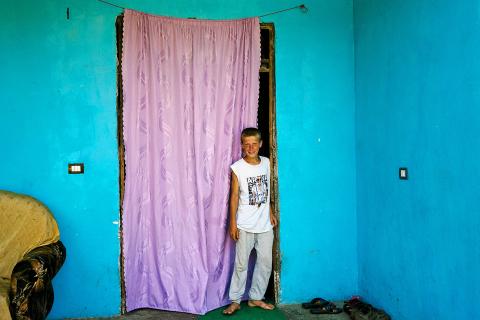 Albert, an 11-year old Albanian boy, standing at the entrance of his home near the town of Shkodra last month.
Photo: AFP
The boys spoke out about their plight close to Shkodra — a town 90 km north of the capital Tirana on the border with Montenegro.
Klevis, 13, said he wants to be a doctor while his brother Albert, 11, aspires to be Albania's justice minister.
Marcel, 13, wants to be a singer and Taulant (not his real name), 13, dreams of being a footballer. But despite their lofty ambitions, none of them is able to go to school, join football clubs or learn music. Their families are "bloodied", explained Klevis, trapped in the cycle of death and vengeance which is their heritage.
Klevis, Albert and Marcel are part of the same extended family forced to hide in their spartan homes, awaiting attack by so-called "Gjakes" — an unknown assassin. They could be attacked tomorrow, or never — simply because they are all related to a man who killed another person in a dispute about a stream in 2010.
"[They] could be the killers of tomorrow," said Gjin Marku, who promotes reconciliation between families for local organizations. The Gjakmarrja, or blood feud, has its origins in the 15th century "Kanun," or social code, set up to regulate everyday life in medieval Albania.
It has detailed rules for blood feuds which state that when someone is killed, the victim's family can take revenge not only against the killer himself but all males of the extended clan.
The families of those involved in a blood feud live "in the knowledge that they will be killed or they must kill," said the mayor of Shkodra, Voltana Ademi.
But Marku doesn't hold the Kanun code responsible for their plight, instead laying the blame at the door of the country's authorities.
"When the institutions don't work, when the judicial system is failing, these people aren't finding solutions to their problems," he said.
'DAMAGE ALBANIA'S IMAGE'
Albania is particularly susceptible to traditional vendetta culture after its authoritarian, one-party state gave way to near anarchy in the 1990s.
That sowed the seeds for the spread of "Gjakmarrja" feuds as a means of settling disputes. The government ombudsman responsible for tackling blood feuds, Igli Totozani, agrees that crimes stemming from them are not just "a question of tradition."
The authorities are reluctant to publicize numbers of those affected by blood feuds for fear of tarnishing Albania's reputation as it continues in its bid to join the EU.
"Where the state is absent, vendetta replaces it," said Totozani. "We damage Albania's image by acting as if the problem doesn't exist."
An estimated 66 families with 157 people including 44 children remain in hiding, according to an official report on the issue published in April.
Some 57 of the families live in or around Shkodra and complaints to police or officials are rare, said the report. Marku, the expert involved in defusing blood feud violence, says there has been a steady decline in the phenomenon but estimated that some 190 children are still affected — with as many as 80 deprived adequate schooling because of it.
Others put the toll far higher, but accurate statistics are hard to come by because of fraudulent claims for asylum by those using the threat of blood feud violence as a ploy to secure refugee status abroad.
Whatever the true scale of the problem, the threat is very real in a country where, according to recent estimates, more than half a million firearms are in circulation.
'DIFFICULT TO FORGIVE'
Liliana Luani is a teacher who volunteers to help homeschooled students trapped by Gjakmarrja.
The father of Taulant, one of the students she visits, became a convicted murderer in 1995 following a "quarrel," according to Luani.
He has been hiding in a mountainous area with his two oldest children, aged 16 and 17.
Two or three times a month, Taulant ventures out to go to school.
He blushed when asked about the signet ring on his finger, saying that he had made "a female friend" there.
But he too will one day have to join his father and older siblings in hiding in the mountains.
"The Gjakmarrja weighs heavily on us," said Taulant's mother.
Marcel's sister Maria Quku, 16, was fatally shot in front of her younger brother in June 2012 by a gunman who may have been targeting her grandfather, who they were visiting at the time.
Maria's only crime was that she was the cousin of the man who killed another person in the dispute over a stream, in 2010. Her mother, Manushaqe Quku, 40, only learnt of her death when her husband asked her to pick out clothes to dress their daughter's body ahead of the funeral.
She lives at the end of a rocky track in a desolate house where photos of Maria cover the walls. Her husband was an obvious target and no longer lives in the house.
Their first son Marian is in hiding elsewhere but Marcel remains, eking out a meager existence from the small strip of land around their house.
Marcel refuses to go to school and his mother has forbidden him from swimming in the lake that lies 200 meters from their home.
"I know that it will make the boy introverted, but I'm really scared," said Manushaqe.
"Our family is completely lost," she cried, demanding to know who killed Maria. "It is very difficult to forgive."
Comments will be moderated. Keep comments relevant to the article. Remarks containing abusive and obscene language, personal attacks of any kind or promotion will be removed and the user banned. Final decision will be at the discretion of the Taipei Times.