FOOD & DRINK: Tiger's milk: a versatile concoction
American chefs have been increasingly adopting the Peruvian staple, which really has nothing to do with striped felines
The raw tuna dish at Son of a Gun, a seafood-focused restaurant from the empire-building Southern California chefs Vinny Dotolo and Jon Shook, can make a strange first impression. Customers have compared it to a brain.
"When it comes to the table, you just see this orb of tuna," Dotolo said.
What lies beneath that red piscine drapery is a flirtatious dalliance between Mexico and Peru. There's the crunch of tortilla chips and the pillowy softness of avocado chunks — not quite guacamole, but close.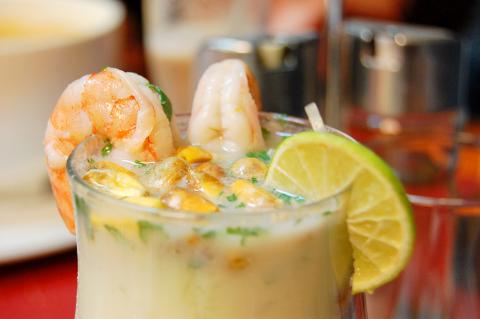 Tiger's milk is served in a glass in many Peruvian restaurants.
Photo courtesy of Carlos Varela/creative commons
"I'm always stressing to the cooks not to overmash the avocado," Dotolo said.
The real wallop of flavor, though, comes from the chefs' take on leche de tigre, or tiger's milk, a staple of Peruvian cuisine.
Leche de tigre, like pesto or a barrel-aged cocktail, is one of those tricks of cooking in which a bunch of ingredients magically fuse into a new singularity of flavor.
Traditionally, leche de tigre refers to "the juices of ceviche," said Diego Salazar, a Peruvian food writer. It's the milky liquid left over after marinating raw fish: a beguiling blend of ingredients like citrus and chilies and onions that have been transmuted by a touch of the sea.
"Once cooks started making ceviche in a modern way, meaning cutting the fish and marinating it for a couple of minutes before serving it, they didn't have the milky juices anymore, so they had to produce them," Salazar said.
Now the liquid is often made on its own, sometimes with fish stock. In Peru, or in Peruvian restaurants around the US, it is customary to complement a meal with a cooling, energizing swig of leche de tigre. (The roaring name is no accident. According to folklore, tiger's milk qualifies as an aphrodisiac.)
"What people used to do was transfer the juices from the plate to a glass and drink it," Salazar said. "You can still see people doing that in restaurants. Given it was so popular, some restaurants started selling it as a dish."
By now, there are too many variations on (and uses of) leche de tigre to count, and young American chefs seem to be increasingly captivated by it. You can find it incorporated into a michelada and at least a couple of regular menu items at Llama Inn, a Peruvian restaurant in New York City.
At Cafe Henrie, a new spot on the Lower East Side in New York City, the chef Camille Becerra (whose family roots are in Cuba and Puerto Rico) has developed a version of leche de tigre that serves as a marinade for poke, the raw tuna dish associated with Hawaii.
At Son of a Gun, Dotolo and Shook create their leche de tigre without the fish. Instead, they vacuum-seal orange juice, a touch of lemon juice, garlic, serrano chilies, cumin, onions and mint, and let the flavors merge over time. The rest of the dish comes together a la minute: the avocado is mashed, and a chunk of yellowfin tuna is sliced and pounded thin. The chips and other ingredients are placed in a bowl with a pool of the tiger's milk at the bottom.
"We treat it like a vinaigrette, almost," Dotolo said. On top go a sprinkle of Maldon salt and a splash of olive oil.
The dish may look weird, but it's the bright combination of flavors that truly takes customers aback. "I'm always trying to get people to eat it with a spoon," Dotolo said. "I love when things look like nothing — and explode."
Comments will be moderated. Keep comments relevant to the article. Remarks containing abusive and obscene language, personal attacks of any kind or promotion will be removed and the user banned. Final decision will be at the discretion of the Taipei Times.