Art by the sea
Envisioning the Future of Our Oceans seeks to raise awareness about the importance of caring for our oceans through environmental installations
The second annual Keelung International Marine Art kicked off last weekend with eco-friendly installations dotting the picturesque Keelung Port in the area surrounding the National Museum of Marine Science and Technology. The exhibition's opening coincides with the 130th anniversary of Keelung City's founding and World Oceans Day, which is today, and aptly aims to raise environmental awareness.
"Art preach[es] environmental awareness in a softer way," says curator Jane Ingram Allen.
As Allen and I talked, I watched the waves lap against the grass-covered cliffs and rain clouds settle onto Turtle Island (龜山島).
Patrick Demazeau, A Good Blow of Brush to Clean the Ocean (2016).
Photo: Dana Ter, Taipei Times
Allen says that the artists, who hail from seven different countries, were putting the final touches on their installations when I visited last week. Allen has been making and curating environmental art since she first came to Taiwan in 2004 from the US state of Alabama.
This year's exhibition, Envisioning the Future of Our Oceans, continues last year's theme of educating the public on the importance of caring for the world's oceans, which seems especially apt, given the March oil spill in New Taipei City's Shimen District (石門).
Allen says that although considerable work remains before marine life will be adequately protected, she is happy that the Keelung community is involved in the effort.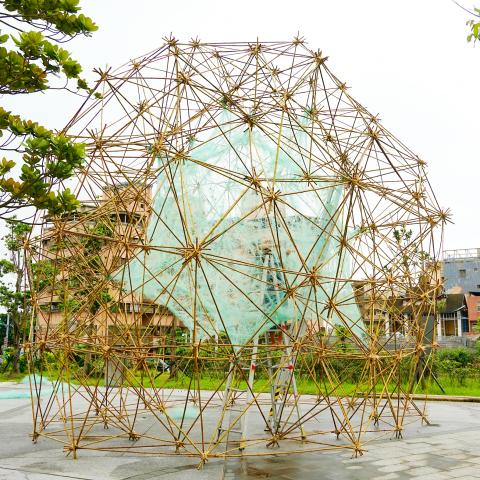 Piotr Wesotowski puts the final touches on his installation, Inside Outside (2016).
Photo: Dana Ter, Taipei Times
This year has seen a greater number of volunteers and students from local schools helping the artists collect materials and set up their installations.
"It's a long and subtle process," Allen says.
OCEAN SIZE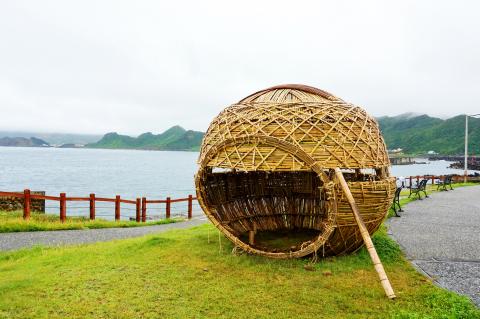 Tsuneo Sekiguchi, Keelung Rainbow Hut (2016).
Photo: Dana Ter, Taipei Times
Three artists thematically incorporate the world's oceans into their art. German artist Regine Neumann's sculpture of an iceberg, Just the Tip of the Iceberg, is made from bamboo and old bedsheets that nearby hostels had planned to throw away.
While Tip of the Iceberg reminds viewers of the dangers of sea level rise, Steve McPherson alludes to the negative impact plastic waste has on our ecosystem.
McPherson's Markers consists of 46 flags each of which represent the estimated 46,000 pieces of plastic litter per square mile (18,000 pieces per square kilometer) in the world's oceans.
"We're surrounded by plastic," McPherson says .
Catalan artist Ester Fabregat touches upon similar issues of consumerism in her installation, Keelung Air Swimmers. Her billowing kite-like creatures made out of colorful plastic bags (which she calls "air swimmers") affixed to bamboo poles serve a dual purpose: they are a memorial to seafarers who have died at sea, while also reminding viewers to be mindful of the impact of plastic on the environment.
"Their spirits are flying around," Fabregat says of the seafarers.
CONTEMPLATIVE SPACE
Back on shore, Taipei native Lee Yi-shiuan (李怡萱) and her crew of volunteers affix layers of straw and bamboo to thatched mud huts to create her installation Sea Creature Gods.
The mud huts allude to Taiwan's traditional way of building homes, though in Lee's artwork, each hut is inhabited by a different sea creature — sea turtles, whales, crabs — and each one teaches us something about taking care of the ocean.
Japanese artist Tsuneo Sekiguchi invokes history and mythology with his spherical Keelung Rainbow Hut, a quirky take on huts built by ancient peoples, except that his has a rainbow wall created by sunlight reflected off recycled mirrors placed in a pool of water.
Sekiguchi built his first rainbow hut in India in 1989, and has been erecting them around the globe ever since. Sekiguchi says that his work on the huts has caused him to see the world differently — not in terms of categories such as ethnicity or nationality, but how our interactions with nature define us as human beings.
Rounding out the architecture theme, Polish artist Piotr Wesotowski's meditative dome-like sculpture Inside Outside, made from bamboo and covered with translucent turquoise fishing net provides a space for viewers to think about how they interact with their surroundings.
The exhibition runs until Aug. 31, after which materials used in the installations that are not biodegradable will be brought to a recycling center in Keelung.
Publication Notes
Exhibition notes
What: Envisioning the Future of Our Oceans
Where: National Museum of Marine Science and Technology (國立海洋科技博物館), 367 Beining Rd, Keelung City (基隆市北寧路367號)
When: Until Aug. 31
Admission: Free
On the net: artproject2016.nmmst.gov.tw
Getting there: Take the train from Taipei Main Station (台北火車站) to Ruifang Station (瑞芳車站), and transfer from Ruifang to Haikeguan Station (海科館車站)
Comments will be moderated. Keep comments relevant to the article. Remarks containing abusive and obscene language, personal attacks of any kind or promotion will be removed and the user banned. Final decision will be at the discretion of the Taipei Times.