Too good for his own good
Born into poverty, Master Wan talks about his relationship with the old pottery town of Yingge and how he has established himself as a potter making quality "pear skin" teapots
Yingge Town Artisan
Pottery stores along Yingge Old Street (鶯歌老街) no longer sell teapots made by Tseng Tsai-wan (曾財萬) these days.
"They're too expensive. A single teapot fetches up to NT$70,000 these days," he says, gesticulating with his hands and sending one of the teapots crashing to the ground.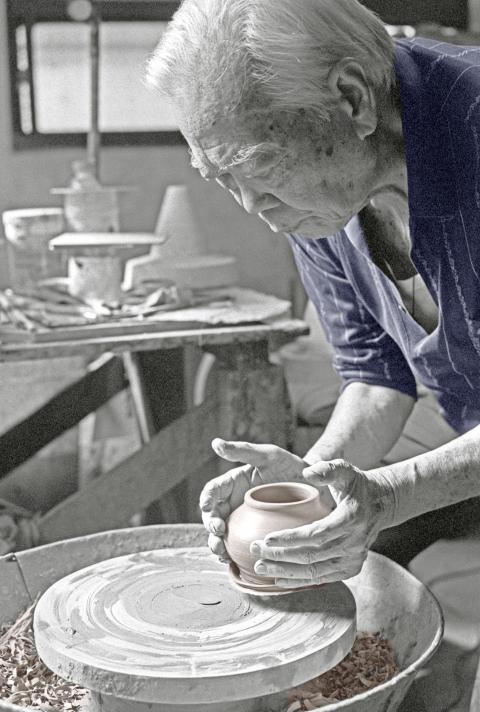 Tseng Tsai-wan lifts the clay body of a teapot he has just thrown from a wheel in his studio in Yingge Town, New Taipei City.
Photo: Paul Cooper, Taipei Times
Momentarily distracted, Tseng, also known as Master Wan (阿萬師), waves a hand, and his son comes forward to sweep up the pieces.
Tseng is still making teapots at 84. Born into poverty, and missing out on a proper education during the instability in the immediate aftermath of the war, he started working in ceramics in his early teens, but only found success when he started making fake Chinese antiques. It was only when collectors became wary of buying antique teapots due to the great number of fakes that he started developing his own.
Today, he is known for his zhuni (cinnabar clay) pear skin teapots (朱泥梨皮壺), using a special clay blend that produces the pear pip skin effect — white grain specks on the surface — during the firing process.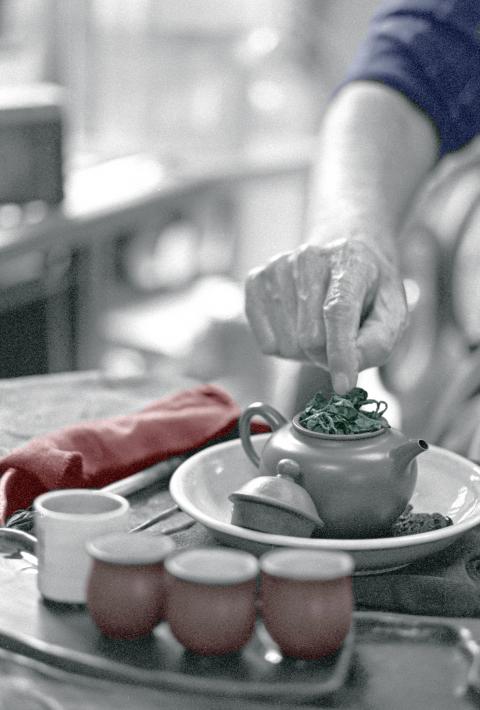 Yingge potter Tseng Tsai-wan brews tea in one of his teapots at his home and studio in Yingge Town, New Taipei City.
Photo: Paul Cooper, Taipei Times
These pear pip skin teapots are prized for the extra sweetness they give to the tea brewed in them. Over the years, the tea will gradually stain the white grains yellow. Collectors call these huangjinzi (golden grains).
Tseng had a hard upbringing. Born in Yingge during the Japanese colonial era, his family was so poor that he didn't attend school from age eight to 10. He remembers the Japanese cops extorting money from his father, and beating him when he couldn't pay. The family eventually fled to Taichung, living in pig pens or cow sheds.
His sister died aged two.
"She died because my father only looked after the boys," Tseng said.
STORAGE JARS TO TEAPOTS
Tseng started studying how to make ceramics, to bring in some money. He made braziers, medicine storage jars and large water pots, and much later, he turned his hands to teapots after the plastics industry decimated demand for pottery storage jars.
"I was the first person to make teapots by hand. I was also the first person in Taiwan to make the pear skin teapots," he says.
An unknown, he discovered he couldn't cover his costs selling these under his own name. He decided the only way was to make fakes of antique Chinese Shantou pots (汕頭壺).
Tseng says making fakes during the 1980s was very lucrative, and he could get NT$5,000 or NT$6,000 for a single fake antique teapot, NT$8,000 for a larger one.
He became so good at making fakes indistinguishable from the authentic antiques that collectors became wary of buying antiques after he exhibited three of his teapots at an exhibition at the Yingge Ceramics Museum. After that, he had to sell his teapots to dealers in Kaohsiung and Pingtung.
Kujiang District (堀江區) near the Port of Kaohsiung was known for selling antiques — and smuggled goods.
"They would sell anything. So, I took my stuff there."
After a dealer reneged on a big order for fake antique teapots, Tseng decided it was time to sell under his own name. He started getting a reputation for making high quality teapots.
In the 1990s, a descendant of Banciao's wealthy Lin (林) family offered NT$5 million for all the teapots he could make. He turned him down.
"His idea was that I hadn't been making teapots all that long, and after I passed away he would make a lot of money selling them to collectors," Tseng said.
All his work now is commissioned. He has more orders than he can cope with, and is not taking any more this year.
He says that money isn't all that important to him, and that now he can do what he pleases. "Had I been chained to making pots for that one guy, I wouldn't have that freedom. And without that freedom, I wouldn't be happy."
Next month, Yingge Artisan looks at painter Chang Sung-shan (張松山).
Yingge Town Artisan is a monthly photographic and historical exploration of the artists and potters linked to New Taipei City's Yingge Town.
Comments will be moderated. Keep comments relevant to the article. Remarks containing abusive and obscene language, personal attacks of any kind or promotion will be removed and the user banned. Final decision will be at the discretion of the Taipei Times.