Highlight: Theater
LAB Space unleashes the 'God of Carnage'
Hurry and get your ringside seat as LAB Space presents Yasmina Reza's Tony Award Winning play God of Carnage.
In this 2nd show of the season, two modern-day couples meet to "rationally resolve" the aftermath of a fight between their two sons. From there, it all goes down hill.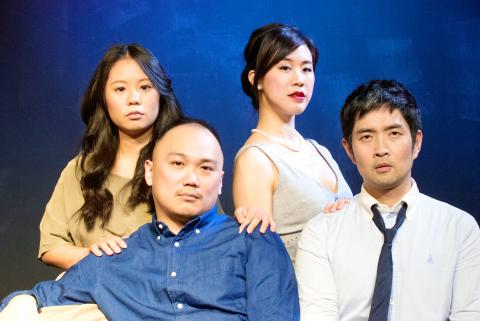 The LAB Space will begin a three-week run of God of Carnage, beginning June 17.
Photo courtesy of Cheng Yi-Li
Carnage presents a no-holds barred commentary on the compromises of marriage, misogyny, blue collar/white collar prejudice, how parents instill values into their children and more. This is one battle you don't want to miss, and Brook Hall has brought in international director Jaime Zuniga to skillfully "referee" it all.
Will any man, woman or marriage be left standing at the end of this tragicomedy?
■ The show will run from June 17 to July 3 at The LAB Space (實演場), 3F, 9, Beitou Rd Sec 1, Taipei City (台北市北投路一段9號3樓). All shows begin at 8 pm
■ Tickets are NT$600, available through www.accupass.com/go/carnage. Opening night is sold out. For more information go to: thelabtw.com
Comments will be moderated. Keep comments relevant to the article. Remarks containing abusive and obscene language, personal attacks of any kind or promotion will be removed and the user banned. Final decision will be at the discretion of the Taipei Times.