Pumpkin with a chestnut twist
Long popular in Japanese cuisine, kabocha has many fine qualities and provides a rich creamy sweetness to a wide variety of dishes
Kabocha is really nothing more than a slightly exotic pumpkin, and seems to owe its cache to a Japanese pedigree. It is recognizably a relation of the pumpkin, and is notable for its dark, knobby, green skin. It has a deep flavor and dependable sweetness, and given that it has adapted well to Taiwan's climate, is currently basking in a glow of popularity.
Kabocha (a species of Cucurbita maxima) is an Asian variety of winter squash and has been introduced to the wider world largely through Japanese cuisine where it is widely used in soups and tempura. Such is its association with Japan, it is often called Japanese pumpkin. The Portuguese introduced the ancestor of the modern kabocha to Japan and its name is derived from the Portuguese word for pumpkin: abobora.
The flesh of the kabocha is orange or yellow, and has a texture that is somewhere between that of pumpkin and sweet potato. Flavor-wise, it has an extraordinary sweetness that often exceeds even that of butternut squash. Its rich flavor has earned it the nickname of "chestnut pumpkin" (栗子南瓜) in Taiwan.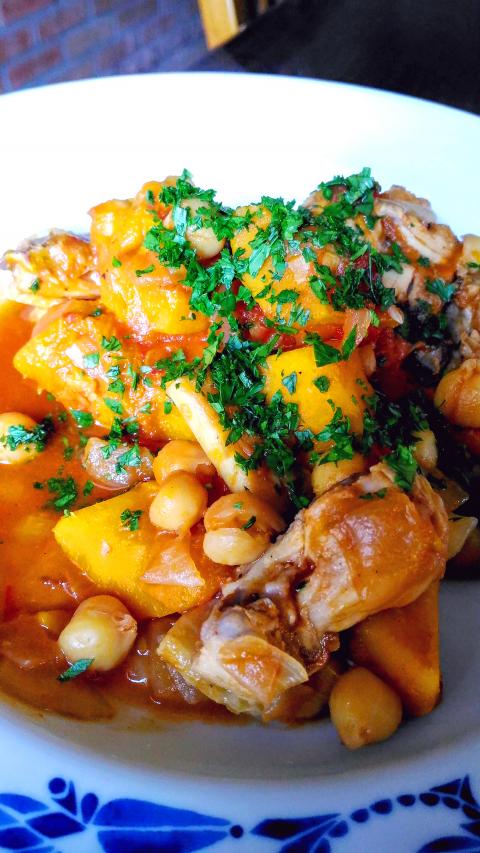 Chicken with kabocha and chickpeas is a great one-pot meal.
Photo: Ian Bartholomew
But this is not always advantageous. In one popular preparation, in which it is simply cooked together with rice (instead of the more common sweet potato), it pushes what should be a savory dish too far the wrong way toward sweetness. Roasting intensifies the flavor still further, which can make for a very luscious tasting puree (as its use as a side with mahi-mahi and fiddlehead fern in Taipei Times, April 16, p12), and roasting slices or chunks is also popular, with glazes ranging from miso to a mix of muscovado sugar and cumin.
I had resisted making much use of kabocha, having a preference for the softer and more delicate butternut squash, and finding that many preparations for kabocha tended toward the cloyingly sweet. However, with many of our neighbors in Hualien having had success growing kabocha, despite the generally poor growing season this year, it seemed churlish not to give it another chance.
In fact, kabocha can be used in any dish that requires a nice, firm fleshed squash or pumpkin, and this makes it particularly appropriate for slow cooked dishes, such as the recipe below, as it keeps its shape well even after long simmering. The skin of the kabocha is edible, though recipes that keep the skin require a longer cooking time. That said, the highest concentration of nutrition in most vegetables is just under the skin, often peeled off and thrown away in our desire to avoid pesticide residue or simply in a misguided conception of food cleanliness. If you have gone to the trouble and expense of buying organic, use the whole vegetable skin and all!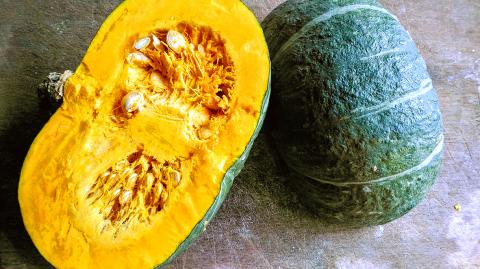 Asian variety of winter squash notable for its hard, rugged green skin.
Photo: Ian Bartholomew
If it's the sort of thing you care about, kabocha has fewer calories and less carbs than an equivalent weight of butternut squash. It has an abundance of beta-carotene, which can be converted to vitamin A in the body, which is good for the skin, blood and eyes. It is also rich in iron, vitamin C and many types of B vitamins as well. Loads of fiber. Health-wise, you really can't get much better, and it is perfect comfort food, popular in vegan and paleo diets.
Chicken with Kabocha and Chickpeas
Recipe
(serves 4-6)
A one-pot wonder that gives you pretty much everything you need in a meal with minimal preparation. Any firm fleshed pumpkin will serve, but kabocha has a unique taste that seems to go particularly well with North African spices.
This dish is based on a North African dish, tbikha, which according to Claudia Roden, a great authority on Mediterranean cooking, is really just any mixture of vegetables, fresh or dried, cooked together with chickpeas or beans. For me, the tomato and chickpea mix is perfect for dialing back the richness of the kabocha. A mix of cinnamon, Thai chili and sweet pepper has replaced harissa, often used in authentic versions of tbikha, as this North African hot paste is not readily available in Taiwan.
Ingredients
700g kabocha
Generous glug of olive oil
1 large onion, chopped
Nub of ginger, crushed
1/2 stick cinnamon
1 small local chicken (土雞), chopped into large pieces
400g can tomato concasse (peeled and seeded)
1 tsp sugar
Salt and pepper
1 small hot chili (朝天椒), seeds and ribs removed, finely chopped (more if you want to ramp up the heat)
1 red sweet pepper, seeds removed, diced
2 cups cooked chickpeas
1/4 cup flat leaf parsley, roughly chopped
Directions
1. Remove the hard skin of the kabocha with a cleaver or chef's knife. The skin and flesh are extremely hard and some care should be taken. Cutting the kabocha in half to provide a nice stable surface before cutting away the skin is recommended, as is the use of a sharp knife with a very stiff blade.
2. Remove the seeds and fibers with a spoon.
3. Chop the kabocha into bite sized chunks and set aside.
4. Heat a Dutch oven over medium heat with a generous glug of olive oil. Add the onion and fry until translucent.
5. Add the ginger, chili and sweet pepper and cook for another 5 minutes until the onions are beginning to brown. Add the cinnamon, tomato, sugar and chicken, stirring to mix well. Add the pumpkin and chickpeas, stirring again to mix.
6. Cover and cook for 40 minutes over low heat, stirring once or twice more. The vegetables will give off liquid, but if the mixture seems too dry, add a couple of tablespoons of water. Season with salt and pepper about half way through cooking.
7. Serve with copious amounts of chopped flat leaf parsley.
Ian Bartholomew runs Ian's Table, a small guesthouse in Hualien. He has lived in Taiwan for many years writing about the food scene and has decided that until you look at farming, you know nothing about the food you eat. He can be contacted at Hualien202@gmail.com.
Comments will be moderated. Keep comments relevant to the article. Remarks containing abusive and obscene language, personal attacks of any kind or promotion will be removed and the user banned. Final decision will be at the discretion of the Taipei Times.