A bit of a fiddle
The tender shoots of the fiddlehead fern are not widely available outside of locations specializing in Taiwan's aboriginal cuisine, but they are definitely worth seeking out during the spring, when they are at their sweetest and most tender
The fiddlehead fern is very much associated with foraged or wild food in Taiwan, and has acquired an affinity with the island's aboriginal cuisine. Its appearance in the market is a herald of spring. Here in Hualien, Amis women, who are keen foragers, usually sell it and it has more recently made its appearance in supermarkets.
Fiddlehead fern is gradually poking at the fringes of the mainstream, but many people balk at the unfamiliar green with its peculiar Chinese-language names, gueiniao (過貓) in Hoklo or guogou vegetable (過溝菜), which makes it even more exotic than bird's nest fern (山蘇), another foraged fern that has managed to gain greater acceptance in Taiwan's culinary tradition.
The scientific name for gueiniao is Diplazium esculentum, and it comes in a variety of forms, from thick firm stems with a pronounced whorl at the top that clearly makes sense of the plant's English name, to tender pale green shoots with just the slightest hint of a curl at the top. The former are most often collected in the mountains, while the fine shoots can be found in forest areas or even growing wild in fruit orchards.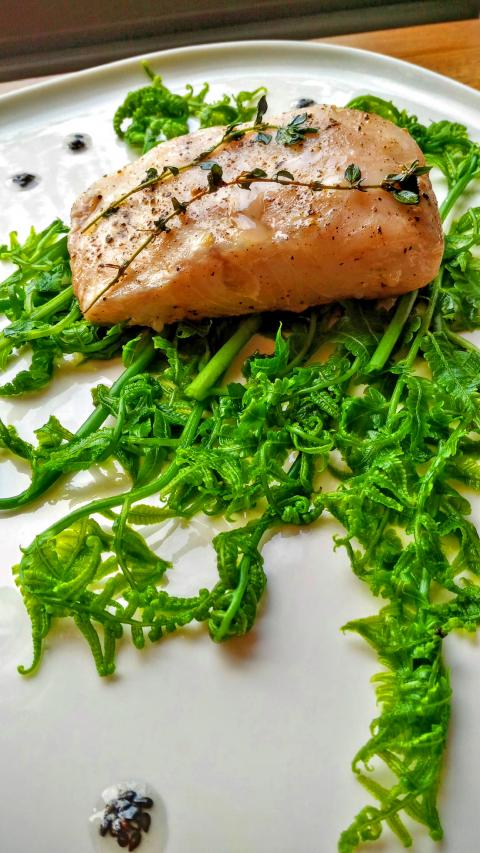 Fillet of mahi-mahi served with cold fiddlehead fern, homemade black sesame seed mayonnaise and kabocha puree.
Photo: Ian Bartholomew
Fiddlehead fern is now sometimes served in local eateries, either stir fried or as a cold plate seasoned with a dressing of soy, sesame seeds, sugar and vinegar. Although they can be very tender, it is not recommended to use fiddlehead ferns raw. The Kitchn Web site suggests that raw fiddlehead fern may contain microbes that have been known to cause illness. There have been reports in the local media suggesting fiddlehead fern might be carcinogenic, but the general consensus from cooking and health Web sites is that the ptaquiloside it contains, while toxic, is water soluble and a quick immersion in boiling water is sufficient to render it harmless.
If serving cold, blanch the fiddlehead fern in boiling water for about 30 seconds then immerse immediately in a bowl of ice water. The latter process will immediately stop the cooking process, ensuring that the fern retains crispness and its beautiful green color. With tender shoots, failure to shock in cold water can lead the fronds being reduced to an unappetizing mush as residual heat continues to cook the greens after their removal from the hot water.
These concerns aside, the fern is regarded as an excellent source of omega-3 and omega-6. It is rich in iron, potassium, vitamins A, C, B2 and B6 and dietary fiber. It is widely regarded as being excellent for aiding digestion and for its benefits to the skin and nervous system.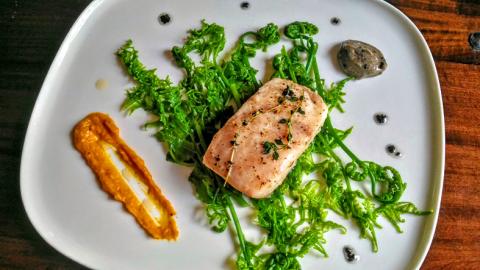 Fillet of mahi-mahi served with cold fiddlehead fern, homemade black sesame seed mayonnaise and kabocha puree.
Photo: Ian Bartholomew
Mahi-Mahi with Fiddlehead Fern, Homemade Black Sesame Seed Mayonnaise and Kabocha Puree
Mahi-mahi is a glorious fish that makes lovely firm fillets. It is best served with flavorful sauces, and is particularly good in curry, but this recipe attempts to pull back and give a chance for the fish's excellent flavor to speak for itself. Mahi-mahi is also good as a local fish caught widely off the Taiwan coast, and does not face the same sustainability issues as higher-end fish such as tuna or cod. This dish also incorporates kabocha, also called Japanese pumpkin, which is currently in season, and which will be covered here in the near future. It has a rich flavor that many regard as superior to butternut squash, and a texture that is somewhere between pumpkin and sweet potato.
Recipe (serves 4)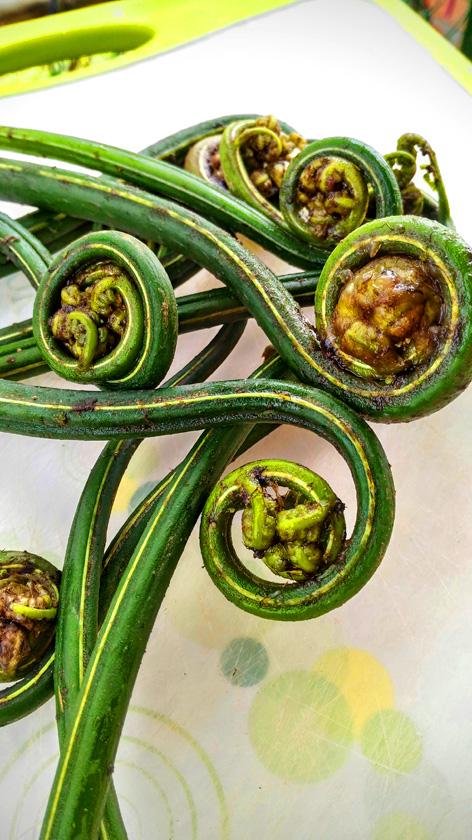 Thick stalks of fiddlehead fern show how this plant got its name.
Photo: Ian Bartholomew
Ingredients
4 mahi-mahi filets
2 tbsp olive oil
1 tbsp lemon juice
4 stems thyme
Salt and pepper
1 bunch fiddlehead fern, tender shoots only
1 tray of ice
1/2 cup mayonnaise, preferably homemade
1 tbsp black sesame seed paste
1 small kabocha
1/4 cup vegetable stock
1 tbsp light sesame oil
Directions
1. Clean the mahi-mahi filets, ensuring that the skin and any of the dark meat are removed.
2. Season generously with salt, pepper, lemon juice and olive oil, making sure the fillets are completely covered. Mix in the thyme stems and cover with plastic wrap. Allow to marinate for at least 1 hour.
3. While the fish is marinating, cut away the skin from the kabocha with a heavy knife and scoop away the seeds. Put on a baking tray and bake at 200c for about 40 minutes or until soft. Puree in a powerful blender, adding some vegetable stock if the mixture is too thick.
4. Homemade mayonnaise: If using store bought mayo, simply mix with the sesame seed and check for seasoning. A home made mayo can be whipped up by blending some Dijon mustard, lemon juice and two egg yokes with about half a cup of grape seed or other light oil.
5. Blanch the fiddlehead fern. Bring a pot of lightly salted water to a strong boil. Prepare a large bowl of ice water.
6. Toss the fern into the boiling water and blanch for no more that 30 seconds to a minute, depending on how tender the shoots. If cooked too long, the fern will become waterlogged, soggy and totally inedible, so keep an eagle eye on the pot. Remove from the water and transfer immediately to the ice water. Once cool, drain and chill in the fridge until ready. This will ensure that the fern retains a nice green color and a slight crispness when served.
7. Preheat oven to 100c. Remove the mahi-mahi from the fridge and place in the oven to bake for about 25 minutes until the flesh is opaque all the way through and separates easily. It is fine to remove the fish a little early as residual heat will continue to cook the fish and while such low temperature cooking will not harden the flesh too much, fish is a subtle experience and getting it cooked just right is an art that requires just a little daring. Ultimately you must be your own judge of what is safe to eat, but bear in mind that if your fish is fresh, a lack of cooking has never been an obstacle and mahi-mahi makes perfectly fine, if non-mainstream, sashimi.
8. Once the fish is ready, assemble the dish. Lay out the fiddlehead fern on a plate to show off its delicate beauty. Place the fish on top with a stem of the thyme and a dribble of the pan liquid. Serve with a large dollop of the sesame mayo and kobocha puree dotted with sesame oil.
Ian Bartholomew runs Ian's Table, a small guesthouse in Hualien. He has lived in Taiwan for many years writing about the food scene and has decided that until you look at farming, you know nothing about the food you eat. He can be contacted at Hualien202@gmail.com.
Comments will be moderated. Keep comments relevant to the article. Remarks containing abusive and obscene language, personal attacks of any kind or promotion will be removed and the user banned. Final decision will be at the discretion of the Taipei Times.