Book review: Fragments of war
Christopher Logue's poems based on Homer's extremely violent the 'Iliad' are an achievement of quirky material and verbal intensity
Christopher Logue, who died in 2011, but had been afflicted by dementia since 2005, was a British journalist and poet. He was closely involved with the founding of the satirical weekly Private Eye (still going strong), and was the first poet to issue his poems on posters, subsequently fly-posted around the city.
In the second half of his life, however, he became more classically inclined, and he began to issue poems based on Homer's Iliad under the general title War Music. The plan was eventually to cover the whole poem, but Logue never lived to complete it. So what we have now is all his work on the project collected into one volume — the completed parts, some additional fragments, and his notes. Incomplete as it is, War Music has been widely hailed as among the 20th century's greatest verse epics.
What's it like? Well, the first thing to say is that it isn't a straightforward translation. Logue couldn't read classical Greek, but then nor could Keats. Then there are references to modern wars, and a great deal of slang and colloquial speech not normally associated with Homeric heroes. But it's gripping from the very start, and never lets up. Its hallmarks are indeed its verbal intensity and its pervasive violence. Logue, who'd been in World War II, was a committed pacifist, and, like all wars, this one is no laughing matter.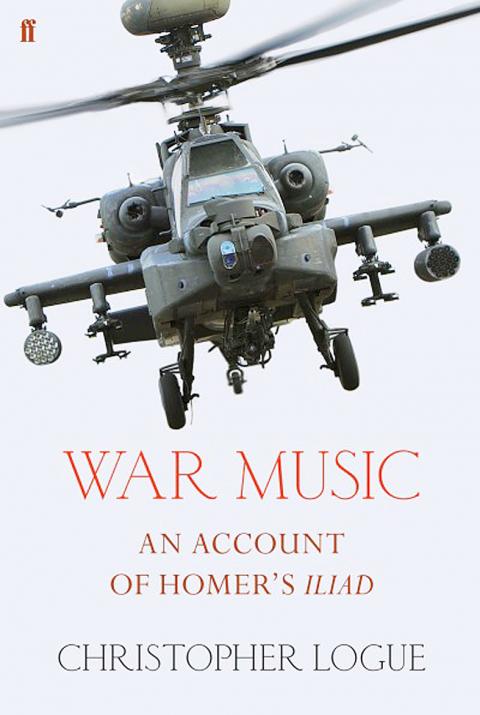 WAR MUSIC: An Account of Homer's Iliad, by Christopher Logue.
This, in other words, is a rough and ready version, though apparently endlessly polished and revised. It's paint thrown at a canvas rather than meticulously applied. The result is hyper-real, combining extreme savagery of battle with giggling gods awaiting their next offering of a thousand slaughtered oxen.
As for colloquialisms, you have phrases like "Not as per usual", "Hold on," and (referring to Diomed, a Greek warrior) "Not your day, Dio, not your day." There are references to "quadrophonic ox-horns", "blood like a car-wash" and "power-station outflow cables," and there's a character called Bubblegum.
Someone else has had 50 stitches on his face and now has a scar you could "strike a match on." Achilles has redcurrant-colored hair, Hector is 267cm tall and Agamemnon says "Never forget that we are born to kill."
Slightly more soberly, someone's breasts were so lovely they envied each other, arrows pass "close as a layer of paint," the dead when you tread on them "sigh and ooze like moss," something happens "as fast as a viper over bathroom tiles" and you spurn vampires with garlic, but "ignorance with thought."
And then there are the gods. They speak in terms like these: "Darling daddy, here we are." "How do I look?" "Who cares a toss?" "They put it out in color. Right?" "Try not to play the thankless bitch," and "I had her half an hour before she reached the altar rails. Quite a day." The goddess Aphrodite wears snakeskin flip-flops, and others use wrinkle cream.
As for modern references, you have Okinawa, Stalingrad, Iwo Jima, dry ice, nectarine jelly, binoculars, "300,000 tons of aircraft carrier" and things as numerous as "microphones on politicians' stands."
How much did Logue complete? The story of the Iliad is, very briefly, that Achilles argues with the Greek leader, Agamemnon, over access to a war-bride and refuses to carry on fighting. He only relents when his comrade Patroclus is killed. Then he goes out and kills Hector, Troy's top warrior and King Priam's son, and drags his body through the dirt round the city walls. Priam comes to Achilles and begs for his son's body, which Achilles gives him. Interestingly, the story of the wooden horse doesn't appear in the Iliad.
This incomplete version gets as far as Achilles setting out to fight Hector (Book 19 out of a total in Homer of 24). But there are also disjointed fragments clearly intended for later inclusion in the main work, including Priam's entreaty for Hector's body. The editor, Christopher Reid, has made some tentative adjustments based on Logue's manuscripts — often full of revisions, and clearly not the final versions — but has refused to create himself where Logue has left his work unfinished. This, in other words, is no Turandot, Puccini's final and unfinished opera which was completed by a fellow composer, Franco Alfano.
The appeal of this magnificent work is its combination of quirky and seemingly irreverent material with one of the greatest poems in the European tradition. This could be seen as undermining it, even polluting it in some way. But almost all critics have instead praised Logue's achievement, relishing the freshness the unconventional matter gives to the old original, but also aware that what Logue is doing at a deeper level is linking this greatest of war epics to all war.
War Music repays repeated readings. Bits of it would read well as poster poems, but the whole has a cumulative consistency that's increasingly impressive the more it's experienced.
There's only one thing missing from Logue's brilliant work, and that's the lyric mode (verse appropriate for songs). You wouldn't expect this in an epic, but it's nonetheless worth noting that some of the finest examples of the lyric I've ever encountered remain unpublished. Here are some examples:
What is love but a shoe of dream,
None can really wear it.
Cinderella never lived a queen,
But died with her pretty feet bare.
And this:
I can't see you through a telescope
Closer than you are;
I can't seal you in an envelope
And post you from my heart.
Or this:
Oh the child, oh the child,
Such a bright and tender leaf,
We will press to flat distortion
In the books of our belief
For more information search the Internet for Terence J. Roe.
Publication Notes
Publication Notes
WAR MUSIC: An Account of Homer's Iliad
By Christopher Logue
341 pages
Faber
hardback: UK
Comments will be moderated. Keep comments relevant to the article. Remarks containing abusive and obscene language, personal attacks of any kind or promotion will be removed and the user banned. Final decision will be at the discretion of the Taipei Times.