CD reviews
Gensho, Boris With Merzbow, Relapse
Japanese rock power trio Boris and the noise musician Merzbow, aka Masami Akita, both make simple work with intent and power, and both produce a lot of albums: for Boris, 23 over the last 20 years; for Merzbow, more than 200 since 1980. They have recorded six collaborations since the late '90s. This double-disc joint album could be understood as merely another, but for the challenge inside it.
Boris plays various kinds of romanticist, distorted, slow-release music, not without humor and mischief, and sometimes verging on pop. Merzbow makes scrofulous clouds of hiss and crackle. (It's not always clear how he makes it, but for recent live performances, he has had an amplified guitar-like object strapped around his neck, with heavy springs stretched over what looks like a film canister.) Their new record is titled Gensho, which means "phenomenon." The phenomenon isn't in the record as it is given to you. It is in what you do with it.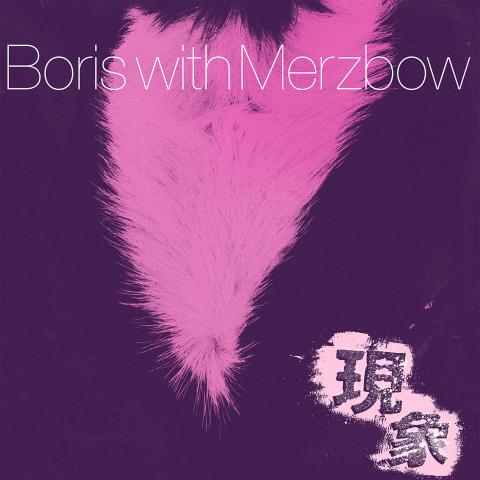 Gensho, by Boris With Merzbow.
The album is delivered in discrete parts: Boris in the first disc or first two LP sides, Merzbow in the rest. Each half is exactly one hour and 15 minutes long. The idea is that you can play them simultaneously and control the mix or ignore either half if you like. You may want to take the second option, especially if you have any skepticism about the degree to which the album was made with this listening strategy in mind.
In their past recordings, there has been recognizable cooperation between Boris and Merzbow: When Boris plays a quiet drone note, Merzbow will hold back. When the band pours it on, Merzbow will intensify in kind. Here, the two halves do not line up in ways that require each other for completion.
Merzbow's tracks are long, alienating, dense, super-harsh. By contrast, Boris' tracks — with singer-guitarists Wata and Takeshi, and charismatic drummer Atsuo contributing only electronics and tambourine to drumless versions of the band's old songs — are sensitized and inviting. If you hear the record in the manner suggested to you, Merzbow's music, unsentimental to the core, sluices through the elegant silences in and among the Boris tracks. There is an aggressive tension here, which often feels awkward or wrong. But then it can remind you of the aggressive tension you may have heard and liked in Boris or Merzbow in the first place.
At This Time ... , by Steve Kuhn Trio.
— BEN RATLIFF
At This Time ... , Steve Kuhn Trio, Sunnyside
There's a reason jazz musicians like to line up recording sessions right after a stint in a club. You could explain it in terms of familiarity with the material and personnel; you could talk about flow states and field awareness. But the best way to understand these intangibles is to hear an album like At This Time ..., the latest by the Steve Kuhn Trio.
Kuhn, an astute and lyrical pianist who began his career more than 50 years ago, has long favored the trio as a working unit though he still appears in other settings. When Kuhn has the right rhythm partners, he can make a trio feel expansive as well as intimate, full of shared confidences and sympathetic cross talk.
At This Time ... features the same trio heard on Kuhn's luminous album Wisteria, released in 2012 on ECM. With Steve Swallow, a longtime peer, on electric bass guitar, and Joey Baron, a newer colleague, on drums, it's a group predisposed to alertness and buoyancy. The new album was recorded last summer, after several nights on the bandstand, and it radiates the heat and enthusiasm of a nightclub set within the framework of a studio album.
Some of this boils down to immediacy, as on the opening track, My Shining Hour, a standard that Kuhn might have played during his brief stint in the John Coltrane Quartet. On an up-tempo version of This Is New, the Kurt Weill song, Kuhn's solo begins with lapidary eloquence and edges out onto a limb, teetering precariously before regaining balance. But he also excels in a more relaxed vein, sauntering through Carousel in easy waltz time, or delivering an elegant disquisition on The Pawnbroker, the movie theme by Quincy Jones.
There's a fine, rubbery intuition in Swallow's bass lines, which sit right on the beat but feel somehow ahead of the curve. And Baron treats rhythmic ebullience as a renewable resource, often pointing toward the swinging influence of Mel Lewis. The album relies on an indivisible group effort, so it's almost an indulgence when Kuhn plays an original ballad, "The Feeling Within," as a solo piano piece, deeply resonant and in no sort of hurry.
— NATE CHINEN
Comments will be moderated. Keep comments relevant to the article. Remarks containing abusive and obscene language, personal attacks of any kind or promotion will be removed and the user banned. Final decision will be at the discretion of the Taipei Times.