Color blindness
Thousands of revelers will participate in Taipei's version of Holi, a Hindi springtime festival, that will be held on Saturday that is dedicated to sharing love
Every March for the past four years, hundreds of people have been gathering in a park near Taipei Main Station, taking bags of colored cornstarch and throwing them at everyone and everything in sight for the Holi festival. This year's Holi festival, which will be held on Saturday, moves to a different and larger location, but it is still the same celebration of love, frolicking and color.
"The colorful festival helps to bridge social gaps and renew relationships. Once people are covered with different colors on their body, all evil habits of society like racism and discrimination vanish," said Mayur Srivastava, the man behind the celebrations as well as numerous Indian restaurants in Taipei.
NEW TRADITION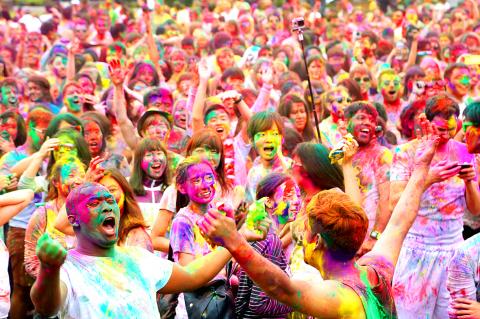 At Taipei's Holi festival, everyone gets liberally splattered with love.
Photo courtesy of Mayur Srivastava
Srivastava said he was forced to break with tradition and use "organic watercolor and paints" instead of colored cornstarch powder due to the tragedy at the Formosa Fun Coast (八仙海岸) last summer, in which 508 people were injured when the powder dispensed into the crowd exploded into flames.
"Since the Water park tragedy, any form of color powder has been banned in Taiwan," Srivastava said.
The Holi festival is moving to the Airforce Innovation Base this year, which will allow space for more vendors. There will also be other activities for the whole family instead of just throwing color on people.
Srivastava said that his favorite part of all the Holi festivals in Taipei is that it gives social sanction to people to have fun and does not recognize any restrictions. He said that if anybody stares or give strange expressions to people with color on their hair, face or bodies, all they have to do is answer, "Bura na mano Holi hai, which translates to please don't mind because it's Holi today," Srivastava said.
Srivastava strongly recommends that all participants and observers wear clothes and shoes that can be.
Publication Notes
Performance Notes
What: HOLI 2016 (印度好麗色彩節)
When: Saturday from 11am to 5pm
Where: Taiwan Airforce Innovation Base (TAF, 空總創新基地), 177 Jianguo S Rd Sec 1, Taipei City (台北市建國南路一段177號)
Admission: NT$349 per person, includes colored paint and beverage
On the Net: search for HOLI 2016 印度好麗色彩節
Comments will be moderated. Keep comments relevant to the article. Remarks containing abusive and obscene language, personal attacks of any kind or promotion will be removed and the user banned. Final decision will be at the discretion of the Taipei Times.