Restaurant review: Trine & Zen (Xinyi Breeze Center)
Having been accosted by someone trying to get me to sign up for some type of card at each turn, I finally make it to Xinyi Breeze Center's (微風信義) fourth floor, which contains a mouth-watering array of gourmet restaurants.
The first joint you encounter is Trine and Zen, Breeze Center's signature American-style bistro, which takes on a different form in each location.
The original on Fuxing N Road (復興南路) is a cafeteria/market-style eatery while the Songgao Road (松高路) one is a Line (yes, the popular messaging app) character-themed rooftop cafe that carries a cute and playful feel.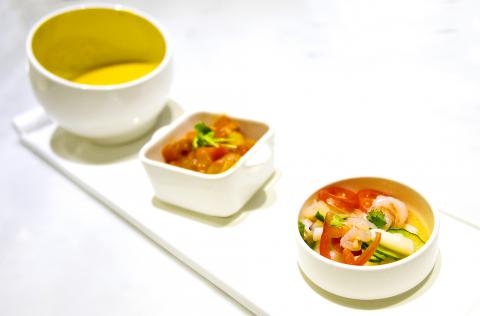 The three course appetizer contains a seafood salad, pork and beans and a pumpkin bisque.
Photo: Han Cheung, Taipei Times
The latest Trine and Zen leans more toward the Zen, its black-and-white minimalist decor and menu resembling a modernist French cafe.
The place offers two lunch sets, costing NT$470 and NT$540 each. The only difference is that the more expensive one includes a soup of the day — which appears to be superfluous since both sets already come with a small bowl of pumpkin bisque.
My companions ordered the more expensive set anyway, but I didn't see the point. For NT$200, you can upgrade your main course to a variety of steaks.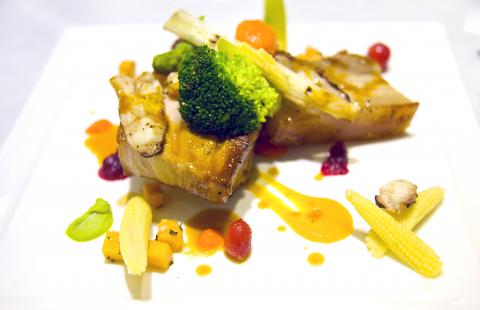 The braised pork belly with octopus was nice to look at but hard to eat.
Photo: Han Cheung, Taipei Times
The appetizer was a three-dish sampler of seafood salad, pork and beans and the bisque. The salad was a refreshing opener, tangy but light — marinating in vinegar and olive oil dressing. The chewy squid texture paired well with the crunchy cucumbers, while the cilantro and onions gave the experience an extra dimension.
The pork and beans were sweet and hearty, with the tomato carrying over the flavors from the salad. The pumpkin soup, with a curious vanilla ice cream aftertaste, was too sweet and textureless for my taste.
The first entree was the mushroom black truffle risotto, which was perfectly cooked, the rice not too soggy and not too firm. Its subtle cream undertones were drawn out by the sharp Parmesan cheese, creating an aroma that expands and lingers in your mouth. The tender and juicy mushrooms balanced the dish out texture-wise, but the truffle barely registered.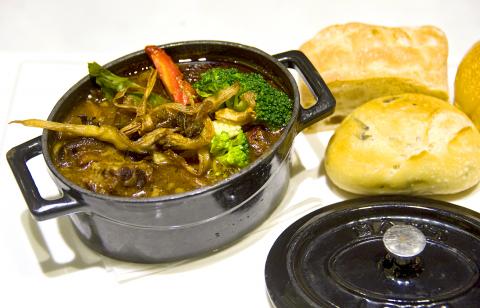 Rib eye steak bourguignon in red wine sauce.
Photo: Han Cheung, Taipei Times
The paella was similar to the risotto, also on the creamy side but with paprika and tomato. The generous portions of seafood provided the same effect of the mushrooms in the last dish.
Though the steak bourguignon, which came topped with dried mushrooms and a variety of vegetables, was subtle, it could have used with more seasoning. Sitting in a thicker and slightly greasy sauce with beef juice, shallots and red wine, the meat was too tough, but was helped by the melt-in-your-mouth fat.
The pork belly was a challenge to figure out how to eat. Featuring three large chunks of meat with skin surrounded and topped with pieces of grilled octopus, pickled sweet potatoes, mashed potatoes, baby corn, asparagus, red wine sauce and a variety of vegetable purees, it was pretty to look at, but the components just didn't fit together as a unified dish.
Also, the flavoring was too weak with the sour sweet potatoes and the savory mashed potatoes providing the only noticeable tastes. I am never one to complain about too much meat, but the pork just didn't look appetizing, and indeed it was dry, bland and tough. The skin was almost impossible to chew and the meat and fat definitely needed a few more hours of braising.
Dessert consisted of two bite-sized cakes, just sweet enough to top off the meal.
Trine and Zen is great for a quick lunch or afternoon break with its lighter fare, subtle flavors and minimalist atmosphere, but it really needs to work on its meat before I come back again.
Publication Notes
Trine & Zen
(Xinyi Breeze Center)
Address: 4F, 68, Zhongxiao E Rd Sec 5, Taipei City (台北市忠孝東路五段68號4樓)
Telephone: (02) 6623-5508
Open: 11am to 9:30pm Sunday to Wednesday, 11am to 10pm Thursday to Saturday
Average meal: NT$400 to NT$600
Details: Menu in English and Chinese, credit cards accepted
On the Net: www.facebook.com/
TrineAndZen
Comments will be moderated. Keep comments relevant to the article. Remarks containing abusive and obscene language, personal attacks of any kind or promotion will be removed and the user banned. Final decision will be at the discretion of the Taipei Times.