Art exhibition listings
Installation artist Yu Shih-fu (盂施甫) has never been one to shy away from grotesque motifs. His latest exhibition at Aki Gallery is called Tiny Torture (小折磨) and features miniature torture devices reassembled, and laden with layers of profound meaning. Yu deals with emotions such as frustration, anxiety and confusion, using physical pain as a metaphor for emotional pain. In Callus, for example, an awl is repeatedly used to rub off the callus on a person's finger, while at the same time numbing the person's emotional pain. Not exactly the best remedy, perhaps, but it does make for a beautiful, twisted piece of artwork.
■ Aki Gallery (也趣藝廊), 141 Minzu W Rd, Taipei City (台北市民族西路141號), tel: (02) 2599-1171. Open Tuesdays to Sundays from noon to 6:30pm
■ Until Feb. 5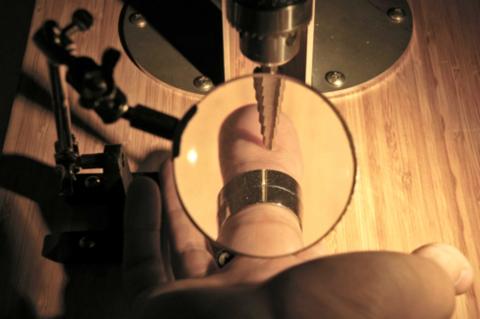 Yu Shih-fu, Callus (2014).
Photo courtesy of Aki Gallery
The fifth annual Fotoformosa exhibition is back in Tainan this year and is titled Tainan Fotoformosa Fire Photo Exhibition (台南福爾摩沙攝影展,火). While last year's exhibition revolved around the element of wood, this year's focus is fire. It will feature 12 photographers from 7 countries, all of whom call Taiwan "home." The idea is to include the element of fire into their photography — although there's a deeper meaning: challenge the notion that "home" is one's passport country. To see how this will be incorporated into pictures of fire will be interesting.
■ Wu Yuan Cultural Center, B1 Exhibition Hall (吳園藝文中心,B1展覽室), 30, Mingchuan Rd Sec 2, Tainan City (台南市民權路二段30號), tel: (06) 221-7942. Open daily from 10am to 5pm
■ Opens tomorrow. Until Feb. 14

Ho Kuei-yu and Patrice Mugnier, Drops and Random Colors (2015).
Photo courtesy of MOCA, Taipei
IT Park Limited Editions (2015 伊通公園限量版) opens at IT Park Gallery tomorrow. The exhibition will feature artwork from artists who have exhibited at the gallery before. Included in the lineup is avant garde artist Dean-E Mei (梅丁衍), who is most known for taking iconic images from history and converting them into pop art-style satire, often to convey a political message. Also on display is South Korean-raised, Paris-educated Taiwanese artist Chu Teh-I's (曲德義) colorful and distorted Chinese characters painted on huge pieces of linen. Another artist to look out for at the exhibition is Hou Chun-ming (侯俊明). Hou takes ancient folklore and converts it into satirical comic book-style drawings and text about contemporary political and sexual mores (there's a lot of images of the male anatomy and humans having sex, so you might want to leave the children at home if thinking of attending this exhibition).
■ IT Park Gallery (伊通公園), 2F-3F, 41 Yitong St, Taipei City (台北市伊通街41號2-3樓), tel: (02) 2507-7243. Open Tuesdays to Saturdays from 1pm to 10pm
■ Opens tomorrow. Until Feb. 27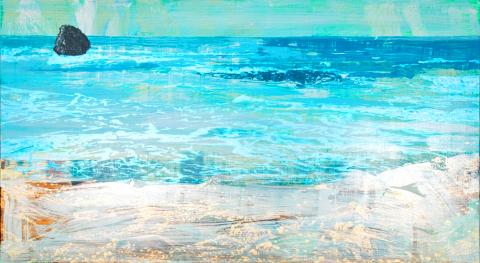 Shiu Sheng-hung, Tower (2015).
Photo courtesy of A Gallery
Su Meng-hung (蘇孟鴻) has always been fascinated with opposites — East and West, tradition and modernity, high-brow and low-brow. His paintings transform Qing dynasty-era-like flowers and birds into gaudy, kitschy "high art," much in the same vein as Damien Hirst's diamond-encrusted skulls. Su also evokes in his paintings many of the same sentiments as Giuseppe Castiglione, the Italian missionary who served in the imperial court as a painter for the Qianlong Emperor, whose paintings blended Chinese and Western motifs. Although Su has dabbled in silkscreen prints, sculptures and installations, his paintings are what he is most well-known for and will be displayed at Tina Keng Gallery in an exhibition entitled A Painter of the Empire (帝國畫師) starting tomorrow.
■ Tina Keng Gallery (耿畫廊), 15, Ln 548, Ruiguang Rd, Taipei City (台北市瑞光路548巷15號), tel: (02) 2659-0798. Open Tuesdays to Sundays from 11am to 7pm
■ Opens tomorrow. Until Feb. 28
Shiu Sheng-hung's (許聖泓) abstract paintings depicting the cool, pastel feel of the countryside in Kaohsiung's Zuoying District (左營) near Monkey Mountain are currently on display at Taipei's A Gallery in the show titled Shiu Sheng-hung Solo Exhibition (許聖泓創作個展). Shiu, an avid mountain climber, attempts to recreate the calm and meditative feeling nature gives him. The blurry, patchwork-approach Shiu takes is, of course, intentional, its purpose being to capture his memories of his hiking trips. His ultimate goal is to enable viewers to realize how important it is for human beings to forge a better relationship with the mountains, ocean and living creatures.
■ A Gallery (當代一畫廊), 22, Alley 36, Lane 147, Xinyi Rd Sec 3, Taipei City (台北市信義路三段147巷36弄22號), tel: (02) 2702-3327. Open Mondays to Saturdays from 10am to 6pm
■ Until March 5
Don't let the confusing name of MOCA, Taipei's latest exhibition put you off. The concept behind Cross – Design+ x Art+ (跨‧社‧會-設計+ X 藝術+), which opens tomorrow, is actually quite intriguing. The exhibition brings together some of Taiwan's top design companies, as well as artists, architects and designers. The "cross" in the title alludes to it being a crossroads of many different concepts and approaches. It'll not only bring together governmental and non-governmental institutions, but also individuals from varying backgrounds ranging from the purely visual arts to strictly architectural. As for the artwork itself, expect to see lots of conceptually-based furniture and three-dimensional blueprints that are very aesthetically pleasing.
■ Museum of Contemporary Art, Taipei (台北當代藝術館, MOCA, Taipei), 39 Changan W Rd, Taipei City (台北市長安西路39號), tel: (02) 2552-3720. Open Tuesdays to Sundays from 10am to 6pm
■ Opens tomorrow. Until March 6
Comments will be moderated. Keep comments relevant to the article. Remarks containing abusive and obscene language, personal attacks of any kind or promotion will be removed and the user banned. Final decision will be at the discretion of the Taipei Times.