Getting a head start on your startup
Swedish entrepreneur Elias Ek will speak at the Foreign Entrepreneur Workshop on Thursday about how to launch a successful business in Taiwan
Although startups seem to get all the hype these days, launching your own business can be daunting — especially in a foreign country. Elias Ek, who co-founded the consulting service Enspyre in 2002, understands this. Originally from Sweden, he lived in the US and Japan before moving to Taiwan in 2000, all the while trying to start various types of businesses but with minimal success.
Ek likes to look at the positive side though. "It shows that entrepreneurship is in my blood," he tells me.
Thirteen years on and Enspyre is a thriving business. Starting out as a phone answering service for small to medium-sized enterprises, they now do telemarketing, search engine optimization and online advertisements for companies seeking to find Taiwanese businesses, as well as providing service for a number of IT companies.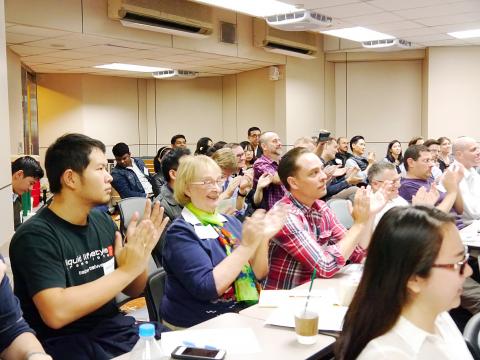 Attendees are pictured at the first Foreign Entrepreneur Workshop held in November.
Photo courtesy of Elias Ek
Ek will be one of the speakers at the second Foreign Entrepreneur Workshop, an event co-organized by Enspyre and the Canadian Chamber of Commerce to be held at a venue near Sun Yat-sen Memorial Hall on Thursday (the first one was held in November last year). He will talk in particular about the politics and processes related to starting a business in Taipei.
CHANGING ENTREPRENEURIAL LANDSCAPE
Contrary to what some may think, Ek says Taiwan is a great place for entrepreneurs. Although many initially come to Taiwan for other reasons — to travel, study or teach — Ek says that many entrepreneurs also seek out Taiwan as a base for their company. The fact that you can produce high-quality hardware for less money is enticing, and unlike other countries like Thailand, a foreigner can own 100 percent of the shares in a company. He adds that although it certainly helps to know Mandarin, even if you don't, it's possible to find partners and employees to help. All of that coupled with relatively affordable living expenses and rental makes Taiwan a popular option.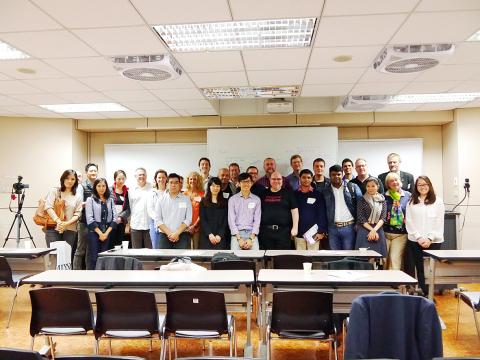 Attendees are pictured at the first Foreign Entrepreneur Workshop held in November.
Photo courtesy of Elias Ek
Recently, Ek has been working with the Taipei City Government to market Taiwan to foreign entrepreneurs. His role involves helping the government understand foreign entrepreneurs more, as well as compiling a list of problems with accompanying suggestions for solutions.
"I very much believe that success and happiness for Taiwan's economy and foreign entrepreneurs alike hinges on more integration between the foreign community and the Taiwanese startup and business communities," Ek says.
That being said, he adds that the entrepreneurial landscape has changed considerably in the 15 years that he's been here. The community is much more vibrant now, and there are an increasing number of events held in English geared at nurturing startups to compete on the international stage. The Canadian and French chambers of commerce for instance, frequently hold these sorts of events. Moreover, the Taipei City Government now accepts grant applications in English, which is something, Ek believes, that makes the process a lot easier.
SECRET TO SUCCESS
As for advice to aspiring entrepreneurs, Ek says it's a good idea to read lots of books.
"Including mine of course," he adds jokingly (Ek is the author of How to Start a Business in Taiwan, published in 2013). "Reading my book will educate them about the legal framework they need to deal with."
For topics more related to product and organization, he recommends The Lean Startup and Blue Ocean.
Besides reading, Ek says it's always a good idea to go out and talk to as many people as possible about your startup idea, and, more importantly, to not be afraid of other people "stealing" your idea.
"The truth is that ideas in most cases are cheap and execution is everything," he says.
Ek believes that the more you talk to people, the better your ideas will become. It doesn't necessarily mean that you need to give away your "secret sauce," but in his experience, people are normally open to advice or an introduction if they feel the other person is really listening and paying it forward.
Events like the one on Thursday, he says, will be helpful in terms of networking and commiserating with people who have been through a similar experience, regardless of age or background.
"By tapping into the experiences of everyone in the room, we all win," Ek says.
Publication Notes
Event notes
What: Foreign Entrepreneur Workshop
Where: 3F, 102, Guangfu S Rd, Taipei City (台北市光復南路102號3樓)
When: Thursday from 10am to 5pm
Admission: Free
On the net: www.facebook.com/events/483804228459107
Comments will be moderated. Keep comments relevant to the article. Remarks containing abusive and obscene language, personal attacks of any kind or promotion will be removed and the user banned. Final decision will be at the discretion of the Taipei Times.