Art exhibition listings
The gelatin silver prints by Austrian photographers Ina Forstinger and Gerald Berghammer are currently on display at Taipei's 1839 Contemporary Gallery in an exhibition entitled Silverfineart Photography (銀鹽照片). The black-and-white images taken from their travels — from the glaciers of Iceland to the cityscapes of Dubai — have a mystical and lustrous quality that makes them look both antique and modern.
■ 1839 Contemporary Gallery (當代藝廊), B1, 120 Yanji St, Taipei City (台北市延吉街120號B1), tel: (02) 2778-8458. Open Tuesdays to Sundays from 11am to 8pm
■ Until Jan. 31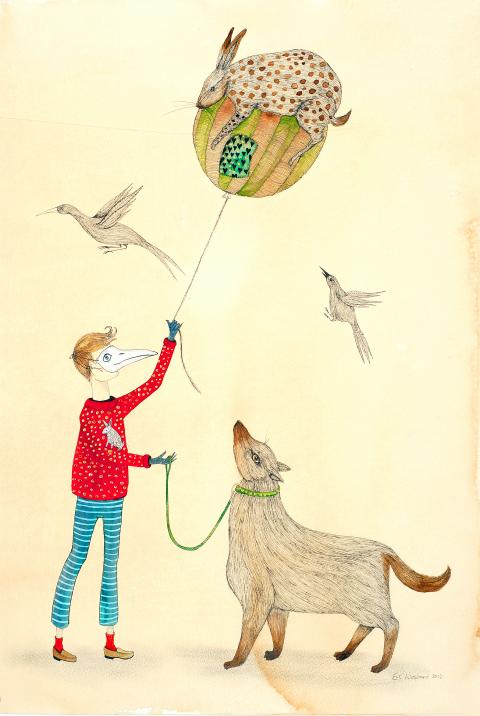 Emily Carew Woodard, Balloonist (2012).
Photo courtesy of Bluerider Art
Performance artist River Lin (林人中) is putting on quite a show at the Barry Room in Taipei Artist Village. Entitled Encounter Project: The Exhibition Of Our Own (邂逅計畫 — 兩個人的展覽), the installation draws on Lin's recent performance art shows in London, Paris and Berlin. While it's probably unclear to most ordinary people what the larger significance of Lin's work is, attendees should be forewarned that there "might" be nudity at the performance. Not only that, but audiences "might" also be called upon to "perform" with the artist, which, according to the gallery notes, "might" include listening to a song, taking a walk or "kissing each other or doing nothing." I certainly hope I'll fall into the "doing nothing" category if I attend Lin's show.
■ Barry Room, Taipei Artist Village (台北國際藝術村百里廳), 7 Beiping E Rd, Taipei City (台北市北平東路7號), tel: (02) 3393-7377. Open Tuesdays to Sundays from 11am to 9pm
■ Until Feb. 6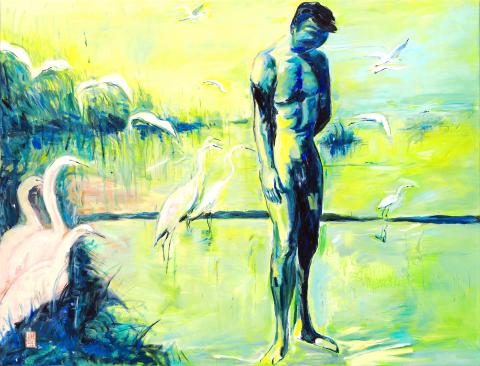 Ku Fu-sheng, Petals and Flowers (2013).
Photo courtesy of Eslite Gallery
Bluerider Art is celebrating their second anniversary with Selectbration: 2nd Anniversary Show (兩週年慶精選特展), a joint exhibition featuring the works of some of the past artists who have exhibited at the gallery. Emily Carew Woodard's Victorian-esque paintings are of well-dressed, charming rabbits, rats, raccoons and other animals. Growing up in the Cornish countryside, Woodard spent a lot of her time in the woods and was constantly surrounded by animals. As such, she endows them with human qualities. Nick Veasey's X-ray photography are also on display, as are Rine Boyer's paintings of hipsters dancing, talking and drinking beer.
■ Bluerider Art (藍騎士藝術空間), 9F, 25-1, Renai Rd Sec 4, Taipei City (台北市仁愛路四段25-1號9樓), tel: (02) 2752-2238. Open Tuesdays to Saturdays from 9am to 6pm
■ Until Feb. 20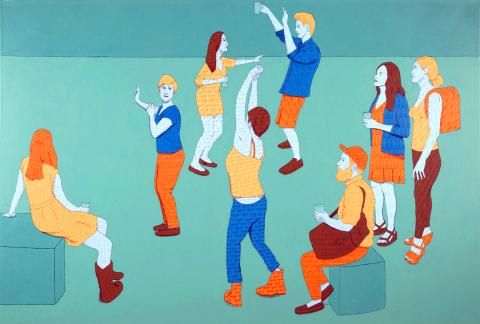 Rine Boyer, Dance (2015).
Photo courtesy of Bluerider Art
New media artist Wang Chung-kun's latest exhibition, Making Sound (造聲), opens at Project Fulfill Art Space tomorrow with a live sound performance at 5pm. Wang, who previously dabbled in dance and theater, has been known to add a performance element to most of his kinetic sculptures and sound art. For the series sound.of.suitcase, Wang was influenced by portable sound devices. He repurposed bulky instruments such as organs and gramophones, converting them into installations that viewers can interact with. The series first previewed at Art Basel Hong Kong in 2014.
■ Project Fulfill Art Space (就在藝術空間), 2, Alley 45, Ln 147, Xinyi Rd Sec 3, Taipei City (台北市信義路三段147巷45弄2號), tel: (02) 2707-6942. Open Tuesdays to Sundays from 1pm to 6pm
■ Opens tomorrow. Until Feb. 27
Shanghai-born, Los Angeles-based Taiwanese artist Ku Fu-sheng (顧福生) has been dazzling the art world for decades with his vibrant and colorful paintings, most of which are a blend of impressionism with Chinese sensibilities (his stamp is always on the bottom right hand corner of his paintings). His latest exhibition at Taipei's Eslite Gallery, Song of Myself: Selected Works of Ku Fu-sheng, 1960-2015 (自我之歌—顧福生1960-2015作品選集), includes an exhaustive selection of his works created over the years in Taipei, Paris and various cities across the US. Ku's work almost always revolved around the concept of the individual (most notably, a male individual) and his relationship with his surroundings, with other people and with his inner self. Works in his later years tended more towards simplicity, with his human subjects taking on more shapeless and fluid figures.
■ Eslite Gallery (誠品畫廊), 5F, 11 Songgao Rd, Taipei City (台北市松高路11號5樓), tel: (02) 8789-3388. Open Tuesdays to Sundays from 11am to 7pm
■ Until Feb. 28
Comments will be moderated. Keep comments relevant to the article. Remarks containing abusive and obscene language, personal attacks of any kind or promotion will be removed and the user banned. Final decision will be at the discretion of the Taipei Times.