Movie review: A Tale of Three Cities
The story about Jackie Chan's parents is more affected than affecting
Throughout their three-decade collaboration, writer-director duo Mabel Cheung (張婉婷) and Alex Law (羅啟銳) have earned a reputation for making intimate dramas — An Autumn's Tale (秋天的童話, 1987) and Echoes of the Rainbow (歲月神偷, 2010) — about people who are geographically or psychologically dislocated.
A Tale of Three Cities (三城記), starring arthouse favorites Sean Lau (劉青雲) and Tang Wei (湯唯), is the kind of movie one has high expectations of. It tells a romanticized real-life story of the parents of martial-arts hero Jackie Chan (成龍). Unfortunately, the film lacks the ambition and execution it needs to carry this off. As the period drama unfolds, genuine human emotion and empathy are left out, making the story more affected than affecting.
Set in the war-torn China of the 1930s and 1940s, the film looks to a time when death and survival were the order of the day. It opens in 1950s Hong Kong, where Daolong (Chan's future father), played by Lau, works as a cook in the American embassy. Flashbacks return viewers to the Sino-Japanese War and Chinese Civil War, a time when the younger Daolong is a customs officer with two sons. Yuerong (Chan's future mother), played by Tang, is a strong-willed mother of two daughters, forced into illegal activity to support her family.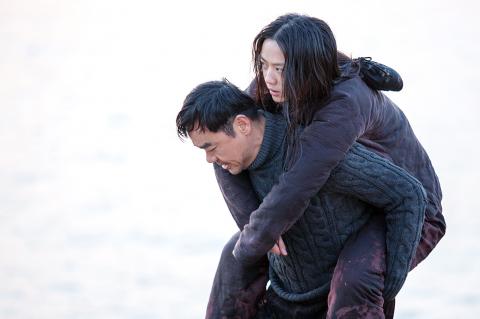 The on-screen romance between Sean Lau and Tang Wei and Sean Lau feels affected and stagy in A Tale of Three Cities.
Photo courtesy of Hualien Media
Fate brings Daolong and Yuerong together and they become lovers, their spouses already having passed away. But their romance is ill-fated. The couple, uprooted by war, travel to Shanghai and eventually Hong Kong. They are separated and reunited again and again, and that is what mostly happens throughout the story. While exceeding two hours in length, the film at times feels like a repetitive and protracted courtship, revolving around the two lovers kissing and embracing after separations across different historical events.
The story moves rather hastily from location to location, trying to cover a lot of ground, but leaving little time for motive and character development. While the film's top-notch cast hand in good performances, even China's fine thespian Qin Hailu (秦海璐) and Hong Kong's Kam Yin-Ling (金燕玲) cannot rescue their characters from being flat and insipid. It is certainly not one of Lau and Wei's best work.
In A Tale of Three Cities, Cheung and Law tumble under the weight of history, delivering a lackluster and vacant historical piece, rather than a touching human story.
Publication Notes
A Tale of Three Cities 三城記
Directed by: Directed by Mabel Cheung (張婉婷)
Starring: Sean Lau (劉青雲) as Daolong, Tang Wei (湯唯) as Yuerong, Qin Hailu (秦海璐) as Qiu
Running time: 131 minutes
Language: in Mandarin, Cantonese, Shanghainese and English with Chinese and English subtitles
Taiwan release: Today
Comments will be moderated. Keep comments relevant to the article. Remarks containing abusive and obscene language, personal attacks of any kind or promotion will be removed and the user banned. Final decision will be at the discretion of the Taipei Times.