Art Basel Hong Kong to strike a global chord
With the fourth edition of the fair taking place in March, Adeline Ooi speaks of the impossibility of being "mono-anything" in an increasingly globalized art world, as well as the need to foster a society that's inspired
The table was set — purple roses as the centerpiece, name holders placed perfectly in front of simple white Chinaware and a glass of orange juice for everyone (it was too early for wine). Adeline Ooi (黃雅君), Art Basel's Asia director, was careful not to make a grand entrance at Taipei's Mandarin Oriental last week. But she did take the trouble of personally greeting all the attendees at lunch, charming them not so much with knowledge of her favorite galleries and artists from around the world — although that was impressive, too — but more by her remarkable ability to switch between talking about rubbing shoulders with celebrities at Miami Beach and lounging around at home in Malaysia, binge-watching television over Christmas and New Year's.
Ooi was present to share the gallery list for this year's Art Basel Hong Kong, which will take place from March 24 to March 26, featuring over 230 galleries, including nine from Taiwan. The fair, which first launched in Hong Kong in 2013 after years of successful runs in Basel and Miami Beach, is indicative of how Asia is playing a greater role in influencing the global art scene. Taipei in particular, Ooi says, has a strong and vibrant scene, evidenced by the fact that it's commonplace to see families with young children perusing art galleries and museums on weekends — something which is less seen in Southeast Asia, where she used to be based.
GLOBAL OUTLOOK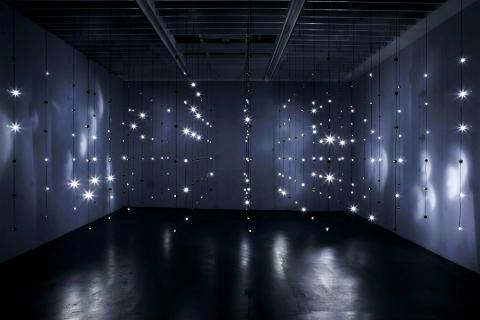 Wang Fu-jui, Sound Dots (2010).
Photo courtesy of Project Fulfill Art Space
When I inquire during our one-on-one conversation if she thinks it's important for Taiwanese galleries to communicate effectively with fair organizers and collectors in English, Ooi says it certainly is, but that on flip side, galleries in North America and Europe are trying to learn Mandarin — besides the obligatory nihao (你好, hello) and xiexie (謝謝, thank you), that is.
"You're no longer 'international' if you only know one language," Ooi tells me.
That being said, Ooi also mentions how whereas a critic — or even a lay person — could look at a painting from a few centuries ago and tell if it was Italian or French, these days, more and more artists, especially younger ones, are creating artwork that obfuscates national identity or sentiment.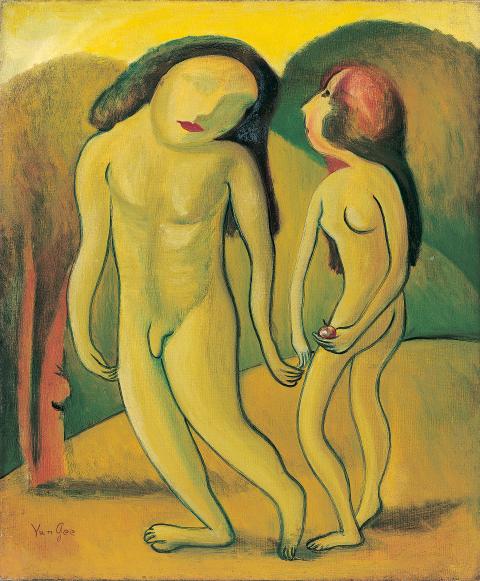 Yun Gee, Adam and Eve (1939).
Photo courtesy of Lin & Lin Gallery
The question of which country a piece of artwork is from, Ooi says, is one that is becoming less important to answer.
While artists in the past might have been concerned with the concept of "identity" — whether it be national or cultural identity — Ooi maintains that nowadays, it's more about how the artist is influenced by his or her environment.
"It's impossible to mono-anything these days," she adds.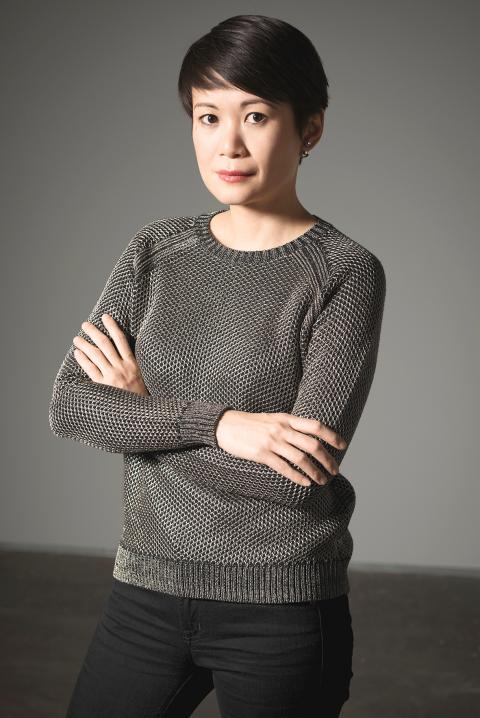 Adeline Ooi, Asia director of Art Basel.
Photo courtesy of Art Basel
For Ooi, this phenomenon in modern art is a good thing. "Or else, you'll be pandering to stereotypes — just because I'm from Malaysia, it doesn't mean that I have to make artwork with batik."
One medium that's proven popular among young artists from across the world is digital art — the film sector at this year's fair curated by Chinese multimedia artist Li Zhenhua (李振華) will also include its first feature-length film screening.
Of course, there's a downside to exhibiting digital art at a museum or selling it at an art fair. While paintings and sculptures last for centuries, technology changes every few years. Even CDs have become obsolete. Ooi agrees that it's a headache for museums to retain old technology, but that it's also contingent on the artist and some are more flexible with updating their hardware.
When it comes to buying digital art though, she says "it depends on the courage of the collector."
As for its market value, Ooi says it's still too early to tell, since unlike paintings, videos haven't been around for centuries.
PINK ELEPHANT IN THE ROOM
Contrary to popular opinion, the purpose of Art Basel — or any art fair — is not to simply sell art. Ooi says she spends the bulk of her time working with non-profits and art institutions, such as the Hong Kong-based institution Para Site, that aim at cultivating in people a greater appreciation of art. She finds programs for children to be the most amusing. When bringing a school group on a tour of an art fair for instance, they'll show them a painting of animals and ask how many elephants they see.
The children will reply, "Elephants are not supposed to be pink!" Ooi says.
Humorous as it may seem, Ooi finds the children's no-filter approach to art criticism to be the most effective. The main reason why some people don't visit galleries and museums, Ooi believes, is because they're afraid that they won't understand the artwork and feel "stupid."
But to Ooi, there is no wrong answer when it comes to art. Rather, it's all about exposure — the more you're exposed to it, the less afraid of it you'll be, and hence the need to work with such institutions to create public programs aimed at different audiences.
"You need a society that's inspired," Ooi says. "And that's where art comes in."
She admits that even some of the artwork she sees at fairs befuddles her. But the process of introspection, reflection or simply putting a smile to your face upon viewing a piece of artwork is something that anyone can relate to.
"Art is for everyone — this is something that will always be challenged, but the reality is that art is there, it can be seen, so why would you shut it out from the public?"
Art Basel Hong Kong runs from March 24 to March 26 at the Hong Kong Convention & Exhibition Center.
Comments will be moderated. Keep comments relevant to the article. Remarks containing abusive and obscene language, personal attacks of any kind or promotion will be removed and the user banned. Final decision will be at the discretion of the Taipei Times.