Book review: 'Sympathetic but unsparing'
Jonathan Bate's biography of Ted Hughes paints an incredibly human portrait of the late poet's life — including his attempts to evade threats by feminists
His letters have been compared to those of Keats, his love-life has attracted more interest even than Byron's, and his poetic reputation in the UK of his day was only equaled by Philip Larkin's. History, though, is likely to remember Ted Hughes (1930 – 1998) as passionate about two things — poetry and women. He approached them both with a virility that some consider near-violent. His poetic language strained under his efforts to evoke nature's primal brutality, and he often took as his subjects animals who treated their prey with manifest savagery. As for women, many fell for him at first sight, and he was more than willing to return the favor.
Jonathan Bate's long book is called an The Unauthorized Life. The background to this is that initially it was assumed there would be no biographies on the grounds of Hughes's understandable fear of the form, though Elaine Feinstein published one in 2001. But then, around five years ago, Bate approached Hughes's widow with the idea of a book that would illuminate the poetry by reference to the life, and was astonished when she agreed, and even proceeded to provide him with photocopies of documents lodged in the US. So Bate, a professor of English at Oxford, worked away feverishly on the massive Hughes archives held by the British Library and Emory University in Atlanta.
Then suddenly, the Estate withdrew its cooperation, citing Bate's refusal to show them his work in progress. Bate had to leave his original publisher, Faber, and find another. He was also refused permission to make quotations from Hughes's unpublished work and so was forced to paraphrase what he describes as the extraordinary riches of Hughes's journals deposited in the British Library. He says he fervently hopes they will one day be published in full.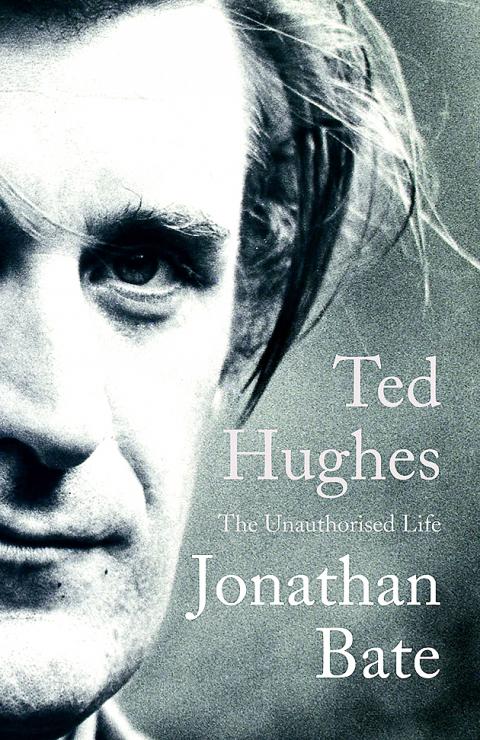 Ted Hughes: The Unauthorized Life, by Jonathan Bate.
What everyone knows about Ted Hughes is that his first wife, the US poet Sylvia Plath, killed herself, seemingly as a result of his infidelities. Many books hostile to Hughes have been published on this relationship alone, and for many years Plath's grave in Yorkshire, UK, was defaced, with the name "Hughes" repeatedly chipped out of the gravestone. Militant feminists effectively accused him of the murder of someone they believed was the US's finest female poet since Emily Dickinson, and Hughes often had to cancel US poetry readings because of threats of disruption by the feminist lobby.
Jonathan Bate's book can be seen as an attempt to redress the balance. For one thing, he's more interested in Hughes's poetry than Plath's. In addition, he sees himself as writing Hughes's life seen as a whole, and keeps the years he spent with Plath in proportion. (He accuses Feinstein of devoting 125 pages to their seven years together, but only 110 to the 35 years of Hughes's life after her death).
But Bate also sees Hughes as having suffered terribly from Plath's death, not to mention the subsequent suicide, also by use of a domestic gas oven, of Assia Wevill, the woman he effectively left Plath for. Bate makes out that Hughes continued to love Plath "until the day he died", though his second marriage, to Carol Orchard, the daughter of a neighbor in rural Devon, UK, is implicitly portrayed as having been his salvation. When his and Plath's son Nicholas kills himself in Alaska in 2009, Bate comments that, if Hughes had lived to learn about it, it would have been "the one thing that would have destroyed him".
In his later life, Hughes dedicated much energy to environmental issues — fighting the pollution of English rivers by detergents, and pointing to "a 40 percent reduction in the sperm count of all human males" over the two decades prior to 1987, probably the result of the international trade in pesticides ("let what can't be sold to your brother and sister be released on the 3rd world").
There's one small blunder. A line of Hopkins, "I wake and feel the fell of dark, not day", is quoted as "I wake and feel the fell of darkness, not day", an error not present in the article available online that Bate is quoting. This can only be a typo on Bate's part. It's something that mars the scansion of a particularly tightly-controlled sonnet, and is a surprise coming from an Oxford professor of literature.
Bate assesses the poetry volume by volume as it was published, making a case for such mid-career poems as Gaudete and the agricultural poems of Moortown, and seeing Hughes's bizarre book Shakespeare and the Goddess of Complete Being as no longer seeming eccentric in its entirety.
So what is Hughes's standing? In places Bate compares him — with his devotion to nature and his reliance on memory — to Wordsworth, but he knows this is going too far. Despite what the feminists claim, though, Hughes is superior to Plath, if only because she cut herself off in her prime. Larkin, his great contemporary, is out of fashion on account of his racist, if joking, letters to Kingsley Amis, but the two will probably draw level eventually, like Tennyson and Browning. Larkin, sardonic and clipped, was a master of meticulously-constructed rhyme schemes combined with a colloquial resonance, whereas Hughes was ferocious and passionate, and much more wide-ranging. Larkin has only one voice, Hughes has many.
What, then, should we read of Hughes? I would make a case for Season Songs (1976), especially the last poem The Warm and the Cold, and for the late books Birthday Letters and Tales from Ovid. Just to listen on YouTube to Hughes reading Acteon from the latter is an amazing experience. No doubt Hughes saw himself as Acteon, consumed by his own hounds at women's behest, but this reworking of the old Roman poet is enough to open the door to much of his sensibility, and his evocative poetic voice.
"Sympathetic but unsparing" — these are Bate's own words for an ideal biography, and as good a summary of this book as any.
Publication Notes
Publication Notes
Ted Hughes:The Unauthorized Life
By Jonathan Bate
662 pages
William Collins
Hardback: UK
Comments will be moderated. Keep comments relevant to the article. Remarks containing abusive and obscene language, personal attacks of any kind or promotion will be removed and the user banned. Final decision will be at the discretion of the Taipei Times.