Restaurant review: Tua 攤
From the makers of Szuchihtang (四知堂) comes Tua (攤), where traditional Taiwanese dishes undergo a modern makeover. The idea behind Tua — which means having a dinner date with friends in Hoklo (commonly known as Taiwanese) — is to elevate Taiwanese cuisine to something more stylish and upscale. While other establishments in Taipei have toyed with the concept, so far, it's just Tua that has succeeded.
The two-story establishment doesn't have a sign and can be easily mistaken for a private residence with a well-attended front garden. Inside, it has the feel of a design-savvy bistro, a cross between industrial and vintage-chic. Sapphire-blue and grayish-silver paintings lend the space some playful charm.
The waitresses are mainly young ladies in aprons, and the one who waited on us knew the food well and made useful suggestions.
The three-flavored chicken is characterized by the titillating flavor of Sichuan peppercorns.
Photo: Ho Yi, Taipei Times
Although the menu is short, it includes a delectable selection of Taiwanese-fusion food. Diners are even provided with a choice of sparkling/non-sparkling mineral water (NT$100).
My dining partner and I began our meal with the stewed beef (NT$250), an appetizer substantial enough to be served as a main course. The meat was well-marinated and flavorful, with a hint of soy sauce.
The three-flavored chicken (NT$650), which consists of cherry tomatoes, mushroom, okra, Sichuan peppercorns and, of course, the savory chicken was equally zesty.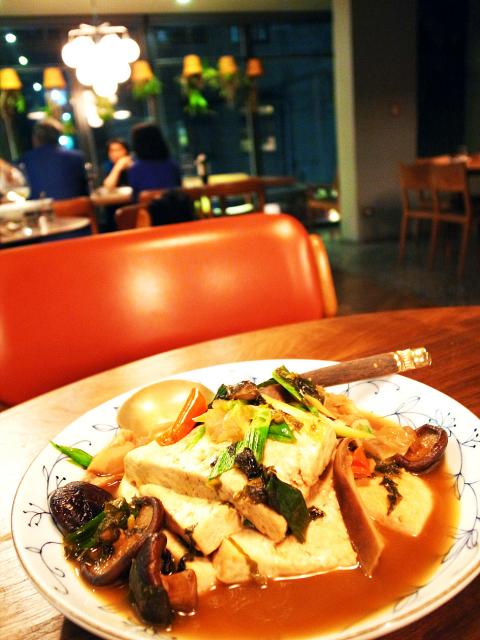 The braised tofu with pork intestines and pickled mustard is a good choice for those with mellower tastes.
Photo: Ho Yi, Taipei Times
The braised tofu with pork intestines and pickled mustard tuber ($480) were surprsingly subtle in flavor, but perhaps it was because the sprinkling of sliced pickles, scallions and chili helped to drown out the usually overpowering flavor of the intestines.
While all the dishes we tried were more or less satisfying, the seafood rice noodles (NT$500) takes the prize. Usually cooked as street food, the rice noodles were refined with an abundance of shrimps, oysters and clams.
Other popular dishes on the menu — which changes seasonally — includes the three cup pork knuckle (NT$650) and almond and black fungus with bamboo shoots (NT$550).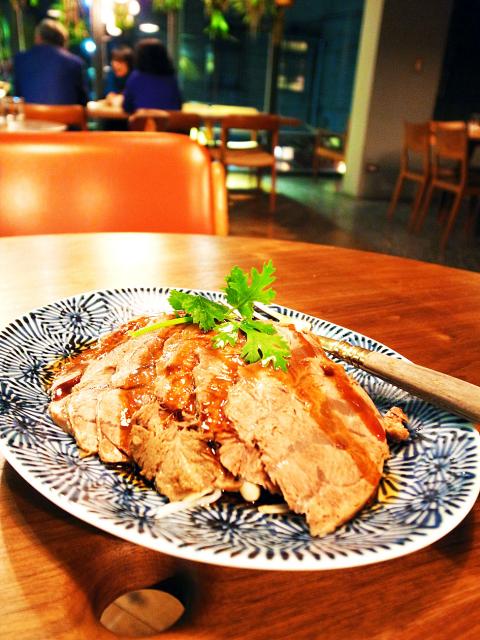 The stewed beef is served as an appetizer but is substantial enough for a main course.
Photo: Ho Yi, Taipei Times
We were too full for desserts but were still treated to a helping of baked sweet potatoes with cream cheese and caramel on the house. They were as sweet and delectable as they sound.
For tipplers, the restaurant's cellar consists of red, white and sparkling wine from Chile, France and Germany, priced between NT$900 to NT$2,000.
Overall, Tua is a good spot to bring non-Taiwanese friends and show them that local fare can, too, be swanky.
Publication Notes
Tua 攤
Address: 15-1, Ln 44, Siwei Rd, Taipei City (台北市四維路44巷15-1號)
Telephone: (02) 2708-2082
Open: Daily from noon to midnight
Average meal: NT$1,200, drinks not included
Details: Menu in Chinese, credit cards accepted
On the net: www.tuaculture.com
Comments will be moderated. Keep comments relevant to the article. Remarks containing abusive and obscene language, personal attacks of any kind or promotion will be removed and the user banned. Final decision will be at the discretion of the Taipei Times.