An uncomfortable truth
Disputing South Korean narrative on 'comfort women,' a professor draws fierce backlash
When she published her book about Korean "comfort women" in 2013, Park Yu-ha wrote that she felt "a bit fearful" of how it might be received.
After all, she said, it challenged "the common knowledge" about the wartime sex slaves.
But even she was not prepared for the severity of the backlash.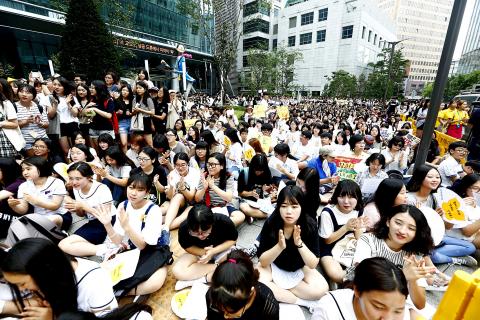 South Korean supporters of former comfort women gather during a rally against the Japanese government near the Japanese embassy in Seoul, South Korea in August.
Photo: EPA
In February, a South Korean court ordered Park's book, Comfort Women of the Empire, redacted in 34 sections where it found her guilty of defaming former comfort women with false facts. Park is also on trial on the criminal charge of defaming the aging women, widely accepted here as an inviolable symbol of Korea's suffering under colonial rule by Japan and its need for historical justice, and she is being sued for defamation by some of the women themselves.
The former comfort women have called for Park's expulsion from Sejong University in Seoul, where she is a professor of Japanese literature. Other researchers say she is an apologist for Japan's war crimes. On social media, she has been vilified as a "pro-Japanese traitor."
"They do not want you to see other aspects of the comfort women," the soft-spoken Park said during a recent interview at a quiet street-corner cafe run by one of her supporters. "If you do, they think you are diluting the issue, giving Japan indulgence."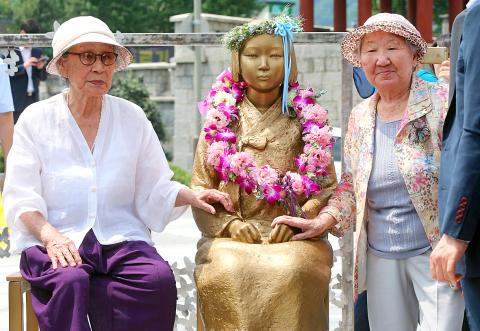 South Korean comfort women who were forced into wartime brothels during the Japanese occupation pose for a photo with the Peace Monument during an unveiling ceremony in Jeonju, South Korea in August.
Photo: EPA
MOUTHPIECE FOR JAPAN?
The issue of the comfort women has long been controversial, and it is difficult to determine whether the version of events put forward by Park — who critics say is nothing more than a mouthpiece for Japan — is any more correct than many others that have been offered over the years. Yet, for decades, the common knowledge Park is challenging has remained as firm among Koreans as their animosity toward their island neighbor.
In the early 20th century, the official history holds, Japan forcibly took innocent girls from Korea and elsewhere to its military-run brothels. There, they were held as sex slaves and defiled by dozens of soldiers a day in the most hateful legacy of Japan's 35-year colonial rule, which ended with its defeat in World War II.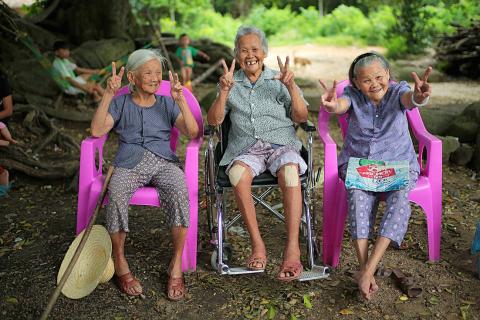 A still from the documentary film Twenty Two, which premiered at the Busan International Film Festival in October, traces the lives of surviving comfort women living in China. The issue surrounding comfort women is a contentious topic in both China and South Korea.
Photo: AFP
As she researched her book, combing through a rich archive in South Korea and Japan and interviewing surviving comfort women, Park, 58, said she came to realize that such a sanitized, uniform image of Korean comfort women did not fully explain who they were and only deepened this most emotional of the many disputes between South Korea and Japan.
In trying to give what she calls a more comprehensive view of the women's lives, she made claims that some found refreshing but many considered outrageous and, in some cases, traitorous.
In her book, she emphasized that it was profiteering Korean collaborators, as well as private Japanese recruiters, who forced or lured women into the "comfort stations," where life included both rape and prostitution. There is no evidence, she wrote, that the Japanese government was officially involved in, and therefore legally responsible for, coercing Korean women.
Although often brutalized in a "slavelike condition" in their brothels, Park added, the women from the Japanese colonies of Korea and Taiwan were also treated as citizens of the empire and were expected to consider their service patriotic. They forged a "comrade-like relationship" with the Japanese soldiers and sometimes fell in love with them, she wrote. She cited cases where Japanese soldiers took loving care of sick women and even returned those who did not want to become prostitutes.
SMALL SALES, BIG CONTROVERSY
The book sold only a few thousand copies, but it set off an outsize controversy.
"Her case shows how difficult it has become in South Korea to challenge the conventional wisdom about comfort women," said Kim Gyu-hang, a social critic.
Park's book, published in Japan last year, won awards there. Last month, 54 intellectuals from Japan and the US issued a statement criticizing South Korean prosecutors for "suppressing the freedom of scholarship and press." Among them was former Japanese chief Cabinet secretary in Japan Yohei Kono, who issued a landmark apology in 1993 admitting coercion in the recruitment of comfort women.
Even then, however, Kono noted that the recruiting had been conducted mainly by private agents working at the request of the Japanese military, and by administrative and military personnel. For outraged South Koreans, the caveats rendered the apology useless.
This month, 190 South Korean scholars and cultural figures issued a statement supporting what Park had tried to do in her book, if not everything written in it. They called her indictment an "anachronistic" attempt to "keep public opinion on comfort women under state control."
But others said the talk of academic freedom missed the main point of the backlash. This month, 380 scholars and activists from South Korea, Japan and elsewhere accused Park of "exposing a serious neglect of legal understanding" and avoiding the "essence" of the issue: Japan's state responsibility.
Their statement maintained that state agencies of Japan, like its military, were involved in the "hideous crime" of coercing tens of thousands of women into sexual slavery, a view shared by two UN special rapporteurs in the 1990s.
Yang Hyun-ah, a professor at the Seoul National University School of Law, said that Park's most egregious mistake was to "generalize selectively chosen details from the women's lives."
"I wish her expelled from the country," said Yoo Hee-nam, 87, one of the nine former comfort women who sued Park, shaking her walking stick during a news conference.
VICTIMS AND COLLABORATORS
Park said she had tried to broaden discussions by investigating the roles that patriarchal societies, statism and poverty played in the recruitment of comfort women. She said that unlike women rounded up as spoils of battle in conquered territories like China, women from the Korean colony had been brought to the comfort stations in much the same way that poor women today enter prostitution.
She also compared the Korean comfort women to more recent Korean prostitutes who followed US soldiers into their winter field exercises in South Korea in the 1960s through 1980s.
"Korean comfort women were victims, but they were also collaborators as people from a colony," Park wrote in one of the redacted sentences in her book.
However, she added that even if the Japanese government did not directly order the women's forced recruitment and some Korean women joined comfort stations voluntarily, the government should still be held responsible for the "sin" of creating the colonial structure that allowed it to happen.
Comments will be moderated. Keep comments relevant to the article. Remarks containing abusive and obscene language, personal attacks of any kind or promotion will be removed and the user banned. Final decision will be at the discretion of the Taipei Times.