An 'uplifting' shopping experience
In the 1930s, people flocked to Kikumoto and Hayashi department stores, the first and second of their kind in the country, just to ride the elevator
Taiwan in Time: Nov. 30 to Dec. 6
There's a Hoklo (commonly known as Taiwanese) saying to describe someone with unrefined taste: "Wearing a bamboo hat and sandals while riding an elevator."
It sounds a bit far-fetched, but that wasn't such an uncommon sight 80 years ago.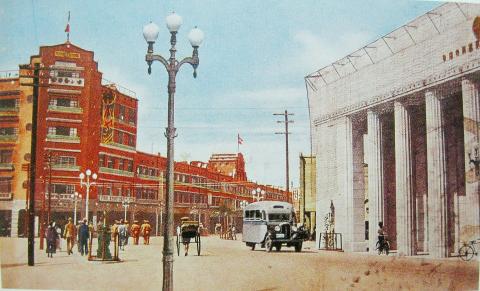 Opening two days after Taipei's Kikumoto, Tainan's Hayashi Department Store also boasted a public elevator.
Photo courtesy of Wikimedia Commons
It was Dec. 3, 1932, the grand opening of Taiwan's first department store: Kikumoto. A crowd waited outside the seven-story building in what is today the corner of Taipei's Hengyang Road (衡陽路) and Boai Road (博愛路), many of them unable to afford the Japanese and Western goods inside, but all wanting to do one thing: ride the liulong (流籠), literally "moving cage."
The allure was such that a common saying to get children to do what they didn't want to do in those days was to promise to take them to Kikumoto afterward, writes historian Chuang Yung-ming (莊永明) in his book, First in Taiwan (台灣第一).
The elevator wasn't the first of its kind in Taiwan — that honor goes to the three-story Railway Hotel near Taipei Main Station, built in 1908 and destroyed when US forces bombed Taipei in 1945 — but it was the tallest and most accessible for the public.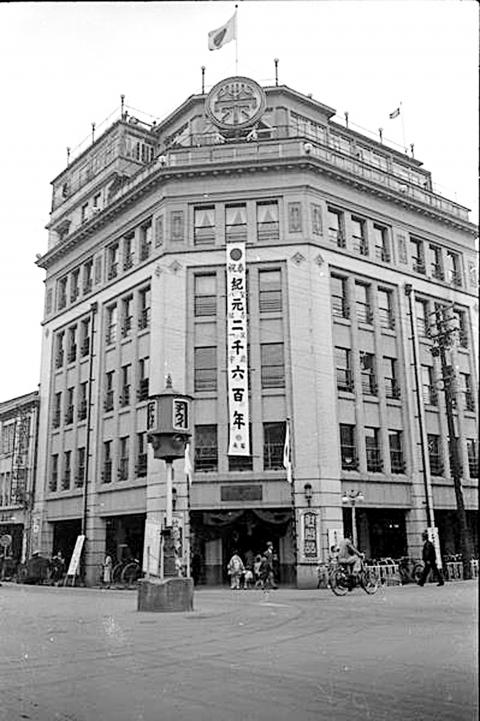 Established in 1932, Kikumoto Deparment store was the first of its kind in Taiwan.
Photo courtesy of Creative Commons
Two days later, the same scene took place in Tainan with the opening of the five-story Hayashi Department Store (林百貨). Riding these two elevators quickly became a tourist activity, drawing people from all around the country. The elevator girls, of course, were also a hit.
Kikumoto stood head-to-head with the Taiwan's Governor-General's Office (today's Presidential Palace), the tallest building in Taiwan in a time where a typical residential building would contain three floors. Because of concerns about earthquakes, most buildings never went past five stories, and the two dominated the Taipei skyline for the next 40 years until the completion of the 20-story Hilton Hotel.
Starting from 1908, newspaper reports showed that Japanese department stores such as Takashimaya and Mitsukoshi would bring their goods to Taiwan once or twice a year for an open sale, but no permanent stores were established. This drew the ire of local merchants, who made repeated efforts to stop these sales, finally succeeding in 1934.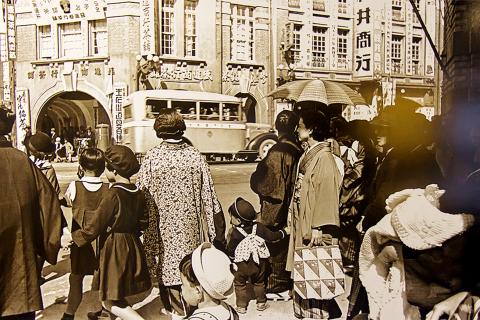 Shoppers in the busiest commercial area of Taipei, where Kikumoto Department Store was located.
Photo courtesy of Creative Commons
National Chengchi University assistant professor Lee Yi-yun (李衣雲) writes in a paper about department stores in Taiwan that although Taipei had a population of over 200,000 at that time, there wasn't a large enough percentage of Japanese citizens, especially females, who were Mitsukoshi's target demographic.
In a interview with Japanese-language business magazine Taiwan Jitsugyokai, Kikumoto founder Shigeta Eiji says that Japanese and Taiwanese usually shopped in different areas, the latter in today's Dadaocheng (大稻埕) and Wanhua (萬華) districts. He believed that a successful department store, while maintaining its Japanese customer base, also needed to be able to attract Taiwanese.
Lin Hui-yu (林惠玉), a scholar specializing in the Japanese colonial era, writes in a study that after Kikumoto opened, the customer base was actually 70 percent Taiwanese, which was remarkable given that before, they rarely ventured inside the city walls to shop.
Lee writes that the founders of both Kikumoto and Hayashi could do what the conglomerates couldn't because they had lived and worked in Taiwan for several decades before opening their respective stores, and were familiar with local needs.
Shigeta was a Russo-Japanese war veteran who landed in Kirun City (today's Keelung) in 1905 as a textile merchant, while Hayashi arrived in today's Tainan to work as an accountant in a clothing store in 1912. Both hailed from Yamaguchi Province. It's said that when Hayashi left Japan, he vowed to establish the "Mitsukoshi of Taiwan." Unfortunately, he fell ill before the grand opening and died five days after, and his wife continued to run the store.
The fate of these two department stores changed after the Japanese surrendered at the conclusion of World War II. Kikumoto was run by the Chinese Nationalist Party (KMT) until 1955. It later became a private enterprise, and the last owner reportedly ran the store into the ground in two years and fled to the US in 1979, leaving a significant amount of debt.
The building became the property of United World Chinese Bank (世華聯合銀行), today's Cathy United Bank (國泰世華銀行). At some point, it was given a new facade, though the original remains underneath. When the bank moved out last year, there has been calls to restore the building and preserve it as a historic site — which is what happened to Hayashi.
Hayashi ceased to be a store in 1945, and was used as offices and living quarters for a variety of state-run establishments, including the Republic of China Air Force. It eventually fell into disuse, and was finally renovated and reopened last year as Taiwan's first "cultural and creative department store."
It's been a long time since the days of walking around the city in a bamboo hat, but some things just remain the same. On the morning of Jan. 19, 2005, a huge crowd gathered outside of Taipei 101, waiting to — you guessed it — ride the elevator.
Taiwan in Time, a column about Taiwan's history that is published every Sunday, spotlights important or interesting events around the nation that have anniversaries this week.
Comments will be moderated. Keep comments relevant to the article. Remarks containing abusive and obscene language, personal attacks of any kind or promotion will be removed and the user banned. Final decision will be at the discretion of the Taipei Times.