Theatrical dance and comedic theater prove challenging outings
The past two weekends at theaters in Taipei have been interesting, with shows that delivered less — and more — than promised. The three productions viewed showed that while big ideas do not always translate well, sometimes it is better to just do what you do best.
The final two big shows in the National Theater Concert Hall's Dancing in Autumn series, Dance Forum Taipei's (舞蹈空間) Hui (迴) and Melbourne-based Chunky Move's Complexity of Belonging, are cross-cultural collaborations that each had outstanding segments or individual performances, but failed to completely meld.
However, Performance Workshop's (表演工作坊) 30th anniversary show, A Blurry Kind of Love (愛朦朧,人朦朧), was a reminder of just how good Taiwan's premiere theater troupe is at presenting a complete package.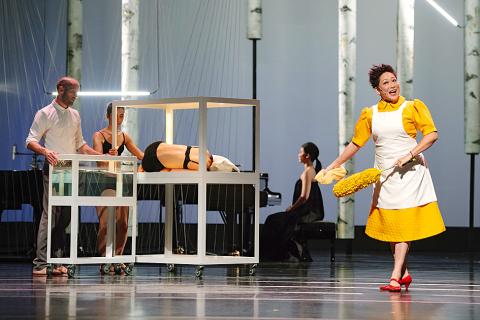 Hui, a joint production by Dance Forum Taipei, Anmaro and Cryptic, is centered upon, and inspired by, the piano music of contemporary Chinese composer Tan Dun.
Photo Courtesy of National Theater Concert Hall
HUI
Hui, a joint production by Dance Forum Taipei, Amsterdam-based Anmaro Asia Arts and Glasgow-based Cryptic, inspired by the music of contemporary Chinese composer Tan Dun (譚盾) and choreographed by Yang Ming-lung (楊銘隆) and Spaniard Ivan Perez Aviles, was beautifully staged and choreographed, but as a piece of dance-theater it remained as bleak and soulless as the 12 birch poles that were, beside two grand pianos, the main elements of staging.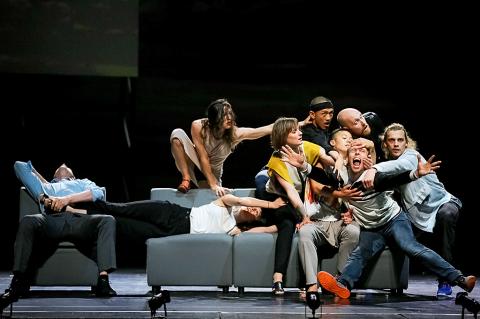 Melbourne-based Chunky Move's Complexity of Belonging at the National Theater proved to be more theater-dance than dance-theater.
Photo Courtesy of National Theater Concert Hall
That is not to say that it is not worth watching, just that when you leave the theater, it is individual elements you remember, not the show as a whole. In the end, one of Priscilla Leung's (梁小衛) lines resonated perhaps more than it should have: "I feel like I am missing something."
The problem might lie in the fact that while dance troupe, Tan, Yang and Aviles had been working on the show for three years, Cryptic and director Josh Armstrong were only pulled in last year, and with the creative team members based in four countries, everything really only came together once everyone was in Taipei.
The show begins in monochromatic black, grey and white, with splashes of color gradually added — the dancers' red socks, Leung's bright yellow costumes, a red cloth band that linked three dancers, an emerald green ballgown. The wiry spirals of recycled parachute chords that rose up from around the two pianos were visual reminders of the piano strings that Wang Wen-chuan (王文娟) and Hsu Yu-ting (許毓婷) often played instead of their keyboards.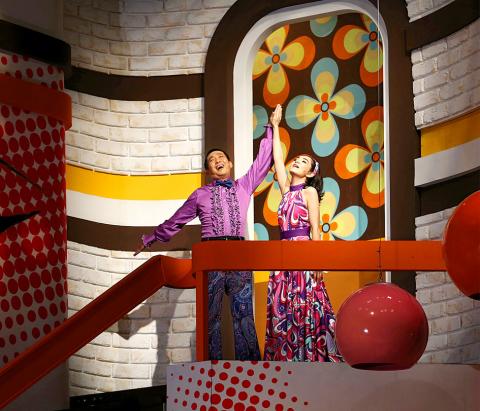 Chu Chung-heng, left, and Ella Chen showed off their comedic talents in the Performance Workshop's A Blurry Kind of Love at Taipei's Metropolitan Hall last weekend.
Photo Courtesy of Performance Workshop
It was easy to differentiate which of the two choreographers did the dance segments as their styles are very different, but the pieces and the Taiwanese and three foreign dancers blended together very well, even if Aviles must have ensured the dancers' enmity with a prolonged bout of skipping rope.
Hui will be performed again this weekend at the Yunlin Performance Hall in Changhua County's Yuanlin Township (員林), but without Christopher Tandy, Javier Monzon and Ines Belda.
COMPLEXITY OF BELONGING
While Hui was clearly dance-theater, Chunky Move's Complexity of Belonging was more theater, less dance — and that was both a plus and a minus.
While German playwright and director Falk Richter's script was intense, sometimes profane and often very, very funny, Dutch choreographer Anouk van Dijk's movements, while very physical, seemed largely to consist of falls and pushing furniture around.
It was hard to tell, for the most part, who were the five dancers and who were the four actors, but that was a plus, as they all delivered very powerful performances, especially Lauren Langlois' long monologue with a mile-a-minute delivery that drew loud applause from the women in the audience — and most of the men as well.
Using their own names, the nine portray characters, all of whom in one form or another are simply searching for someone to love them.
I just wanted more dance, but most of the audience, which drew the cast back for repeated curtain calls — sans the curtain — seemed well pleased with the show.
A BLURRY KIND OF LOVE
The Performance Workshop's A Blurry Kind of Love at the Metropolitan Hall was frothy good fun, with over-the-top characterizations, great set design and costumes, and an opera singer/pianist as the cherry on top of the sundae.
Director Ismene Ting (丁乃箏) did a great job of modernizing18th century French playwright Pierre de Marivaux's Le Jeu de l'amour et du hazard (The Game of Love and Chance) and reinterpreting for local audiences, with lines and jokes that drew some big laughs.
With singer Ella Chen (陳嘉樺) of the pop group S.H.E. as the star attraction, but several well-known actor/comedians rounding out six-person cast, the show drew a widely disparate audience on Saturday afternoon, with members ranging from young teens to some who were surely in the septuagenarian and up category.
Fan Kuang-yao (樊光耀) as the young business heir sent from the US to Taipei to meet the daughter of friend of the family was obviously channeling his inner John Travolta with his swiveling hips and big hair, although I found his very mannered laugh more irritating as the show went on.
The one-room set by Fang Iuan-kai (房元凱) was great — a vibrant mix of predominately yellow, orange, white, brown and red, with funky plastic and leather furniture and decorations, while through the floor-to-ceiling windows on one side of the room could be seen a huge moss-and-fern covered stone wall familiar to anyone who has ever wandered around the homes on Yangmingshan.
Klintonn Ke (柯林頓) reflected a very 1970s sensibility — almost painfully so in the case of Chu Chung-heng (屈中恆), the driver who trades places with his boss and is sent out to buy clothes more appropriate to his new station. The pink and red plaid suit Chu returns wearing was so bright it almost hurt the eyes, while the purple-teal paisley suit with ruffled purple shirt that was his second option was also an eyeful.
My only complaint was that with a running time of just over two hours and no intermission, the play turned into a bit of an endurance test with the Metropolitan's seats and limited leg room.
The company will give two performances of A Blurry Kind of Love at the Taichung Chungshan Hall (台中中山堂) on Saturday and two at the Tainan Municipal Cultural Center (臺南文化中心演藝廳) at the end of January.
Comments will be moderated. Keep comments relevant to the article. Remarks containing abusive and obscene language, personal attacks of any kind or promotion will be removed and the user banned. Final decision will be at the discretion of the Taipei Times.