He ain't heavy, he's my brother
In its latest performance, Chang Dance Theater explores the nature of dance
The family-centric Chang Dance Theater (長弓舞蹈劇場) will give three performances of its latest show,Beat (心動), at Taipei's Wenshan Theater this weekend, beginning with a Saturday matinee.
The four-year-old troupe founded by Chang Chien-hao (張堅豪) is truly a brotherhood, as its members include his siblings, Chang Chien-chih (張堅志) and Chang Chien-kuei (張堅貴). All three are graduates of Taipei National University of the Arts (TNUA, 國立臺北藝術大學).
However, the troupe took a major step forward earlier this year, not only with the establishment of its own studio and rehearsal space in Taipei's Shilin District (士林), but by adding a female dancer to the team, who brings a new dimension to the brothers' work.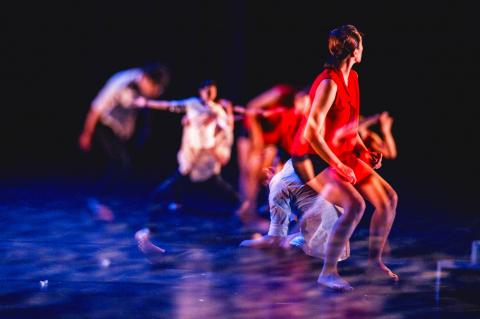 The Chang Dance Theater brings its latest production, Beat, to the Wenshan Theater in Taipei this weekend for three performances.
Photo Credit Courtesy of Huang Luk
While last year's show, the aptly titled Brothers (堅), which was created by Chien-chih and Chien-kuei and and centered upon a trip they took to Europe, Beat is more about physical connections — between the dancers themselves, the dancers and their props (in this case a series of wooden boxes) and the performers and the audience.
The company says the aim of the show, which premiered last month in Yuanlin Township (員林), Changhua County, is aimed at not just demonstrating movement, but exploring the nature of dance itself. As usual, there will also be quite a bit of multimedia work involved.
The Wenshan Theater may be a bit far from Taipei's usual theater district, but it is very easy to get to, being right behind exit #1 of the Jingmei MRT station on the Xindian line. When you leave the station, turn left, walk a few meters down the alley and you are there.
Publication Notes
Performance Notes
WHAT: Beat
WHEN: Saturday at 2:30pm and 7:30pm and Sunday at 2:30pm
WHERE: Wenshan Theater (文山劇場), 32 Jingwen St, Taipei City (台北市景文街32號), right behind exit #1 of the Jingmei MRT station on the Xindian line
ADMISSION: Tickets are NT$500, available at NTCH box offices, online at www.artsticket.com, convenience store ticketing kiosks and at the door
Comments will be moderated. Keep comments relevant to the article. Remarks containing abusive and obscene language, personal attacks of any kind or promotion will be removed and the user banned. Final decision will be at the discretion of the Taipei Times.