The force is strong with this one
A kung fu fighter and actor, Keoni Everington talks about Jedi knights, Boxers, the art of self-defense and being the baddie
Keoni Everington's tag on social media is the Star Wars line, "Your feeble skills are no match for the power of the Dark Side." The 43-year-old is tall, dark and supremely violent, someone who enjoys "creating mayhem and tormenting women" — in movies, that is.
Rather disappointingly the martial arts master and actor destroys the illusion a little later when he's forced to admit, "It's just an act, I'm a nice guy really."
An American from the melting pot — Hawaiian, Scottish-Irish and Chinese — he has made Taipei his home for the past year. Relocating from Beijing, he did so because of the polluted air and cost of education for his two girls, but also at the behest of his Taiwanese wife, who had had enough of China.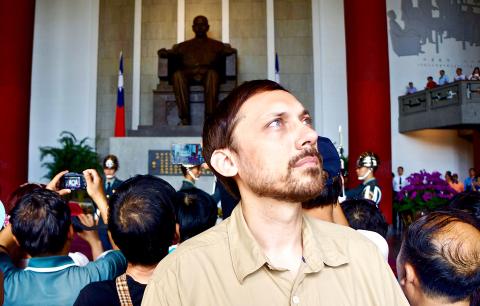 Keoni Everington believes that in every loss there is a gain, just as in every gain there is loss.
Photo: Jules Quartly
Having made the great leap forward, he says there's a lot to like about Taiwan: "The clean air, relaxed atmosphere, its safer for kids, a better environment, more genteel and maybe a bit more Westernized, but also with the traditional Chinese culture I like."
He says that film work is harder to find and he doesn't seem to be a fan of all the talk shows, though his Chinese is impeccable (as, for the record, is his Spanish) and he's made a few guest appearances.
Like many foreign arrivals, he pretty much has to accept that the country has just three kinds of jobs — teacher, journalist or businessperson — and do what he really loves in his spare time. An adaptable and well-educated fellow, this is nothing new. In previous incarnations he has worked in translation, ESL, IT, law, advertising and publishing. He is currently an editor for a news Web site.
He's keen to explore further the world of traditional Chinese medicine, fiddle with the Chinese flute, dip into calligraphy or Chinese painting and learn Hoklo (more commonly known as Taiwanese). But clearly kung fu is his first love and he continues to train, give lessons and compete, recently taking gold at the "Eighth China Martial Way Cup National Traditional Wushu Championships" (第八屆中華武道盃) in Taipei.
He started at age 11, urged on by his Hawaiian father, taking up the native hybrid martial art kajukenbo, which was developed for combat on what were then the criminally tough streets of Oahu. After progressing to taekwondo, his years at Miami University were a time for experimentation, moving from one style to another, including Shaolin crane, wing chun and a modified tai chi.
The next port of call on his martial arts odyssey was, naturally enough, China, where Everington found an English teaching position at Renmin University in Beijing. I think we can imagine how much this "journey to the east" meant to someone who grew up nourished by the legend of Bruce Lee (李小龍) and Shaw Brothers movies, or the 1970s TV series Kung Fu, starring David Carradine and its gnomic drops of wisdom like, "No, Grasshopper, evil cannot be conquered in the world, only resisted in oneself."
It was in Beijing that Everington continued his martial arts education and his tai chi instructor would eventually come up with his Chinese name, Hua Wujie (华武杰), meaning "magnificent martial hero." His fellow students, on the other hand, would call him "The Eagle," a description of his swooping, out-of-nowhere attacks, plus the fact he's American.
Everington's introduction to baguazhang (八卦掌) master Sui Yunjiang (隋雲江) was the holy grail in his search for the essence of kung fu. He speaks in almost reverential terms of his "true master," a fifth-generation inheritor of the discipline, which stretches back to the early 19th century and Dong Haichuan (董海川).
Having done baguazhang myself, I demonstrate how little I learned by saying that the exercises seemed to involve a lot of walking around trees and asked him what the point of this was.
"Well, my master put it like this," he answers. "'The fruit on a tree, if it only gets sunlight from one side, then it won't ripen properly.' We train for mobility, lateral movement and angles of attack and defense. Actually, learning this form is a lofty goal. Bagua is the most difficult, esoteric, complex, physically and mentally demanding of martial arts. Continually walking around a tree is taxing on the patience."
That's true. What is also true is that bagua practitioners are generally more Buddhist in philosophy than other disciplines, and they were the best of the best when it came to fighting, hence their adoption by the emperor of the day as bodyguards.
This also ensured that bagua became one of the most exclusive, secretive and jealously-guarded forms of kung fu. And never more so than at the end of empire, when the Empress Dowager called on her bagua-trained guards to foment the Boxer Rebellion (1899-1901), stabbing missionaries and challenging the Eight-Nation Alliance in the belief that their secret powers could ward off bullets.
This then is the dark side of bagua: killing, creating mayhem and tormenting women. When I ask Everington, rather flippantly, what percentage of the population he could destroy in one-to-one battle, he replies "about 90 percent." He's probably being modest, as he's lanky, fit and skilled in the arts of combat. But, and this is the point, force can be used for good or for evil.
It's like Star Wars, Everington explains. There's a force, which is like qi (氣), the dark and light sides are yin (陰) and yang (陽), while the Jedi are kung fu masters (as are the Sith).
"We don't use power in excess, or go beyond what is necessary to defend ourselves. Essentially it's about self-defense, not beating people or hurting them. There's always been a contradiction. Shaolin monks originally developed their kung fu skills to defend themselves from wild animals and bandits in the mountains. It was a violent environment. But there were also rogue monks, like White Eyebrow (白眉)."
Considering that Everington's passion for kung fu is intertwined with movies it is no surprise to learn that he studied film at college. He even made a full-length feature film with his father.
"It was a dream of ours and a great bonding experience to shoot it and get to show it around at some film festivals. It was called The Dragon Must Sleep, and I was the bad guy again, Dragon Eyes. I guess the title gives away the ending."
One of his greatest achievements and biggest regrets was "just missing the cut" in a 2011 audition to fight Jackie Chan (成龍) in Chinese Zodiac. Apparently he didn't quite nail a jump and ended up in a minor role as an auctioneer, rather than being beaten to a pulp by Chan.
Still, his list of credits is long, his force is strong, and I'm sure he found comfort in the immortal line: "In every loss there is a gain, as in every gain there is loss, Grasshopper."
Comments will be moderated. Keep comments relevant to the article. Remarks containing abusive and obscene language, personal attacks of any kind or promotion will be removed and the user banned. Final decision will be at the discretion of the Taipei Times.