Book review: TRACTION: How Any Startup Can Achieve Explosive Customer Growth
Written in a catchy style, 'Traction' will appeal to those wanting to attract customers to your online product
This isn't really my kind of book. In essence it's a self-help business manual devoted to ways of attracting customers to new products. The reason I decided to get my hands on a copy was that its publicity proclaimed that the work had begun life as a self-published e-book, and then had gone on to sell 35,000 copies by using the techniques described inside it.
This immediately caught my eye because I was at the time about to self-publish an e-book myself, a novel that's finally appeared this week. Here was the answer to the problem of how to find readers, I thought. Unfortunately I was disappointed. There isn't a specific reference to selling books anywhere in the volume.
In the business world, "traction" means gaining sales. And there's no doubt that this book, written in a catchy style and covering sales tactics, most of them online, will appeal to people whose working lives take them into this field. Writers are different, however, at least self-styled aesthetes such as myself.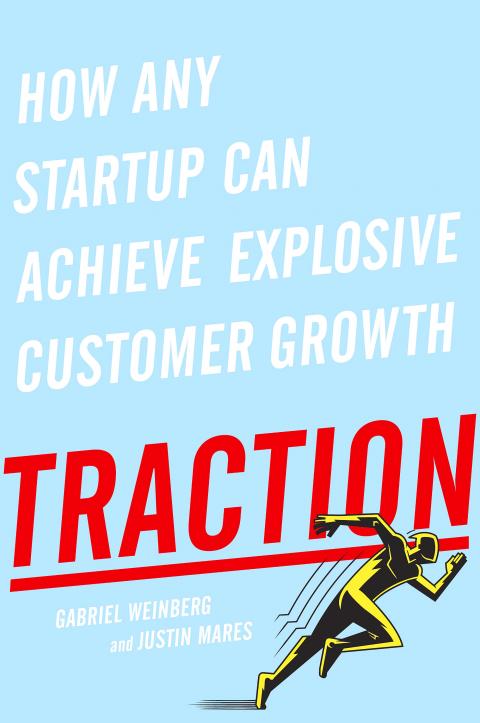 TRACTION: How Any Startup Can Achieve Explosive Customer Growthby Gabriel Weinberg
Book reviews are undoubtedly useful sales tools for the publishers concerned, but this has no connection with my motives in writing them. I'm concerned to put great reads in the way of possible readers, and also to conduct the exercise of critical evaluation in as dispassionate a fashion as possible. What publishers do with my reviews afterwards is of almost no interest to me.
I think this is the attitude of artists who are far more creative than I am. The poet Shelley once tried to publicize something he'd written by standing on a box in Dublin and popping leaflets into the hats of passers-by. But he didn't keep it up for long, quickly reverting to his true calling, writing poems. Being a salesman went against the grain, and posterity has to be immensely grateful to him for that.
I once happened to mention in an e-mail to a middle-level executive of one of the world's biggest publishing houses that I thought advertising essentially involved telling lies to make money. She was so outraged that she never contacted me again. Maybe I exaggerated, but I nonetheless continue to think that sales generally is something I have little desire to get involved with.
The reason for this is that selling something to someone can so easily involve attempting to manipulate them. There are plenty of examples of this in this book. One chapter, for example, deals with questions the salesman might ask a prospective customer. What are your business problems? In what ways to they impinge on your business success? These are called "problem questions" and "implication questions," and on the surface they sound sympathetic. But they are in reality simply leading up to the crucial "need-payoff questions," in which the potential customer is asked whether what he really needs isn't the product the salesman is intent on selling.
This procedure is very different from the questions a priest or a teacher might ask, both of them ideally wanting to help the individual concerned in an objective, dispassionate way. I don't claim any personal virtue in this matter, but am simply saying that artists, teachers and even priests are, by and large, the kinds of people I like best. My attitude to salesmen isn't hostile, simply cautious. Everyone has to make a living, and it could well be that they had little choice in the matter, and are in reality among the nicest people in the world. But this doesn't stop me being suspicious of the methods in which they may have been trained.
Traction lists 19 ways a new product can be marketed. These include every kind of online interaction imaginable, from "affiliate programs" to "search engine marketing," but also extending to off-line tools such as trade shows, conferences and speaking engagements. On the way you're introduced to a huge number of Internet Web sites, such as (taken almost at random) Yelp, HubSpot, Weebly, OkCupid, Unbounce, Moz, WordPress … around 100 such are cited, often with extracts from interviews with their founders on the methods they found most effective in building their companies.
There's a special language to selling, too, featuring words like black-hat tactics (ones that violate search engine guidelines), fathead or long-tail searches (ones that search for popular or relatively abstruse terms), spreadsheets, sales funnels, closing a sale and so on.
I once found myself speculating on the origin of the word "business." It's remarkable for its lack of specifics, and I wondered if when it first came into use in the modern sense (in the early 18th century, when banking and commerce first became major activities), it wasn't a euphemism for something people didn't feel happy talking about. Up to then most activities had either a religious aspect or were related to pleasing a patron, but here suddenly were people concerned — what a scandal! — simply with making money for themselves. Better not be too specific, then, so let's just call it "business."
Not surprisingly, after reading Traction things everywhere looked different. When I went into a supermarket, for instance, I immediately recognized the ways in which products were being sold — by advertising, by promoting certain items by placing them in prominent positions and by suggesting that certain prices were for a short time only. These are essentially what this book is talking about, only in their online manifestations.
Be that as it may, my strategy with regard to my new novel has so far just been making a list of friends and other contacts and sending them details, one at a time, after the day of publication. Other than that, I've created a page for it on Facebook called Themysteryreligionsofgladovia. But whoops! Doesn't this already smack of the dreaded business of sales promotion? Maybe I'm not as unsullied as I think.
Publication Notes
Publication Notes
TRACTION:How Any Startup Can Achieve Explosive Customer Growth
By Gabriel Weinberg
and Justin Mares
222pages
Portfolio/ Penguin
Paperback: uk
Comments will be moderated. Keep comments relevant to the article. Remarks containing abusive and obscene language, personal attacks of any kind or promotion will be removed and the user banned. Final decision will be at the discretion of the Taipei Times.