Fashion forward
After a successful run at Paris Fashion Week, London-based designer Chen Shao-yen — whose designs have been worn by Lady Gaga and Bjork — is moving back to his native Yilan where he finds inspiration
The Yilan-born, London-based fashion designer Chen Shao-yen (陳劭彥) may have dressed Lady Gaga, Bjork, Jessie J and Taiwan's own pop diva Jolin Tsai (蔡依林), but you'd never know this by his humble, soft-spoken demeanor. Chen wears a simple red hoodie as we talk over Skype from his London flat which is looking a little barren, as he is planning his move back to Taiwan early next year, to a house near the beach in Yilan County.
"I don't know how it will change the dynamic of my work," Chen says of his impending relocation.
The designer remained in London after graduating with a master's degree from Central Saint Martins to launch his own womenswear label, Shao Yen (劭彥), in September 2010.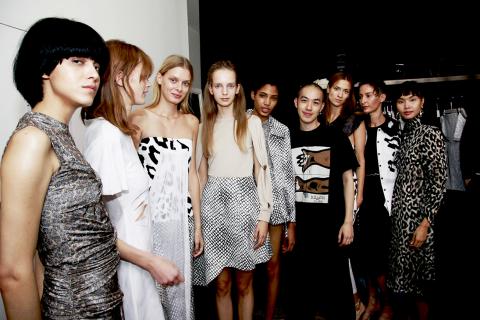 Designer Chen Shao-yen poses with models at Paris Fashion Week last month.
Photo courtesy of Chuang Kuo-lin
"The environment will be very different, but as long as I am open-minded, I am sure I can find inspiration anywhere," he says.
Chen's latest spring and summer collection, Joint, which debuted at Paris Fashion Week last month, drew inspiration from joints in the human body. Since 2010, Chen has shown his designs at London Fashion Week every season, with the theme of each collection relating to the human body in some way. Joint was his first presentation in Paris, and it may also be his last one for a while, as he will be too busy with his move to put together a show by February or March next year. Instead, he plans to present his next collection in a showroom.
PREDATOR AND PREY
Models wear designs by Chen Shao-yen at Paris Fashion Week last month.
Photo courtesy of Chuang Kuo-lin
While some of the pieces in Chen's latest collection are long and billowing, others are square-ish and fit more snugly, showing the versatility of joints in the human body — how they twist and turn awkwardly and elegantly at different angles. What they have in common, though, is intricate patterns and texture, and a lack of color. Consisting of black, white and gray, with a smattering of leopard prints and frayed ends, the collection has a nuanced, minimalistic feel — as if whoever dons the ensemble will magically transform into a sophisticated warrior.
"I'm not colorblind per se," Chen tells me. "It's more like I can tell what color is, but it takes me a long time to understand it."
Chen sees colors and textures as entities that are always changing. The lack of color in his designs helps to bring out the details in each stitch and fold, and by doing so, the garments come alive with movement.
Chen's collection played off the juxtaposition of human and animal forms, as well as that of predator and prey — and the interchangeable nature between the two. He was also inspired by French-German Dada artist Jean Arp's sculptures, which resembled collages. In a similar fashion, Chen drew upon his background in knitwear and pieced together scraps of fabric to achieve a chic, piecemeal look.
Though conceptual, his designs aren't over the top. For instance, while multiple pockets on a single dress creates texture and layering, they also serve a functional purpose — namely, to keep your keys or phone.
Or as Chen says, "No matter how creative the design is, it should be wearable."
POSITIVE ENERGY
Chen's fascination with human anatomy preceded his career as a fashion designer. He has always been intrigued by the haunting beauty of the human form, and likes to spend his spare time pouring over books containing old sketches of human anatomy. The human body, he says, is like nature. It will always be there, but it's constantly evolving.
"Fashion is related to the body, so it will always be an inspiration in my designs," Chen says.
Part of his fascination stemmed from growing up in a family of artists. His two sisters are dancers and his aunt a dance teacher. He frequented museums and theaters, and in the 1990s, he was drawn to the work of Japanese fashion designer Rei Kawakubo, whose designs he found to be "sculptural and strange."
"I was moved by the energy of the stage," Chen says.
His interest would later manifest itself in the form of performance art. Chen's Fashion Week shows have always incorporated some element of performance, whether it's video technology or live music. Last month, he collaborated with Japanese sound artist Tomoko Sauvage who created eerie chiming sounds out of bowls filled with water and amplified by hydrophones (water microphones), as models contorted their limbs and struck awkward poses.
Although Chen exudes a calm facade and a nonchalant demeanor, when it comes to casting models, he says he has "strong opinions." Not only is it important to have models of different ethnicities, but personality plays a role as well, since they might have to do a little acting on the runway.
"I just find it more interesting to work with different kinds of people from different backgrounds," Chen says.
HOMECOMING
Chen gives the impression that he's the type of designer who thrives off London's robust arts scene and its diversity. So it may seem a bit odd that he's planning to return to Taiwan.
When I ask him why he's moving, he cites family reasons and the high cost of living in London. But even through our Skype conversation, I sense a little homesickness. When I mention Yilan's surf and beaches, Chen's eyes light up. His final MA show at Central Saint Martins in 2010, which featured an all-white collection of ruffles and fur, alluded to the movement of waves in the ocean. In fact, the collection was an extension of a short film Chen had shot on the beach in Yilan.
"It's where my family is and where my home is. So of course, it's a huge inspiration in my designs," Chen says.
While Yilan isn't exactly synonymous with high fashion, Chen isn't too worried about dropping out of the public eye because the fashion world is so globalized today that a simple move shouldn't pose much of a problem. Many designers have left London and still present regularly at Fashion Week.
Finally, Chen adds that he is bent on exploring different markets in the future, perhaps some closer to home.
Comments will be moderated. Keep comments relevant to the article. Remarks containing abusive and obscene language, personal attacks of any kind or promotion will be removed and the user banned. Final decision will be at the discretion of the Taipei Times.