The brews on 55th street
A husband-and-wife duo are setting out to change Taiwan's craft beer scene one hop at a time from their microbrewery in New Taipei City
The inside of crystal malt tastes like caramel. Sweet, but not overwhelmingly so. A suave kind of sweet.
This specialty grain is used as the base to create 55th Street Craft Brewery's signature beer, the Amber Ale. Made with crystal malt and dried longan fruit, the ale boasts a smoky texture with a hint of honey.
When the Colombian-raised Jack Yu (游承亞) and his wife Johan Yan (嚴若菡) opened 55th Street late last year, they wanted to create beer that people would associate as being from Taiwan. Hence the longans. Sourced from a farm in Miaoli County, the longans — along with the crystal malt — gives the ale a dry sweetness that makes it ideal for consuming in subtropical climates like Taiwan's.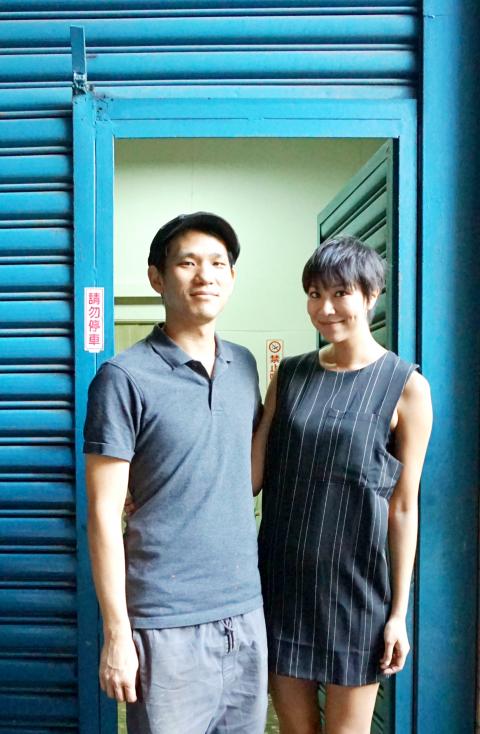 Jack Yu and Johan Yan pose in front of their brewery, 55th Street Craft Brewery, in New Taipei City's Xinzhuang District.
Photo: Dana Ter, Taipei Times
A young couple, Yu wears a gray hat and is somewhat soft-spoken, while Yan, who's also a model, loves to smile and is very bubbly. They speak of their operation with both humility and pride when I visit them at their microbrewery in New Taipei City's Xinzhuang District (新裝) on a lazy Saturday.
"In the beginning, I was a bit offended when people referred to our brewery as 'cute,'" Yu says.
The brewery, which is in an old house in the middle of a cluster of warehouses, has a malt room, a small miller and an office space upstairs, and one mash tank, one kettle and six fermentation tanks downstairs. It's indeed a compact, cozy space.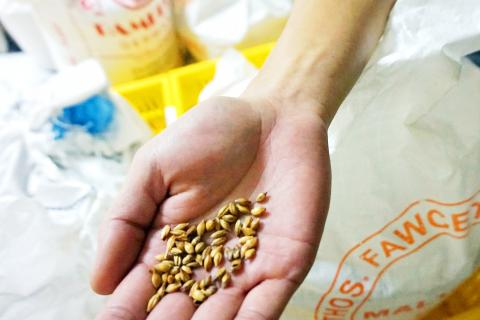 55th Street Craft Brewery imports most of their malt from the UK.
Photo: Dana Ter, Taipei Times
"Hopefully one day we'll grow to be at least 10 times the size and not be so cute anymore," Yan says. "But for now, we are a cute brewery."
HUMBLE BEGINNINGS
As the old adage goes, from humble beginnings come great things. The ordinal number is not a reference to some swanky midtown Manhattan address. When Yu's parents moved from Taiwan to Bogota, Colombia more than 30 years ago, they opened a Chinese restaurant on a street named 55th Street.
"It was their new beginning, and now this brewery is our new beginning," Yu says.
Both husband and wife were unlikely candidates to be brewers. Before moving to Taiwan to study Chinese five years ago, Yu was training to be a psychologist in Bogota, while Yan's modeling career in Taipei was starting to take off. Eventually, their hobby turned into a full-time business, one which they run almost entirely by themselves.
"We hardly did any research before we started. We were just like, 'let's open a brewery,'" Yu says.
Now, Yu does the brewing and packaging, while Yan runs sales and marketing and manages their Facebook page. Every week, they lug sacks of imported malt from the UK upstairs to the malt room. They then bring the malt to their homemade three roller milling machine which they jokingly call "the transformer."
"It's fun to use," Yan says. "It's so tiny that you can see the little grains being crushed by the transformer."
After the grains are crushed, they are transferred to the mash tanks downstairs where the hot water extracts sugar from the grains. The new liquid, the wort, is then placed in the kettle, along with hops that Yu and Yan import from the Pacific Northwest in the US.
For their Amber Ale, they also hand peel the dried longans, throwing the shell in the mash tank and the meat in the kettle. After fermentation, the beer is neither filtered nor pasteurized. Since distribution is for a local market, it goes straight into kegs and bottles. When the beers are ready, Yan delivers them herself to bars and restaurants around Taipei.
"The distribution process is basically my wife knocking on doors," Yu says.
THREE BREWS
But for the duo, it's a labor of love. They talk of their beers as one would of a child. Yan refers to their Amber Ale, which has an alcohol content of 5.5 percent, as "the special one" because it can be drunk warm.
"We like it a lot," she says.
Yu adds that they didn't want to market the ale as a fruity beer since it's not too sweet — in fact, the yeast eats most of the sugar. He says the ale is popular among Taiwanese, but not so much with foreigners, whom he suspects aren't used to the taste of dried longan fruit.
The beer that is most popular among foreigners is the India Pale Ale (IPA). With a slightly higher alcohol content (6.5 percent), the IPA, which is brewed with four different hop varieties, is dark, bitter and has a smooth finish.
Yu and Yan are also working on seasonal brews. Their latest one, which they released in the summer, is the Session IPA. Light, aromatic and hoppy, it tastes a little like grapefruit. The lower alcohol content (4.8 percent) makes it refreshing and easy to digest.
"It's so light that children can drink it — but you know, they can't," Yan says jokingly.
The concept of the easy-to-drink Session IPA is translated into the label on the bottle which was designed by a local graffiti artist. It reads: yizhehe (一直喝), which means "keep on drinking." Next to it are the zhuyin (phonetic notations) that spell out "I", "P" and "A." The purpose is to introduce Taiwanese drinkers to the IPA, since it's still relatively new in the craft beer market.
"Who says beer can't be educative?" Yu says.
HONING THE CRAFT
When asked why he thinks Taiwan's craft beer scene is just starting to take off, Yu attributes this to consumers' growing demand for "slow food." This is partly influenced by the farm-to-table movement in the US where there's more of a desire to eat fresh and understand where your ingredients are coming from. But it's also something that's been spurred on by the recent food scandals across Taiwan where vendors and restaurants have been using what the Chinese-language media dubbed "gutter oil" — recycled oil collected from various sources such as kitchen fryers, restaurant drains and grease traps — to make their dishes.
"There's a demand for something local, creative and not mass-produced," Yu says.
While craft beer might have been unheard of just a decade ago, brewing companies such as Evil Twin, Redpoint and Hardcore — and now 55th Street — are selling hundreds of gallons of locally-brewed craft beers to beer lovers all over Taiwan.
55th Street has also been taking part in beer festivals, and they are currently one of the few local breweries being featured at BeerFes Taipei (精釀啤酒嘉年華) at Huashan 1914 Creative Park (華山1914) this weekend.
The dream, however, is not to become big and run a huge brewery, but to earn enough to make a decent living and to travel. As expected, the first couple of months were hard work, but Yu and Yan finally have down time to do other things.
"We have time to take the dog out for walks," Yan says.
"We also have free time to do couple stuff," Yu adds.
Interestingly, it's their blend of a laid-back attitude and gung-ho work ethic that has made the microbrewery so successful. 55th Street may be a "cute brewery" for now, but sometimes, good things come in small packages.
Taipei is a city that has positioned itself as being cheap and fast, but the revolution for craft drinks is taking wind and alcohol aficionados are thirsty for more. Thirsty in Taipei is a monthly column devoted to spotlighting chic, conceptual bars that aren't your typical watering hole
Warning: Excessive consumption of alcohol can damage your health
Publication Notes
55th Street Craft Brewery
五十五街精釀啤酒
Brewery address: 17, Ln 803, Zhongzheng Rd, New Taipei City (新北市中正路803巷17號) , by Danfeng MRT (丹鳳捷運站)
Distribution locations include: Fujin Tree, Little London, Little New York, The Speakeasy Bar, Carnegie's (check Facebook for a full list)
On the net: www.facebook.com/55thStreetCraftBrewery
Comments will be moderated. Keep comments relevant to the article. Remarks containing abusive and obscene language, personal attacks of any kind or promotion will be removed and the user banned. Final decision will be at the discretion of the Taipei Times.