Art exhibition listings
Nat Murray is a Canadian native and former English teacher who has put his artistic flair to good use — literally, because he paints forlorn-looking students, irate teachers and buildings with droopy eyes. He does this to critique Taiwan's over-the-top buxiban (補習班) or "cram school" culture. Far from being sad and brooding though, Murray's style is cute, childlike and comical, utilizing lots of cool, pastel colors and simple brushstrokes. In addition to cram schools, Murray also draws inspiration from Taiwan's lush nature and rolling hills, as well as the quirks found in everyday life here — such as the standard blue-and-white house slippers, which are a popular outdoor footwear choice of old Taiwanese men. His latest exhibition, aptly named Nat Murray — Recent Paintings, opens in Shin Leh Yuan Art Space tomorrow and will feature a collection of portraits, interiors and urban landscapes based on Murray's experiences of living and working in Taipei.
■ Shin Leh Yuan Art Space (新樂園藝術空間), 15-2, Ln 11, Zhongshan N Rd Sec 2, Taipei City (台北市中山北路二段11巷15-2號), tel: (02) 2561-1548. Open Wednesdays to Sundays from 1pm to 8pm
■ Opens tomorrow at 5pm. Until Oct. 25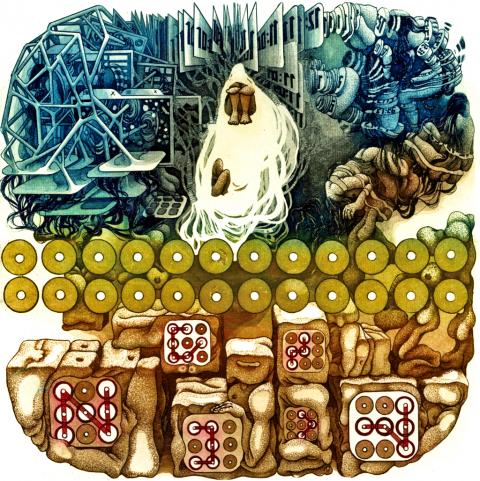 Ku I-jun, Mouth Series (2014).
Photo courtesy of MBMore
Lulu Hou (侯淑姿) is not one to shy away from political commentary. In 2009, she photographed mail-order brides from Southeast Asia in order to draw attention to their plight. Hou has also used her photography to critique the government's increasingly harsh policies towards the inhabitants of military dependents' villages in Kaohsiung's Zuoying District (左營). For her latest exhibition, Remains of the Day (長日將盡), which opens tomorrow at VT Art Salon, Hou focuses her attention on Kaohsiung again, but this time on Fengshan District (鳳山), where her grandmother has lived in a military dependents' village for over 60 years. Hou's photography documents how Fengshan, which is home to the Republic of China Military Academy (previously known as the Whampoa Military Academy), has evolved over time. On the other hand, her photography is deeply introspective as it also focuses on her grandmother's perception of "home" — Fengshan was supposed to be a temporary home for those who fled China in 1949.
■ VT Art Salon (非常廟藝文空間), B1, 47 Yitong St, Taipei City (台北市伊通街47號B1), tel: (02) 2516-1060. Open Tuesdays through Thursdays from 1:30pm to 9pm, and Fridays and Saturdays from 1:30pm to 10pm
■ Opens tomorrow. Until Oct. 31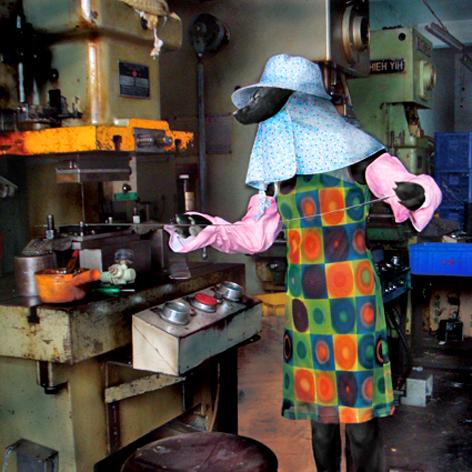 Chen I-chun, Goodbye Little Factory (2010).
Photo courtesy of Liang Gallery
Reality — Testing (存在-意識), which opens at Liang Gallery tomorrow, features the works of young artists who have been instrumental in creating a sense of Taiwanese identity. Hu Chau-tsung's (胡朝聰) paintings of two-dimensional homes with windows peek into nature-filled landscape, while Chen I-chun's (陳依純) explores the dangerous conditions of Taiwan's factory workers. Also on display are Lin Hung-hsin's (林宏信) iconic paintings of flaneurs, or the French term for well-dressed gentlemen who saunter the city looking pretentious and aloof. The link to Taiwan is more tenuous in Lin's work, as the idea of the detached observer scrutinizing city life is a familiar trope that can be used in numerous contexts.
■ Liang Gallery (尊彩藝術中心), 366 Ruiguang Rd, Taipei City (台北市瑞光路366號), tel: (02) 2797-1100. Open Tuesdays to Sundays from 11am to 6pm
■ Opens tomorrow. Until Nov. 1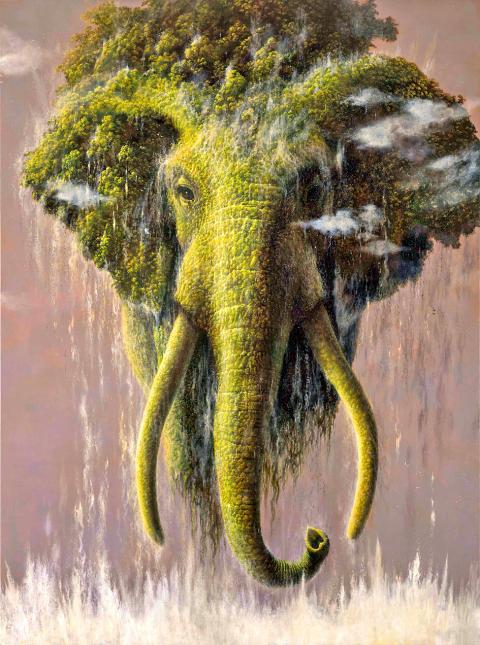 Yen Ching-chien, The Island of Life (2015).
Photo courtesy of Liang Gallery
The whimsy printmaking shop MBMore is currently exhibiting Sparrow/ Body/ Seekers (麻雀/ 軀體/ 探尋者), a solo exhibition of etchings depicting dismembered body parts by Ku I-jun (古一君). The exhibition follows the theme at MBMore to feature cute and comical interpretations of "serious" topics — previous exhibitions included lovers having a spat in a Parisian-style building, as well as floral prints that take the shape of male and female genitalia. Although Ku's work consists of disembodied limbs and mummified torsos, they are silly more than they are horrific. In fact, they resemble different parts of machines at a factory — an allusion to the mechanization of everyday life and its droning effects on the human body.
■ MBMore (岩筆模), 32-1, Chifeng St, Taipei City (台北市赤峰街32-1號); tel: (02) 2558-3395. Open Tuesdays to Sundays from 1pm to 9pm
■ Until Nov. 8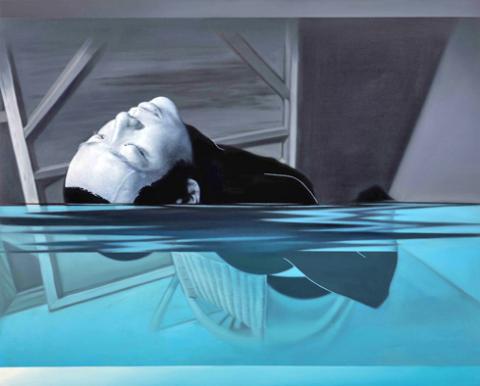 Lin Hung-hsin, Swimmer I (2015).
Photo courtesy of Liang Gallery
Retro-vintage German bistro, gallery and live music venue Cafe Vergismeinnich has a new exhibition by artist Chen Chuan-jen (陳詮仁). Light Might Night features a collection of Chen's recent paintings of fish swimming in dark-colored waters. Chen's photo-realistic work plays with light and dark in such a way that it provides dimension to the canvas, with the hints of light creating a ripple effect. The fish blend in with the ripples, but at the same time, they also stand out if you stare long enough, and begin to resemble iridescent lights in the night sky.
■ Cafe Vergismeinnich, 92, Aiguo E Rd, Taipei City (台北市愛國東路92號), tel: (02) 3322-3036. Open Tuesdays to Thursdays from 12pm to 9pm, Fridays from 12pm to 12am, Saturdays from 11am to 12am and Sundays from 11am to 9pm
■ Until Nov. 12
Chen Chuan-jen, Untitled 01 (2015).
Photo courtesy of Cafe Vergismeinnich
Plus I is a dual exhibition by Lin Ju (林鉅) and Chen Ching-Yuan (陳敬元) at TKG+ Projects that examines the concepts of time and memory and their effects on the human body and mind. Lin's paintings dabble in Taiwanese folklore, notably ghosts and Taoist symbols. His eerie, fantastical-like creatures appear to be threading between death and the afterlife, and the effect is both horrifying and captivating. Although other-worldly, Lin's creatures are also representative of our subconscious. While politics is more of Chen's forte (he supported the Sunflower movement), his paintings for this particular exhibition are more dreamlike and less of a social statement. They depict a hypothetical world where dreams merge with reality. As the gallery notes state, his paintings are "filled with an implosive maelstrom of emotions."
■ TKG+ Projects, B1, 15, Ln 548, Ruiguang Rd, Taipei City (台北市瑞光路548巷15號B1), tel: (02) 2659-0798. Open Tuesdays to Sundays from 11am to 7pm
■ Until Nov. 29
Comments will be moderated. Keep comments relevant to the article. Remarks containing abusive and obscene language, personal attacks of any kind or promotion will be removed and the user banned. Final decision will be at the discretion of the Taipei Times.