Art exhibition listings
Shanghai-born Chinese artist Hu Weiyi (胡為一) has already dabbled in video, installation, photography and sound, and his latest exhibition, Hu Weiyi (胡為一), held at Asia Art Center II, is a tantalizing mix of these different mediums. The choice of mixed media is not accidental as the purpose of the exhibition is to deconstruct the entire notion of logic. In Mass (2015), randomly arranged neon signs light up the insides of old luggage. In Pulp Landscape 5 (2015), everyday items that you would normally find in a house are simply not placed where they should be. But Flirt (2014) is probably Hu's most racy piece. For this installation, he dissects pictures of human body parts — especially erogenous ones — into various fragments, interlacing them with neon-lit wires. The wires extend from the photographs and into other parts of the gallery, serving as binding for some old books — perhaps a stab at the illogical nature of human copulation?
■ Asia Art Center II (亞洲藝術中心二館), 93, Lequn 2nd Rd, Taipei City (台北市樂群二路93號), tel: (02) 8502-7939. Open Tuesdays to Sundays from 10am to 6:30pm
■ Until Oct. 24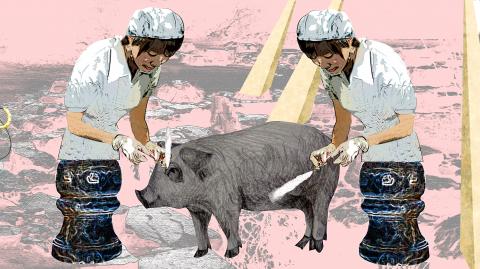 Chen I-chun, The Piggy Song (2013).
Photo courtesy of Taipei Fine Arts Museum
Hou I-Ting (侯怡亭) has never been the type to shy away from controversy. In 2005, she covered her body in white paint and projected images of cartoons and celebrities onto herself. Her latest exhibition, Sewing Fields (代工繡場), which alludes to Taiwan's garment industry, opens at TKG+ Projects tomorrow. While digital media is normally her area of expertise, for this exhibition, Hou superimposes embroidery and photography. The effect is multi-textured, which makes sense, as her critique of the garment industry is profoundly complex. Apparently, it explores how Taiwan's original equipment manufacturer system (a system when a company makes a part that is used in another company's end product), which was put in place in the 1970s, had a positive impact on the country's socio-economic development. However, Hou also bemoans the loss of the intimate process of sewing a simple garment in the mechanized era.
■ TKG+ Projects, B1, 15, Ln 548, Ruiguang Rd, Taipei City (台北市瑞光路548巷15號B1), tel: (02) 2659-0798. Open Tuesdays to Sundays from 11am to 7pm
■ Opens tomorrow. Until Nov. 1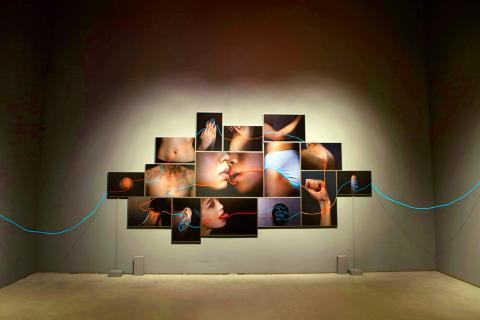 Hu Weiyi, Flirt (2014).
Photo courtesy of Asia Art Cente
Rebellious artists seem to be a theme for Tina Keng Gallery lately. To fit with Hou's exhibition at TKG+, Tina Keng Gallery will also be featuring Brain Dead Travelogue (腦殘遊記), a solo exhibition by activist artist Yao Jui-chung (姚瑞中). Yao, whose work spans photography, installation, paintings and anything imaginable within the realm of art, has always took on a social critique angle. In January, Yao won the People's Choice Award at the Signature Art Prize in Singapore for his photographic work of Taiwan's "mosquito halls" (蚊子館) — old buildings built with taxpayer dollars but later abandoned because of poor management and few visitors. So it may come as a surprise that his latest exhibition is deeply introspective. It will feature two decades of Yao's landscape paintings, including some new ones, such as Life Is but a Dream (2015), a massive painting which depicts eight major milestones in Yao's life (a self-portrait with his 19-year-old cat is one of the milestones).
■ Tina Keng Gallery (耿畫廊), 15, Ln 548, Ruiguang Rd, Taipei City (台北市瑞光路548巷15號), tel: (02) 2659-0798. Open Tuesdays to Sundays from 11am to 7pm
■ Opens tomorrow. Until Nov. 15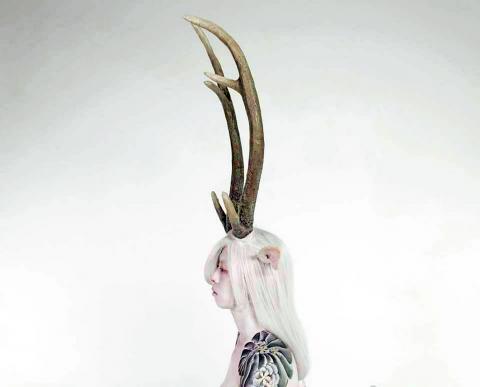 Huang Zan-lun, Double (2015).
Photo courtesy of Taipei Fine Arts Museum
The Taipei Fine Arts Museum has two new exhibitions opening this weekend. Microphone Test (麥克風試音), a solo exhibition by Hsu Che-yu(許哲瑜), examines the idea of memories while traversing fiction and reality. For this exhibition, Hsu asked three of his childhood friends to recount memories of them growing up, then hands the recordings to a stranger who interlaces her own memories into the narrative. Hsu complied the recordings and edited the video such that everyone is replaced with fictional characters. The result is a highly muddled "documentary" about Hsu's supposed family history. To put it simply, it's more about the intricate process of how memories are constructed and perceived, rather than a recollection of the memories themselves.
The Apocalyptic Sensibility: The New Media Art from Taiwan (末日感性:臺灣新媒體藝術展) will showcase the work of six artists who examine how technology, consumerism and the mass media has changed the world we live in and our sensibilities. Among them is photographer and installation artist Wu Chi-tsung (吳季璁) who is known for his installations portraying eerie, hollow cities where buildings appear as silhouettes emerging from smog. Also featured in the exhibition is the work of Huang Zan-lun (黃贊倫). His previous sculptures, which merged human figures with animal-like characteristics like horns and antlers, explored dichotomies such as rural vs urban and tradition vs modernity. Likewise, Huang continues to examine the repercussions of becoming increasingly distanced from the tools and craftsmanship that goes into making the technological gadgets that we yearn for.
■ Taipei Fine Arts Museum (TFAM, 台北市立美術館), 181, Zhongshan N Rd Sec 3, Taipei (台北市中山北路三段181號), tel: (02) 2595-7656. Open Tuesdays to Sundays from 9:30am to 5:30pm and until 8:30pm on Saturdays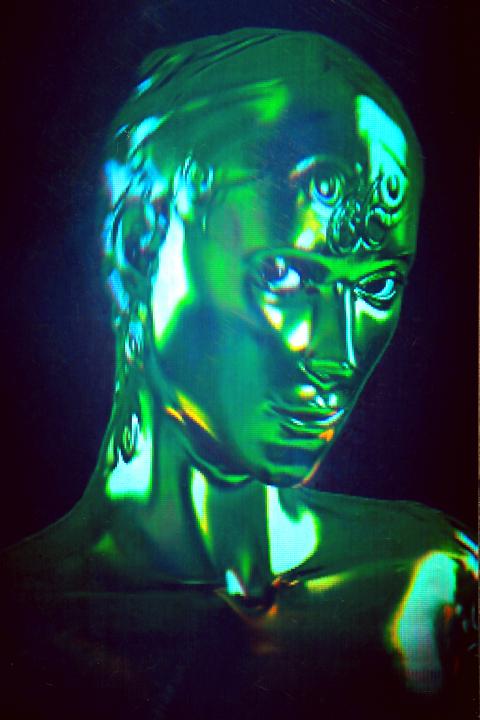 Lin Pey-chwen, Revelation of Eve Clone (2011).
Photo courtesy of Taipei Fine Arts Museum
■ Both exhibitions open tomorrow and run until Nov. 15
Comments will be moderated. Keep comments relevant to the article. Remarks containing abusive and obscene language, personal attacks of any kind or promotion will be removed and the user banned. Final decision will be at the discretion of the Taipei Times.