Going out on top
Sylvie Guillem became famous as a young French ballerina for doing things on her own terms, including her decision to mark her 50th year with a farewell tour to her life as a dancer
We were just getting to know her after two visits to Taipei last year, and now it is time to say goodbye to French dancer extraordinaire, Sylvie Guillem. It hardly seems fair.
However, one hallmark of the prima ballerina-turned-modern dancer has been her often uncompromising determination to do what she feels is right for her as a dancer and performer — and last year she decided that this year, as she turned 50, would be the right time to retire from the stage.
Her birthday was Feb. 23, but luckily for Taipei audiences, her "Life in Progress" world tour does not wrap up until the end of the year (in Japan), which made room on her crowded travel schedule for another visit to Taipei.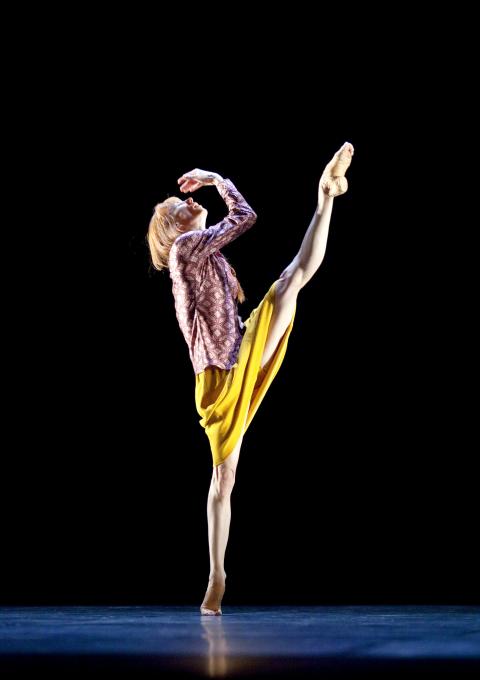 Sylvie Guillem will perform Swedish choreographer Mats Ek's Bye at the National Theater in Taipei on Oct. 3 and Oct. 4 during the "Life in Progress" show as part of her worldwide farewell tour.
Photo: Courtesy of Lesley Leslie-Spinks
At 19, thanks to the discerning eye of Rudolf Nureyev, Guillem became the Paris Opera Ballet's youngest ever etoile, or principal dancer. She created massive waves just five years later in 1989 by leaving the Paris troupe to become a principal guest artist with Britain's Royal Ballet. Despite her infamous spats with the Royal's principal choreographer Kenneth MacMillan (and others), she flourished in London and stayed with the company until she decided it was time to hang up her pointe shoes in 2006, when she was only 41.
Guillem has been often called the most significant ballet dancer of her generation, and while she may have been done with classical ballet, she was not with dance. With her trademark steely determination and love of a challenge, she created a second life as a modern dancer, working with many of the top contemporary choreographers in the Europe, including Britons Akram Khan and Russell Maliphant, American William Forsythe and Swede Matts Ek.
Works by all four men are on the "Life in Progress" program Guillem will perform at the National Theater on Saturday and Sunday next week, which includes two pieces created especially for the show.
The program opens with Khan's techne, a solo for Guillem, which is about the relationship between nature and technology — represented by a silvery wirework tree that Khan created — and features his signature intricate and fast choreography. It is danced to a soundscape performed live by Alies Sluiter, Prathap Ramachandra and Grace Savage.
Next on the program is Forsythe's Duo, a duet created in 1996 and performed by two of Forsythe's former dancers, Albanian Brigel Gjoka and American Riley Watts.
Maliphant's new duet for Guillem and Emanuela Montanari, an Italian ballerina from La Scala Theatre Ballet, titled Here & After is set to a yodeling score by Andy Cowton. Guillem said Maliphant made it because he knew she had never danced a duet with another woman. However, that does not explain the yodeling.
The finale is the appropriately titled Bye, which Eks created in 2011 and Guillem performed here in April last year with her "6000 Miles Away" show. Set to Ludwig van Beethoven's last piano sonata, it is a wonderful blend of dance and animated film about a woman dancing alone with her memories that ends with Guillem retreating into a virtual world. The only flaw is that Guillem performs in what has to be one of the ugliest outfits ever worn by a dancer — a mustard yellow skirt and purple-and-mustard patterned blouse.
In an interview at the Regent Hotel Taipei in September last year, when Guillem was in town to perform her "Push" show at the National Theater, she said she was almost ready to stop dancing and start a new stage of her life. She has always been outspoken about wanting to leave while she loved what she was doing, in spite of the ice packs needed after rehearsals and shows, while there was still pleasure to be had from it.
Although she did not say then that she was going to retire after this year, she was forthright about making the decision.
"Time is passing; accept it," she said, although she admitted that she wasn't sure if she would like it.
That is equally true for her fans, which number in the legions. We may not like her decision to retire, but we have to accept it — and be grateful for the years she gave us.
And while she is leaving the theater stage, she is unlikely to leave the world stage. She serves as an ambassador and board member for the marine conservation organization Sea Shepherd, sometimes taking a more activist role, and has supported Association Kokopellion, an organic seed bank, as well as animal rights. Now she will have time to do more.
This story has been amended since first published to correct Sylvie Guillem's date of birth.
Publication Notes
Performance Notes
What: Life in Progress
When: Saturday, Oct. 3 at 7:30pm and Sunday at 3pm
Where: National Theater (國家戲劇院), 21-1 Zhongshan S Rd, Taipei City (台北市中山南路21-1號)
Admission:NT$2,200 to NT$4,800; available at NTCH box offices, online at www.artsticket.com.tw and at convenience store ticketing kiosks. The only seats left for the Saturday show are in the NT$2,200 and NT$2,800 range.
Comments will be moderated. Keep comments relevant to the article. Remarks containing abusive and obscene language, personal attacks of any kind or promotion will be removed and the user banned. Final decision will be at the discretion of the Taipei Times.