A world music get-together in open fields
This year's Migration Music Festival is an outdoor affair in Tamsui, featuring not only music performances, but theatrical shows, workshops, a food market and a bar transplanted from Bangkok
From Thailand to Indonesia, Chung She-fong (鍾適芳) has traveled extensively — both for work and pleasure — through Southeast Asia. No matter how different the culture, Chung noticed a common scene of far-stretching rice fields, uniting the diverse cultures of the region through the way people cook, eat and share their rice.
This notion became the main idea behind this year's Migration Music Festival — Rice River (流浪之歌音樂節—米河流). The world music event, which became biennial in 2013, places a focus on Southeast Asian artists and musicians this year while also including other parts of the world.
Chung is the director of independent record label Trees Music and Art (大大樹音樂圖像), which organizes the festival. She says people in Taiwan often aren't familiar with the neighboring region.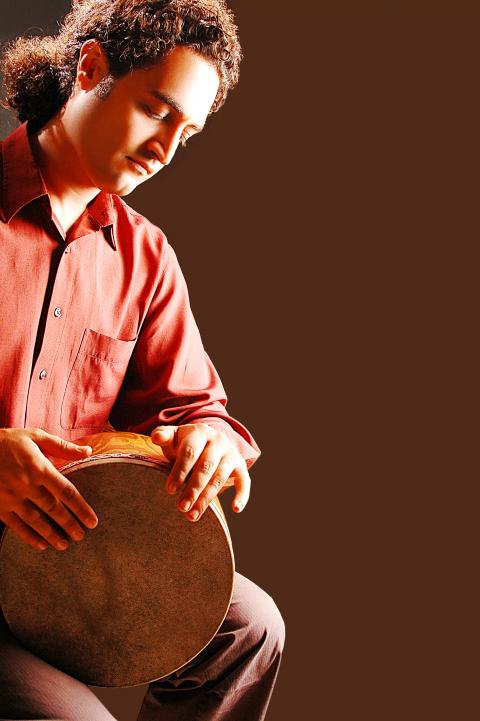 Iranian percussionist Reza Samani.
Photo courtesy of Trees Music and Art
"We are geographically close but culturally distant from each other. It is a great pity since I have gained so many creative nutrients from it," she adds.
On Saturday and Sunday, music from India, Thailand, Iran and other far-away places will fill the open fields at Cloud Gate Theater's (雲門劇場) venue in Tamsui, a new move for the music festival which had been previously held in Taipei's Zhongshan Hall (台北市中山堂).
INDONESIAN RICE GODDESS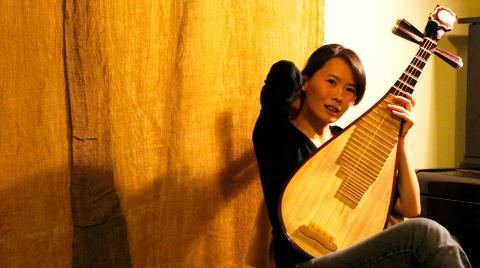 Taiwanese pipa artist Chung Yu-feng.
Photo courtesy of Trees Music and Art
Among the performers, Indonesian troupe Payung Hitam, or Black Umbrella Theater, hailing from Bandung, West Java, serves as an eloquent example of how Southeast Asian artists draw creative energy from their land and culture. Since its inception in 1982, Black Umbrella has been internationally known for its social and political criticism. They often utilize elements from traditional rituals, myths and folklore. Their performances are devoid of text and dialogue, expressing ideas and emotions through sounds, voices, dance and bodily movements and using instruments handmade from natural materials such as stones, bamboos and straws.
To Black Umbrella, the human body is an integral part of the land and tradition.
"We must know our own bodies and other people's bodies. This way, we might be able to keep the traditional spirit and protect the environment," troupe director Rachman Sabur told the Taipei Times.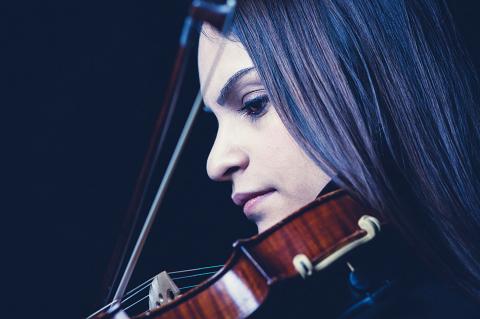 Indian violin player Harpreet Bansal .
Photo courtesy of Trees Music and Art
Black Umbrella is preparing a brand-new piece for its Taiwan debut, inspired by the Rice Goddess of Indonesia. The performers visited Yilan to learn about the environment and culture while collecting natural materials to make their instruments. They were confused, however, about why the bamboo and straw they wanted had to be ordered and purchased.
"Working with them makes us realize that we are much farther away from the nature than we thought we were," Chung says.
WORKING CLASS THAI FOLK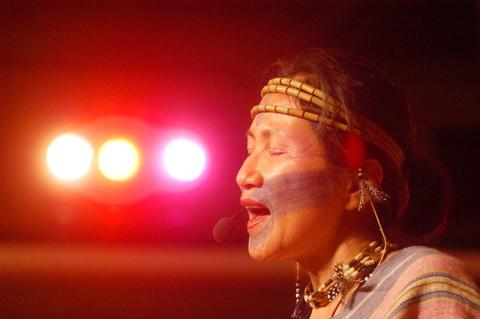 Atayal musician Inka Mbing .
Photo courtesy of Trees Music and Art
Festival organizers have transformed Cloud Gate's green fields into a bazaar, featuring a food market selling a variety of rice delicacies ranging from rice cakes (飯糰) to rice wine. The Bow to Land Farmers Market (彎腰市集) will be present with plenty of environmental friendly and socially responsible products.
Several workshops will take place to introduce rarely seen musical instruments such as daf, a type of Persian frame drum, and nyckelharpa, a traditional keyed fiddle from Sweden.
One of the most peculiar spots at the bazaar will be the bar inspired by Rain Tree, an establishment in Bangkok frequented by manual laborers and seasonal workers from the northeastern region of Isan. Thai folk singer Aing Tinnakorn Uthaisaeng will perform abroad the first time, crooning the tunes of morlam, or traditional Isan folk.
Chung says workers from Isan, who form the bulk of the working class in Bangkok, often visit places like Rain Tree out of nostalgia, while other groups may avoid them.
"The lyrics often reflect the cruel social reality and the hardship of everyday life faced by the working class," she adds.
CROSSING BORDERS
Meanwhile, City Borders, a growing musical project inspired by the documentary From Border to Border, features five musicians playing together for some cross-cultural, genre-defying fun. The group consists of Taiwanese pipa (a Chinese stringed instrument) artist Chung Yu-feng (鍾玉鳳), blues guitarist David Chen (陳思銘), German composer and accordionist Wolfgang Obrecht, Iranian percussionist Reza Samani and Indian violinist Harpreet Bansal.
Obrecht says the driving force behind the project is the gypsy or nomadic way of life.
"The gypsies are great musicians. They play with small instruments, and the music is all about journeys and stories of the traveling people," Obrecht says."They play everything by heart. I think you can only play great music if you don't read scores at the same time."
Samani, Bansal and Obrecht will also perform solo outside of the group.
Festivities continue after this weekend with a crossover performance featuring Swedish folk duo Pettersson & Fredriksson, Chung (the pipa player) and Chen (the blues guitarist) on Oct. 2 at Zhongshan Hall. On Oct. 4, Obrecht will join the four for a show at Chiayi Performing Arts Center (嘉義縣表演藝術中心).
Publication Notes
Festival notes
What: 2015 Migration Music Festival — Rice River (2015流浪之歌音樂節—米河流)
When: Saturday and Sunday
Where: Cloud Gate Theater (雲門劇場), 36, Ln 6, Zhongzheng Rd Sec 1, Tamsui Dist, New Taipei City (新北市淡水區中正路1段6巷36號)
Admission: Tickets are NT$1,500 for a one-day pass, NT$1,600 for one adult and one child aged between six and 15, NT$5,000 for a group of four, available through NTCH ticketing or online at www.artsticket.com
On the Net: www.treesmusicart.wix.com/2015mmf
Comments will be moderated. Keep comments relevant to the article. Remarks containing abusive and obscene language, personal attacks of any kind or promotion will be removed and the user banned. Final decision will be at the discretion of the Taipei Times.