Monkey business
Taipei Trends will head down to Kaohsiung for a guided tour of Monkey Mountain and a rare chance to interact with the macaques — who, up until recently, were seen by the local community as a nuisance
Taipei Trends members had so much fun monkeying around in Kaohsiung earlier this year that they plan on doing it again next month.
Since its inception in 2011, Taipei Trends has grown from a blog about Taiwan's untapped culture and entertainment scene to a community of adventure-seekers, both local and expat, who meet regularly to explore different parts of Taiwan through activities such as snorkeling, paragliding and bungee jumping.
In February this year, they traveled to Kaohsiung to visit Shoushan (壽山), or "Monkey Mountain" where local guides and researchers showed them around the monkeys' natural habitat and taught them how to interact with the monkeys.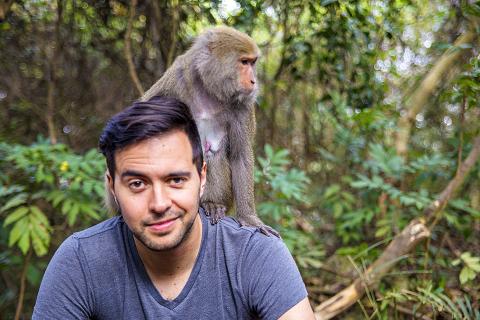 A female monkey takes a liking to Taipei Trends founder Chris Carnahan at Shoushan in February this year.
Photo courtesy of Taipei Trends
The group is planning a similar trip from Oct. 3 to Oct. 5, open to the public. The monkeys will be the highlight of the trip, but there will be other activities as well, including swimming in a bay, snorkeling, barbecues and games on the beach, and of course, lots of sampling of local delicacies. There will also be some time on the last day for people to explore Kaohsiung on their own, with bikes provided.
MACAQUE WHISPERERS
Taipei Trends founder Chris Carnahan says that although Shoushan is quite well-known among locals — people inhabit the mountain and there's a university nearby — it's not talked about that much because of fear and misperception surrounding the monkeys.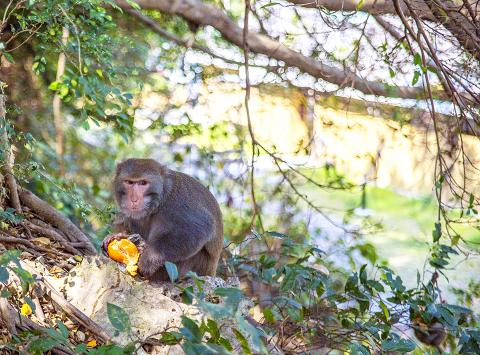 A monkey in Shoushan peels open an orange that it had just snatched out of a hiker's bag.
Photo courtesy of Taipei Trends
"The fear part comes from the common 'be careful' culture here, where everything can be dangerous, and it is passed down through generations," Carnahan tells the Taipei Times.
He adds that people shouldn't attempt to interact with the monkeys on their own, which is why they have hired guides — Professor Lin Chin-fu (林金福), who's considered the leading researcher on Formosan macaques, and his daughter Lin Mei-yin (林美吟). The elder Lin has 25 years of experience researching and interacting with monkeys, while his daughter grew up playing with them. The monkeys are very comfortable around both of them, which is why visitors who join their guided tours are able to approach the monkeys without getting into trouble.
Together, the father-daughter duo have been working on raising awareness of the monkeys' deteriorating habitat, most of which is caused by humans who leave garbage around or directly harass the monkeys. In addition to their guided tours, Lin Mei-yin has also appeared on the local news a number of times for her work in preserving the monkeys' habitat.
As for the father, Carnahan says that "the monkeys respect him very much — when he walks up the mountain, the monkeys come out of the trees and follow behind him, kind of like a Disney character."
NO MONKEYING AROUND
Carnahan says that while the monkeys can cause a nuisance sometimes, breaking into people's homes and pilfering their food, it's only because people are unaware of how to interact with them. Common mistakes include feeding the monkeys, trying to take pictures with them, or hitting them with walking sticks. From the monkeys' perspective, people have encroached into their territory, so it's only fair game to strike back — in other words, it's about respecting boundaries.
"It's like if a stranger came to your home and tried to take a selfie with you," Carnahan says.
As a general rule, it's best to not bring any food into the mountain, as human food isn't healthy for monkeys. "Much of it is not even healthy for us," Carnahan adds.
Carnahan has even seen a monkey hanging out in a tree with a 7-Eleven coffee it had just scored.
But all of that is slowly starting to change. As a result of the efforts by the Lins and their supporters, the local government in Kaohsiung has put up more signs informing people on how to behave around the monkeys. In addition to that, they will start issuing fines at the end of the year for people caught feeding or harassing the monkeys.
Carnahan says that through the Lins' tours, both locals and visitors are able to catch a glimpse of how the monkeys behave in a more intimate surrounding and observe how similar they are to humans.
Ultimately, the hope is for the younger generation to be able to demonstrate greater respect and understanding towards the monkeys. That's something that needs to happen in order for there to be a peaceful coexistence, and more importantly, so that the monkeys' environment can be preserved.
Publication Notes
Excursion notes
What: Monkey Mountain Beach Trip
When: Oct. 3 to Oct. 5
Where: Shoushan (壽山), Kaohsiung
Admission: NT$3,200 for two days, inclusive of everything (accommodation, transportation, food, sightseeing, bike rental) except alcohol
On the net: For more information about accommodation, activities and meeting times, check www.facebook.com/events/421600074708334
Comments will be moderated. Keep comments relevant to the article. Remarks containing abusive and obscene language, personal attacks of any kind or promotion will be removed and the user banned. Final decision will be at the discretion of the Taipei Times.