The art of slow walking
A French artist is traversing Taiwan's east coast in an effort to better understand the local culture before starting his residency in Pingtung's Aboriginal community
When Etienne Allaix bid farewell to me in a cafe in Xinyi District (信義), he asked if he could take my picture. Not of my face, but of my feet. The Berlin-based French artist stopped by Taipei on his month-long walk, from Taoyuan to Sandimen (三地門) in Pingtung County (屏東), and wanted to remember all the journalists, artists, curators and translators he met on his journey.
"We're just too over-burdened by images of people's faces," he tells me.
He took out his compact Sony digital camera — a gadget which I hadn't seen since 2005 — and snapped a quick shot before we parted ways.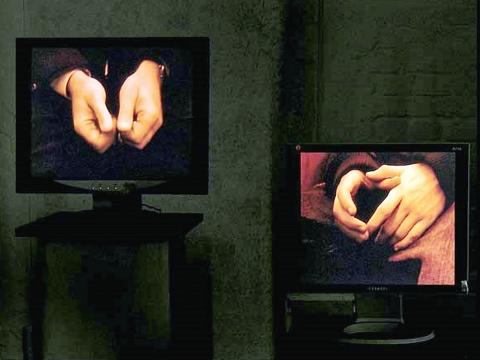 Etienne Allaix, Infra-Verkehr (2009).
Photo courtesy of Etienne Allaix
When Allaix was invited to do an artist residency for the month of October at the Taiwan Indigenous Peoples Culture Park (台灣原住民族文化園區) in Sandimen, he thought, why not arrive in Taiwan a month early and trek down the entire east coast?
"I've seen too many bad examples of artists being invited to a residency overseas and not immersing themselves in the local culture," Allaix says.
A part-time tour guide in Berlin, he's used to walking and has walked for six to eight hours a day before — in cities as busy as Cairo and Los Angeles. Naturally, walking seemed like the ideal way to become more acquainted with Taiwan's people, environment and culture.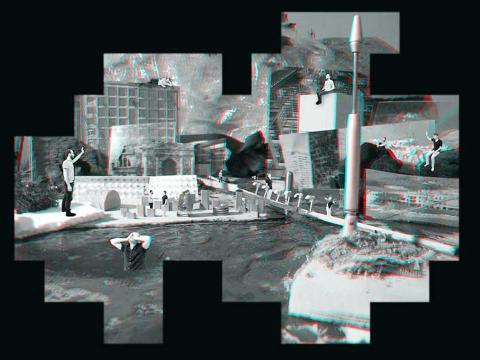 Etienne Allaix, Gap the Mind (2010).
Photo courtesy of Etienne Allaix
"By walking, you can see so many layers of society," he says.
Part of the joy of walking is stumbling across situations that you wouldn't normally encounter traveling by car or train. At the beginning of his journey, for instance, Allaix made a wrong turn and ended up in a convention for Buddhist monks.
For Allaix, walking and thinking are very similar since you need to constantly make decisions. At the same time, he also finds walking to be very therapeutic.

Etienne Allaix, Le Lac Rouge - Taste the Waste (2007-2008).
Photos courtesy of Etienne Allaix
"It's the rhythm of the body, not the machine — the simple pleasure that comes from having your feet on the ground," he says.
BEYOND SUPERFICIAL
The residency, which is co-organized by the culture park, the French Institute in Taipei and La Maison Laurentine in northeastern France, aims to foster relations between the two countries. While Allaix will be living and working with Aborigines in Sandimen, two Aboriginal artists will be heading to La Maison Laurentine.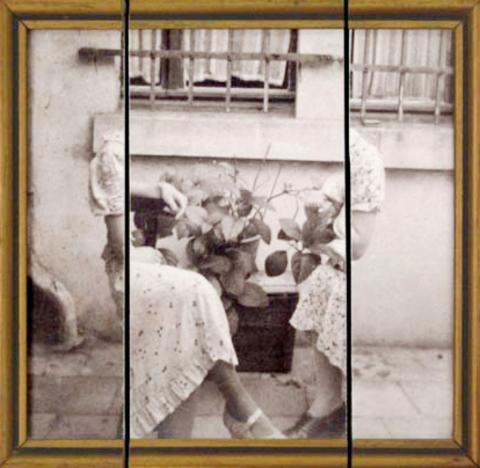 Etienne Allaix, Flashbulb Memories (2009).
Photo courtesy of Etienne Allaix
Allaix will be the only artist from abroad, although there will be other Taiwanese artists taking part in the residency. He will be staying with a local Aboriginal family, where he hopes to learn more about their lives and the issues affecting their communities.
"My hope is that it won't stay superficial," Allaix says. "I don't want it to be a show of happy Aboriginal people doing their traditional crafts."
Rather, he wants to have deeper conversations about topics such as the displacement of Aboriginal tribes. While Allaix has yet to decide what his project will be or if Aboriginality will be a predominant theme, he was moved by the work of another French artist whose work touched upon the relocation of Aboriginal tribes to Sandimen after typhoon Morakot hit Taiwan in 2009.
What's known for sure is that this year's participants in Sandimen are required to work with photography for the exhibition opening on Oct. 30. Instead of printing his photographs though, Allaix is considering having them projected on a screen.
"I like the feeling of immateriality," he says.
It's a safe bet to say that his final product will touch upon some sort of social issue inspired by his observations and encounters in Taiwan since his previous work doesn't shy away from such commentary.
The idea of getting sucked into the narcissism that is modern society has been a theme in Allaix's past work, which ranges from video and sound installation to found objects and portraits. Inspired by his own experiences, a short film he made last year featured a tour guide who is so frustrated by tourists taking selfies and not paying attention to her, that she begins to fabricate a story. Each time she returns to the site with a different group, the story snowballs into a bigger lie until she becomes delusional and starts believing in her own tales.
"Sometimes it's good to take a step back and evaluate yourself from the inside rather than worry about what's going on outside," Allaix says.
'OLD-SCHOOL' PHOTOGRAPHY
Allaix is happy to be a tourist for a change. He's even doing what most tourists do — taking pictures. But don't expect to see any selfies on his Facebook or Tumblr — both of which he set up just prior to leaving for Taiwan.
In the rare occasion that you do see a picture of Allaix on any social media site, he's wearing an eye mask. After collecting eye masks from various airlines, he started donning them without giving it much thought. Later, it turned into a protest against obsessive selfie-taking.
Or, as Allaix says: "It's a statement against the empire of the image."
All he has is his old-school Sony camera (although he says it's not old-school for him). In fact, Allaix doesn't consider himself a photographer and is more interested in the content of the photograph rather than the technique of taking it. He also has his smartphone to update Facebook and Tumblr.
"I'm not a total hermit," Allaix says. "I want to use technology properly, and not to let it use me."
His Tumblr is set up in a way that readers can send him private messages. Allaix doesn't like the idea of long threads — it's too easy for the original post and meaning to be lost. This way, he won't have to drag heavy camera equipment or a laptop with him either, although he does have a tent in case he can't find a hostel to bunk at along the way.
So far, Allaix has stuck to his plan of staying minimal and only carrying the bare essentials — and this simplistic attitude has translated into his photo diary on Tumblr. The photographs from his walk are grainy, muggy and un-embellished. Without pretty filters, viewers get to see life as it truly is — an old hunchback lady with a cane hobbling down a road next to the Keelung River, a pack of stray dogs sniffing around a dried-up riverbed in Tamsui and a colorful temple in Taoyuan with neon lights welcoming worshippers.
Shortly after we bid farewell, I checked Allaix's Tumblr and saw my feet (and my toenails in their unclipped glory) on there. He also scribbled a little message complimenting my "neat handwriting." Although my face wasn't in the picture, it felt intensely personal. Society is over-saturated with meaningless images, and Allaix's unconventional way of remembering the people he encounters along his walk is refreshing in its own way.
DETAILS
■ For a detailed itinerary and photo diary of Allaix's walk, check out his Tumblr: drifted-along-taiwan.tumblr.com. He also welcomes people to join him on any segment of his walk
■ For the month of October, Allaix will be completing his residency at Taiwan Indigenous Peoples Culture Park (台灣原住民族文化園區), 104, Fengjing, Beiye Village, Majia Township, Pingtung County (屏東縣瑪家鄉北葉村風景104號), tel: (08) 799-1219. Open Tuesdays to Sundays from 8:30am to 5pm
Comments will be moderated. Keep comments relevant to the article. Remarks containing abusive and obscene language, personal attacks of any kind or promotion will be removed and the user banned. Final decision will be at the discretion of the Taipei Times.