Animals on parade
The Taipei Zoo, which has been entertaining residents for 101 years, moved from Yuanshan to Muzha 29 years ago with a huge parade
Taiwan in Times: Sept. 14 to Sept. 20
It was a memorable morning for many on Sept. 14, 1986 as an estimated 300,000 residents poured into the streets to watch or follow a procession of 65 selected Taipei Zoo animals making their way down the avenues.
After 72 years in Yuanshan (圓山), city officials decided to move the Taipei Zoo to its current location in the Muzha area (木柵) for additional space and better conditions, the new location being 30 times bigger. The former site was also in the flight path of the Songshan Airport (松山機場), which led to noise issues.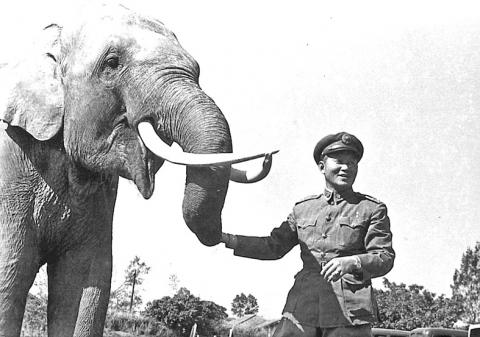 In this photo snapped during World War II, general Sun Li-jen pets Lin Wang after it was captured from the Japanese army.
Photo: TT
Zoo staff members decided to plan and execute the move on their own, which was risky without an external consultant, but luckily there were no animal fatalities. Many public activities and events were put on for the big move, and Rock Records (滾石唱片) even produced a song Happy Heaven (快樂天堂), sung by all of its artists.
A total of about 1,500 animals were to be transported, but Sept. 14 was the highlight with a big float parade for a selection of popular animals that were shorter than the overpasses and not easily frightened. Twenty painted animal transport cars and other vehicles made the 14.3km journey, stopping at Chiang Kai-shek Memorial Hall and National Taiwan University to massive cheering crowds.
According to the Liberty Daily (自由日報), the animals in the parade consisted of 16 species: tiger, Formosan rock macaque, peacock, lion, leopard, Formosan black bear, raccoon, baboon, jaguar, mountain lion, gorilla, tortoise, orangutan, Angora goat and swan.
In this file photo, Lin Wang prepares to eat a "birthday cake" to celebrate his 82nd birthday.
Photo: TT
The undisputed biggest star of the zoo, 68-year-old elephant Lin Wang (林旺) wasn't part of the parade, but his journey a month later also attracted crowds.
ICONIC ELEPHANT
To call Lin Wang's life extraordinary would be an understatement. Grandpa Lin Wang (林旺爺爺), as he was affectionately called in later life, was originally employed by Japanese troops invading Burma during World War II to transport supplies and artillery. In a battle in 1943, Chinese forces under the command of Sun Li-jen (孫立人) captured Lin Wang and 12 other elephants, eventually taking them back to China after the war ended.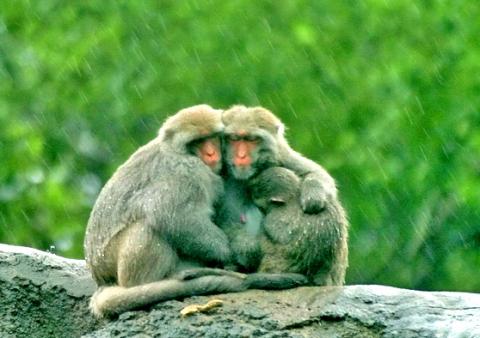 Monkeys huddle together at the Taipei Zoo to protect themselves from the rain in this file photo.
Photo: Wang Min-wei, Taipei Times
Lin Wang spent a year helping build monuments for the fallen and also performing in a circus to raise money for famine relief.
In 1947, Sun was sent to Taiwan, and he brought three elephants, including Lin Wang, with him. By 1951, Lin Wang was the only remaining member of the 13 elephants captured from the Japanese. In 1954, Sun gave him to the Taipei Zoo, where he would eventually become an icon.
Lin Wang was notoriously difficult to move from Yuanshan to Muzha. According to the book, Story of the Zoo (動物園的故事) by former zoo director Chen Bao-chung (陳寶忠), zoo staff had prepared two crates tailored for Lin Wang and his "wife" Ma Lan (瑪蘭). They put the crates in the elephant area two days in advance, and fed them in the crates so the elephants would get used to being in them. Yet, when the day came, Lin Wang bolted out of the crate before staff could close it. Staff continued to entice him with food, but he learned to grab the food with his trunk while using his hind legs to keep the door open. Finally, Lin Wang was "dragged" into the crate by 10 men, but not before breaking two thick ropes.
When the elephant finally arrived at Muzha, he accidentally walked into a ditch after mistaking an elephant-shaped phone booth for Ma Lan. He refused to leave the ditch until Ma Lan emerged from her crate. Lin died in 2003 at the age of 86.
The Taipei Zoo was originally opened by a Japanese national in 1914 as a private zoo, with just 11 animals. The colonial government purchased it in 1915 and officially opened it to the public the next year. The zoo was closed during World War II, and many animals perished. In 1946, less than 200 animals remained.
In 1948, the zoo decided to put on animal performances to entice people to return. The plan worked, and visitors had increased tenfold by 1964. With the admission money, the city could now start purchasing more animals, and by 1971 the zoo was nearing its former glory.
Today, the zoo has nearly 400 species and 3,000 animals.
Taiwan in Time, a column about Taiwan's history that is published every Sunday, spotlights important or interesting events around the nation that have anniversaries this week.
Comments will be moderated. Keep comments relevant to the article. Remarks containing abusive and obscene language, personal attacks of any kind or promotion will be removed and the user banned. Final decision will be at the discretion of the Taipei Times.