Restaurant review: Puro Puro
This classy Spanish tapas bar and restaurant is a pleasant surprise on an otherwise nondescript section of Bade Road (八德路), standing out between the gray storefronts and busy signage with its pure white, minimalistic facade. It used to be an apartment building, converted by owners Pauian Archiland Construction (璞園建設).
In contrast, the interior is dark and atmospheric, featuring brick walls and simple, modern black and wood decor with square yellow lights. The first floor is a tapas bar, open for afternoon tea and dinner. An elegant spiral staircase leads to the second floor, a chic dining area for the main courses.
Japanese chef Konishi Yukio, who owns several Spanish restaurants in Osaka, is the head chef, and the restaurant's name subtly reflects the connection – puro means pure in Spanish; it also means professional in Japanese.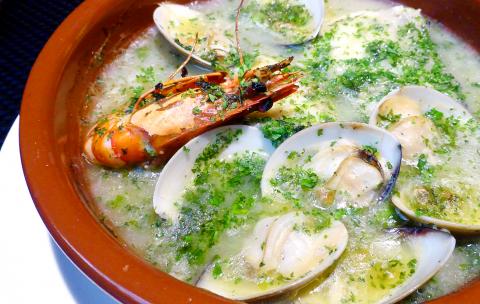 Mero a la salsa verde, Basque-style poached grouper, clams and shrimp.
Photo: Han Cheung, Taipei Times
Visiting for lunch, we each ordered a one-person set meal (NT$1,000), which is a good way to try different things on the menu in smaller portions. First up was the pipirrana de atun (NT$670 a la carte) a salad of chopped tomatoes, onions, green and red peppers on top of sheets of raw tuna, all of it marinating in a mixture of olive oil and sherry vinegar.
Slightly sour with a crisp texture, the dish was very refreshing. The flavors were balanced and the olive oil didn't weigh the ingredients down. The tuna was tender, and its clean, mild flavor served as a perfect complement to the salad. The black olive on top provided a nice salty kick.
Another option is the champinon al ajillo, mushrooms in garlic and olive oil. Despite the broth being mostly olive oil, it's very light and not greasy at all. The oil, which is unsalted with hints of garlic, is perfect for bread dipping. The flavors are packed in the mushroom, which are tender, savory and smooth.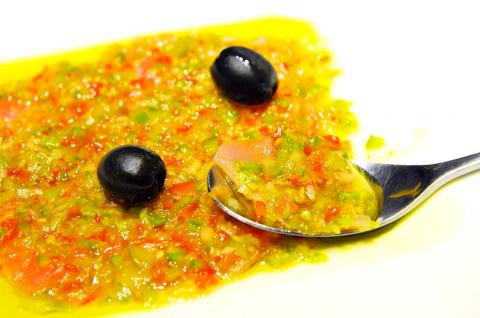 Pipirrana de atun makes for a refreshing salad on top of sheets of raw tuna.
Photo: Han Cheung, Taipei Times
Next up was the sopa de ajo (NT$310 a la carte), a garlic soup with beaten eggs, bits of ham, garlic cloves and bread topped with chili pepper. The flavor of garlic dominated, with a slight salty ham flavor peeking through, and the egg made for an interesting texture — almost like an egg drop soup. The bread, however, was almost too much — with so many textures already in the small bowl, it only felt mushy and slightly gelatinous. It would probably be better to have it come on the side. Overall, the dish was great, slightly greasy but pleasingly rich.
One main course option was the mero a la salsa verde (NT$870 a la carte), a Basque dish featuring fresh poached grouper, clams and shrimp with onion and peas in a semi-clear broth served in a ceramic bowl.
On first glance, the broth, almost clear and sprinkled with parsley, looked rather thin. But once you dig in, it's actually just as rich and hearty as the garlic soup with the bits of onion. The clams were juicy, the fish firm but the shrimp not too memorable.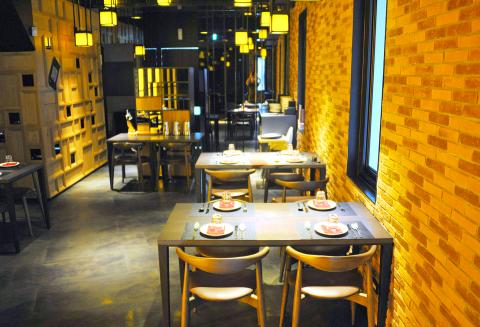 Puro Puro's second floor dining area.
Photo: Han Cheung, Taipei Times
Another main course choice is the calamares en su tinta (NT$670 a la carte), squid in ink sauce stuffed with ground squid head meat, poached egg and vegetables. The sauce is sweet and flavorful with a slight seafood aftertaste, and the meat provides a layered contrast between the chewy squid on the outside and the finely ground stuffing, which almost resembles pork. The existence of vegetables in the stuffing was not very noticeable, though.
Overall, the meal was delicious, if a little on the heavy side. A word of warning: you'll definitely leave Puro Puro with garlic breath, though a lemon wedge or a slice of apple might help to ward this off, a service the restaurant may want to consider.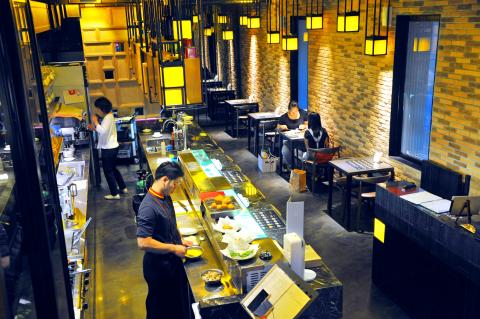 Puro Puro's first floor is an atmospheric tapas bar.
Photo: Han Cheung, Taipei Times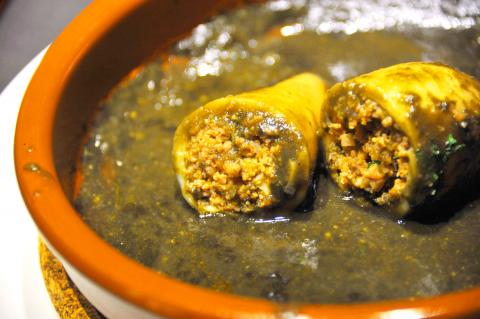 Calamares en su tinta, stuffed squid in in sauce, makes for intriguing textures.
Photo: Han Cheung, Taipei Times
Publication Notes
Puro Puro
Address: 265, Bade Rd Sec 2, Taipei City
(台北市八德路二段265號)
Telephone:(02) 2778-4818
Open:Everyday except Sundays. Lunch (2nd floor) from noon to 2:30pm, afternoon tea (1st floor) from 2pm to 5pm, dinner 5:30pm to 10pm (2nd floor), 5:30pm to 11pm (1st floor)
Average meal: NT$1,000 to $1,500
Details:Menu in Spanish and Chinese, credit cards accepted, last order one hour before closing
On the Net: www.facebook.com/pyct.puropuro
Comments will be moderated. Keep comments relevant to the article. Remarks containing abusive and obscene language, personal attacks of any kind or promotion will be removed and the user banned. Final decision will be at the discretion of the Taipei Times.