The bells, the bells!
The bell pepper is beautiful and healthy, but commercial cultivation prioritizes the former, sadly making this amazing vegetable less appealing to health-conscious eaters
Bell peppers are probably one of the most beautiful, and certainly the most colorful, options in the vegetable market, with the bright red and yellow bulbs, sometimes augmented with orange, green and even purple, almost seeming to glow from the display. They also are notorious for carrying high levels of pesticide residue, with the US's Environmental Working Group (www.ewg.org) listing it eighth in its "dirty dozen" of fruit and vegetables with high levels of residue in its 2015 Shopper's Guide to Pesticides in Produce.
A study by Greenpeace Taiwan in 2013 (www.greenpeace.org/taiwan/zh/press/releases/food-agriculture/2013/wet-market-pesticide-test/) indicated that many supermarket-purchased vegetables in Taiwan also had pesticide residue far exceeding government-mandated levels, with bell peppers having five to seven times the acceptable quantity. This is hardly likely to put the health conscious cook at ease. The report indicated that Taiwan's bell peppers might contain up to 24 kinds of chemical residue, 10 of which were substances that have been banned in the EU.
The easiest and safest option is to purchase organic or "non-toxic" (無毒) bell peppers from a reputable source. Failing that, thorough washing prior to cooking can certainly reduce the amount of chemicals ingested.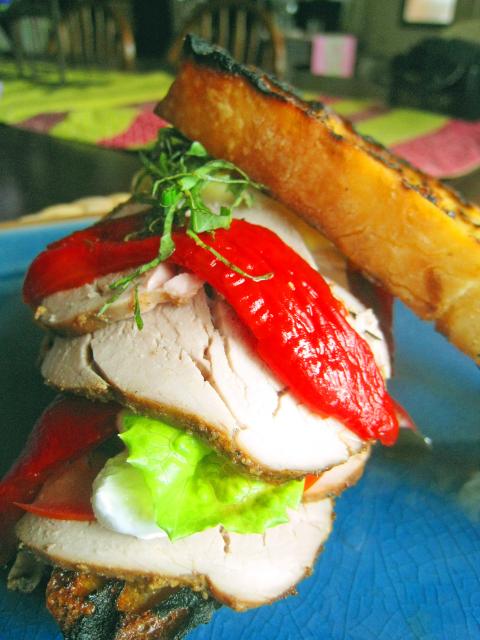 Spicy pork tenderloin with labneh (Greek yogurt), eggplant and roasted bell peppers is a moist, crunchy sandwich with loads of flavor.
Photo: Ian Bartholomew
I have avoided using bell peppers for some years for these reasons, but I missed them hugely as they had long featured in some of my favorite foods, from creamed bell pepper pasta to roasted bell peppers strewn through salads or as a sandwich filling (see recipe). The good fortune of finding a local farmer this year with a lovely crop of organic bell peppers had me celebrating.
It must be said that the organic peppers where much smaller and had thinner flesh, making them more difficult to handle, especially if you are peeling off the outer membrane. That said, the knowledge that the vegetable was not coated in poison more than balanced out the equation.
The toxicity of commercially harvested bell peppers is particularly sad given the fact that they are such an amazing product in terms both of their nutritional and health enhancing properties, as well as their utility in adding both color and flavor to food. They are excellent both raw and cooked, and provide the vibrancy of chili without any of the heat.
Bell peppers are not at all peppery, or indeed spicy, but instead have a tangy sweetness when fully ripe. They are sometimes called capsicum, which is something of a misnomer, as they contain only the smallest amounts of capsaicin, the compound that is responsible for the hotness of chili. They are used to make the spice paprika.
The nutritional content of bell peppers is pretty awesome, most notably containing an impressive quantity of carotenoids and vitamin E. Carotenoids provide antioxidant and anti-inflammatory health benefits, potentially helping to reduce cancer risk. The fact that so many of the pesticides used in commercial cultivation are carcinogens seems to be one of those ironies of modern food production that sees real health benefits sacrificed with the aim of purportedly making those benefits more readily available.
Recipe
(serves six)
Spicy pork tenderloin with labneh (Greek yogurt), eggplant and roasted bell peppers
It might seem a bit presumptuous to provide a recipe for what is not much more than a sandwich, but this is a tried and true flavor combination using a number of ingredients that can be prepared in advance. I particularly like using chicken oil (schmaltz) to grill the bread, as it provides a heavenly fragrance, but butter or olive oil also work well. While I have indicated just one to three bell peppers in the recipe, if you are able to find a good supply, the recipe can be multiplied many times over and the roasted peppers kept for snacking emergencies.
Ingredients
Preserved bell pepper (recipe follows)
Spiced pork loin (recipe follows)
Eggplant puree (see Taipei Times Dec. 6 2014, www.taipeitimes.com/News/feat/archives/2014/12/06/2003606065)
Labneh (or a very thick yogurt)
If you make your own yogurt, simply strain it through a piece of muslin for about two to three hours and then add a pinch of salt.
Lettuce
Tomatoes
Basil leaves, finely sliced
12 slices of country bread
Butter or chicken oil
Directions
1. Spread the bread liberally with schmaltz. Heat a griddle until very hot and toast the bread. Do not be afraid to let it char slightly, as this adds wonderfully to the flavor.
2. Spread the bread with eggplant puree. Add some lettuce, the thinly-sliced tomato, thinly-sliced pork loin, a dollop of labneh, pieces of bell pepper and top with basil leaves.
For the bell peppers
There are many ways of removing the membrane from the bell pepper from steaming to toasting over an open flame. If you have an oven, roasting is probably the least troublesome, and also provides a lovely smoked quality to the flavor. Using a broiler is quicker, but you really have to be on top of the process in case the peppers don't just char, but burn right through.
Ingredients
1 large or 3 small bell peppers
1/2 cup rice vinegar
1 tbsp salt
Olive oil
Directions
1. Preheat the oven to 220 degrees Celsius.
2. Wash the peppers thoroughly and place on a baking sheet.
3. Place in the top third of the oven. Cook for 20 minutes and rotate. Cook for another 20 minutes. The skin should be blackened and puffy.
4. Remove from the oven and cover with foil, allowing the peppers to cool gradually in their own steam. This greatly facilitates the process of removing the skin.
5. Peel off the thin outer membrane and remove the seeds. Do not wash the peppers at this point, as this will remove much of the flavor.
6. Put the vinegar in a bowl. Prepare another bowl or storage jar. Have the salt standing by ready to use.
7. Dredge the pieces of bell pepper in vinegar and then lightly salt. Place in the prepared jar. Do this will all the peppers. Discard the excess vinegar. You should have some liquid remaining from the cooked and peeled peppers. Pour this over the salted peppers. Add olive oil to top up and cover.
8. Will keep well for up to two weeks in the fridge.
For the pork
Tenderloin is one of the easiest cuts of pork to prepare. As it is very lean, the main issue in its preparation is not to overcook it as it can easily become dry. This recipe can be used for a hot meal first, with the remainder put aside as the sandwich meat. Once cooled, the meat can be cut into very thin slices quite easily.
Ingredients
500g pork tenderloin
1 tsp fine sea salt
1 tsp pepper, ground
1 tsp paprika
1 tsp cumin, ground
1 tsp coriander seed, ground
Directions
1. Preheat the oven at 200 degrees Celsius.
2. Mix the dry ingredients together.
3. Rub over the meat.
4. Place the meat on a baking sheet and cook for 20 minutes, turning once.
5. Internal temperature should be 62 degrees Celsius.
6. Allow to cool and slice thinly. Can be kept in the fridge for one or two days.
Ian Bartholomew runs Ian's Table, a small guesthouse in Hualien. He has lived in Taiwan for many years writing about the food scene and has decided that until you look at farming, you know nothing about the food you eat. He can be contacted at Hualien202@gmail.com.
Comments will be moderated. Keep comments relevant to the article. Remarks containing abusive and obscene language, personal attacks of any kind or promotion will be removed and the user banned. Final decision will be at the discretion of the Taipei Times.