In search of inner peace
Two women embark on a spiritual journey to India to come to terms with the loss of their sons
LAB Space will revise Terrence McNally's A Perfect Ganesh, a play about a spiritual journey to purge emotional demons, beginning this weekend in what director Brook Hall calls a story about "reckoning and redemption."
The play opens with two wealthy middle-aged Connecticut women, Margaret Civil (Sue DeSimone) and Katherine Brynne (Sharon Landon), who forego their usual Caribbean vacation. Instead, they travel to India on a spiritual journey that both women hope will alleviate the suffering they continue to feel over the loss of their first born sons — one they have yet come to terms with.
The Hindu deity Ganesh, appearing with an elephant's head, aid the women and act as their tour guide. As the conveyor of wisdom, the deity brings and removes obstacles to aid in a process with good and evil constantly mixing together in life. Manav Mehta takes on this challenging role, one in which Ganesh transforms into the other characters they will meet in India. Stephen Rong rounds out the cast with another challenging multi-character role, one that involves numerous costume changes.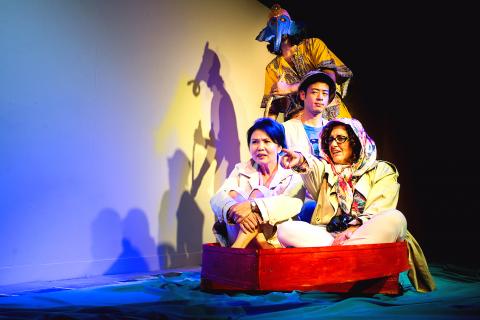 Clockwise from top: Manav Mehta, Stephen Rong, Sue DeSimone and Sharon Landon perform in A Perfect Ganesh, which begins tomorrow at the LAB Space in Taipei.
Photo courtesy of Fabian Hamacher
The play, a finalist for the 1994 Pulitzer Prize, has many humorous moments as the women deal with an India that is vastly different from the US. It also examines individual self-discovery and the search for inner peace.
Katherine Brynne searches for the perfect image of Ganesh, a symbol of the strained relations she had with her gay son, who died before she could tell him that she accepted him. The women also find both death and life everywhere as they bond in this journey.
Publication Notes
Performance Notes
What: A Perfect Ganesh
When: Tomorrow, Saturday, Sunday and Aug. 27 to Aug. 30 at 8pm
Where: The LAB Space (實演場), 3F, 9, Beitou Rd Sec 1, Taipei City (台北市北投路一段9號3樓)
Tickets: NT$600, available through www.www.accupass.com/go/ganesh or at the door
On the Net: www.thelabtw.com
Comments will be moderated. Keep comments relevant to the article. Remarks containing abusive and obscene language, personal attacks of any kind or promotion will be removed and the user banned. Final decision will be at the discretion of the Taipei Times.