Art exhibition listings
Art in the Library II — Summer Festival Exhibition (閱讀藝術II—夏祭聯展) features works by the Taiwanese artists that Liang Gallery represents. It includes everything from Lo Chiang-ling's (羅喬綾) vintage-like paintings of carefree beach scenes to Hsu Chang-yu's (許常郁) paintings of calm but somber skies and Leo Wang's (王建揚) grainy, abstract compositions.
■ Liang Gallery (尊彩藝術中心), 366, Ruiguang Rd, Taipei City (台北市瑞光路366號), (02) 2797-1100, open Tuesdays to Sundays from 11am to 6pm
■ Until Aug. 30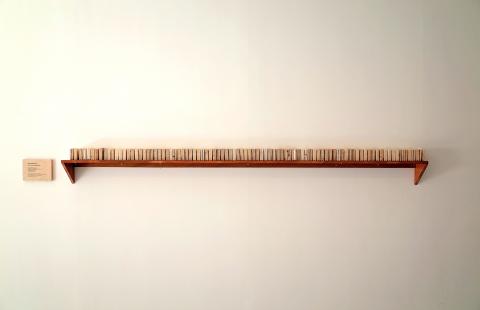 Kingsley Ng and Stephanie Cheung, Etudes for the Everyday (2013-2015).
Photo courtesy of MOCA, Taipei
In Chinese culture, white skin is associated with beauty, but when the color white is associated with a congenital disorder like albinism, it loses its aesthetic attraction. Gloria Lee (李怡萱) seeks to challenge this perception with photographs of albinos in Taiwan. Her exhibition at Jinglu Art, which is entitled Imperfect (不完美), is a play on the words "I'm perfect" — to others, they might not seem perfect, but to themselves, they're happy with who they are. The color white is unsurprisingly a major motif in Lee's photography, and her subjects' white clothing set against a white background with some luminescent lights make them appear as lovely, transcendent beings.
■ Jinglu Art (靜慮藝術) 16-1, Alley 203, Longjiang St, Taipei City (台北市龍江路305巷16-1號), tel: (02) 2517-9723. Open Tuesdays to Sundays from 2pm to 7pm
■ Opens tomorrow. Until Sept. 6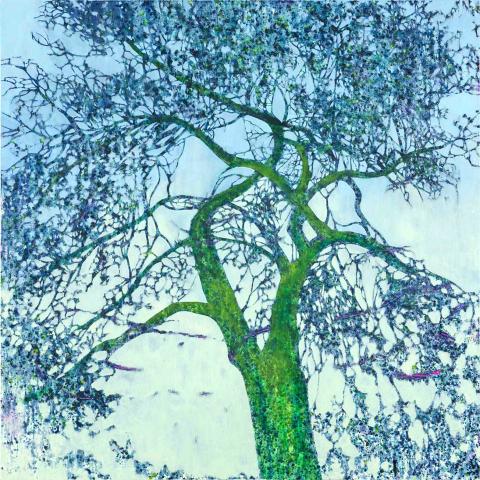 Hsu Chang-yu, Sky (2015).
Photo courtesy of Liang Gallery
When Lo Tien-yu (羅天妤) did an artist residency in New Zealand earlier this year, she barely left the house, looking instead at images of the picturesque New Zealand countryside on her computer screen. Time passed slowly, sometimes almost coming to a standstill. She felt as if she were still observing New Zealand from a distance, and even during the times that she did venture out, there was a disconnect between her perception of the place and the reality. Lo's melancholic paintings, filled with purple-bluish hues and downtrodden-looking snow-capped mountains, are currently on display at Cafe Showroom — a cafe and art gallery — in an exhibition entitled The Distant Land (彼端之遙).
■ Cafe Showroom (場外空間), 462 Fujin St, Taipei City (台北市富錦街462號), tel: (02) 2760-1155. Open daily from 11am to 9pm
■ Until Sept. 13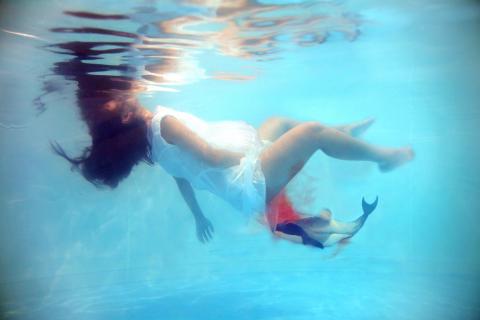 Hasegawa Ai, I Wanna Deliver a Dolphin (2012).
Photo courtesy of Digital Art Center
The Digital Art Center is back with yet another provocative exhibition that combines elements of art, science and technology. Featuring the works of video installation artists from around the world, Imaginary Body Boundary (想像的身體邊界) explores the idea of control over the body — are we in charge of our bodies or are our lives dictated by the machines we invent? Advances in medical subfields such as cosmetic surgery, genetic engineering and synthetic biology has made it so that we can create the perfect version of what we wish to be. However, don't expect some sleek Gattaca-inspired motifs. This exhibition shows the dark and bizarre side of how we use technology to "enhance" our lives. Expect to see little girls giving birth to dolphins and mouth guards for performing and receiving fellatio.
■ Digital Art Center (台北數位藝術中心), 180, Fuhua Rd, Taipei City (台北市福華路180號), tel: (02) 7736-0708. Open Tuesdays to Sundays from 10am to 6pm
■ Opens tomorrow. Until Oct. 3
A thriving port city turned concrete jungle, Hong Kong has always sat at the crossroads of many cultures, and this influence is apparent in the works of artists who blend elements of old and new, East and West. In the Name of Art — Hong Kong Contemporary Art Exhibition (以藝術之名—香港當代藝術展), which opens tomorrow at the Museum of Contemporary Art, Taipei, features 13 installations by 8 artists from Hong Kong who have been pivotal in defining its contemporary art. Installation is in itself participatory in nature and the artists were chosen for their emphasis on public participation rather than a fixation on the final product.
■ Museum of Contemporary Art, Taipei (台北當代藝術館, MOCA, Taipei), 39 Chang-an W Rd, Taipei City (台北市長安西路39號), tel: (02) 2552-3720. Open Tuesdays to Sundays from 10am to 6pm. General admission: NT$50
■ Opens tomorrow. Until Oct. 11
Comments will be moderated. Keep comments relevant to the article. Remarks containing abusive and obscene language, personal attacks of any kind or promotion will be removed and the user banned. Final decision will be at the discretion of the Taipei Times.