Live Wire: Limp Bizkit: 'Stick it up your Taiwanese ass'
If someone gave you hundreds of thousands of dollars for a night's work, you would probably do everything in your power to make sure the job was done right. This might be especially true if you brought a dubious reputation to the table, and the work came from someone who, for reasons beyond the comprehension of most, still had some unshakable faith in you. In anything other than the entertainment business or armed robbery, most, if not all of this, would likely hold up. But sometimes, being juvenile is the act itself.
Limp Bizkit was allegedly paid a six-figure fee (we're talking US dollars, not NT dollars here) for a night's work last Sunday at Heart Town Festival (山海屯音樂節) in Taichung. For reasons beyond this writer's comprehension, the band does have a real, heartfelt fan base here. That changed to some extent, deservedly or not, after their headlining performance.
TYPHOON TROUBLES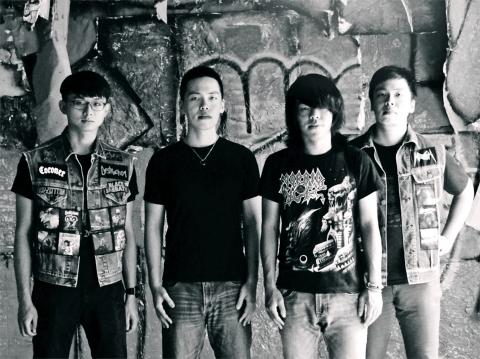 Technical thrash act Psychopress is a rarity in the Taiwan metal scene these days — a band that strays from the formula.
Photo courtesy of Wayne Chang
The band's crew showed up at the festival grounds on Sunday morning after arriving in Taiwan on Saturday. Citing safety concerns regarding the main stage, which had been clobbered by Typhoon Soudelor, Limp Bizkit refused to play. Later, they were convinced to go ahead with the show, but only if said safety concerns were addressed. All pretty straightforward stuff, so far.
Thus, as crews would be busy bringing the main stage up to Limp Bizkit's standards, festival organizer Jimmy Liu (劉鈞輝), already plagued by massive scheduling headaches, had to do some more stage juggling to honor the band's requests.
This left the main stage unoccupied by anything other than crew members for much of the day and night. An argument could be made that the technical specs should have been heeded before the band took such drastic measures. To say it was a unique set of circumstances is an understatement.
The compacted bill often left bands on the three remaining stages scattered throughout the grounds next to the High Speed Railway station playing at the same time (they were supposed to be staggered). This led to sounds overlapping in certain areas. Limp Bizkit's sound check then dragged on, delaying the show by the better part of an hour. Communication snafus regarding the band's setup as well as equipment issues may well have been the catalyst for the onstage antics yet to come.
After much waiting around, the band finally hit the stage at around 11:15pm. Singer/rapper Fred Durst started off relatively congenially — save a puzzling expletive directed at a festival employee the band was apparently embroiled in some sort of conflict with. Leaving that behind, he later thanked the crowd, saying they were grateful to be there and that he hoped everyone was all right following the typhoon. Soon, things took a sour turn.
ON-STAGE ANTICS
During the chorus of one of the band's better known hits, Nookie, Durst changed the lyrics to "Stick it up your Taiwanese ass." As the set wore on, he also called out the same festival employee he had previously directed expletives at, saying it was the band versus the woman in question. "We're in the heat of a battle," he said from the stage. "Later on we'll kiss and make up. But right now, she loses."
To the band's credit, they did put in an approximately 70-minute set, and played all the backwards baseball cap-wearing hits of yesteryear. They did appear to be flying by the seat of their low-sagging pants, however, and a photo uploaded to Instagram that showed the band's Heart Town set list, seemed to support this theory. The "set list" had just a single song on it: Rollin'.
Set lists are more often than not superfluous — a reference point that's put on stage just in case. If a band is even moderately rehearsed, the list is rarely referred to. But there was one incident to suggest perhaps a little more rehearsal time was in order. The guitarist appeared to flub an intro riff, with Durst saying, "Hey, Mr. Borland, if you could play the riff right. That's not the riff." The guitarist, however, was not original on-again-off-again guitarist Wes Borland, known for his garish costumes, but a plainly-dressed stand in.
SOCIAL MEDIA FALLOUT
A few in the audience of several thousand walked away before the band finished their set, while others used social media to express vitriolic displeasure at Durst's behavior and commentary. It's unclear what they expected from a man who's made a career out of acting just as he did on Sunday. But the vast majority did stay, and were quite obviously enjoying themselves and the music, singing/rapping along and generally rocking out when they weren't left confused by stage banter alluding to behind-the-scenes turmoil. It was only later that the onslaught of online backlash came flying in from all directions.
At show's end, past the originally slated midnight end time, police officers were waiting in the wings to slap a hefty fine on the already heavily-indebted organizers for noise violations. Local extreme metal favorites Chthonic, who were suited up and ready to play following Limp Bizkit, rather than before as was originally planned, had to pack up and go home without playing a note. Japanese rock act Coldrain, though present, was also left unable to perform.
Disheartened by all the drama, Liu issued statement, simply telling attendees: "I'm sorry." No doubt so was anyone who, if they were one of the naive faithful before Limp Bizkit proved that they are indeed little more than played up caricatures of everything boorish and shallow that seeped out of mid-nineties bro culture, may have left the festival grounds that night wondering how they ever could have been so blind. Or deaf, for that matter.
Enough of those has-beens! On to future matters. In a metal scene largely populated by interchangeable deathcore and metalcore bands (which coincidentally seem to swap members with an ever rising frequency), Taipei progressive technical thrash act Psychopress has come along with a welcome dose of difference.
Shiva Naipaul once wrote something to the effect that "Borrowed gods erased the soul," but Psychopress borrow just the right amount from just the right gods. They're musically proficient without treading into the dreaded territory of bloated fret board wankery, dark without pandering or going over the top. They're young, possessed of an exciting sound and hungry. In short, they're everything Limp Bizkit is not.
■ Psychopress plays tonight at Pipe, 1 Siyuan St, Taipei (台北市思源街1號). Tickets are NT$300 at the door, and the show starts at 7:30pm. Other acts on the bill are Limbo and The Sound of Hatred (憎惡之聲).
Comments will be moderated. Keep comments relevant to the article. Remarks containing abusive and obscene language, personal attacks of any kind or promotion will be removed and the user banned. Final decision will be at the discretion of the Taipei Times.