Delicious fungus
The king oyster mushroom doesn't promise much from its appearance on the store shelf, but treated right it releases a beautiful depth of flavor
In Asia, the world of edible mushrooms is very different from that of Europe, and the familiar reference points of the button and portobello mushrooms, or the more exotic cepes and morels of French cuisine, are replaced by the shitake (the basic Chinese culinary mushroom, used both fresh and dried), the ubiquitous enoki (a hot pot staple) and the shimeji (a Japanese import that is now being grown locally).
Another popular favorite is the king oyster mushroom, which I was introduced to as part of the line up at stalls selling grilled food on sticks at the local night market. The fact that it was usually coated in some sort of sweet, salty, sticky and generally overpowering grilling sauce, meant that what little flavor it had was well and truly hidden. They can also be rather chewy if not properly cooked, which was often the case as busy stall owners moved their skewers off the grill too quickly for the heat to fully penetrate the dense flesh of this mushroom.
It was not a promising introduction, but time and experience in the kitchen have taught me that the king oyster mushroom (also known as the king trumpet mushroom, French horn mushroom, trumpet royale, or more technically, Pleurotus eryngii) has plenty to recommend it beyond being a vehicle for cheap, artificially flavored BBQ sauce.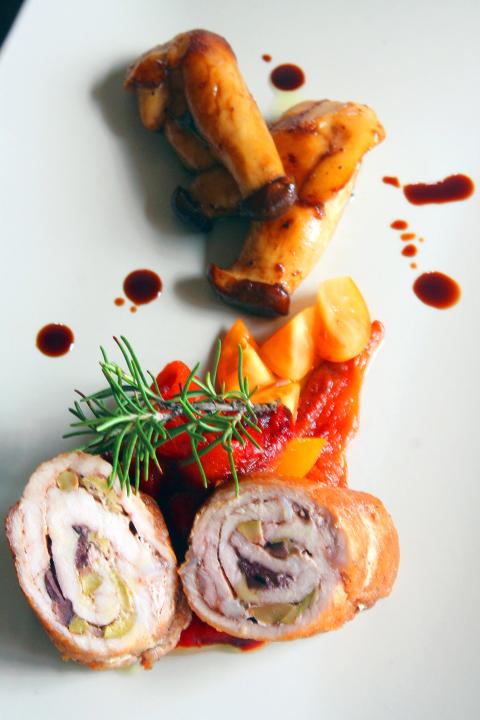 King oyster mushrooms with balsamic and rosemary served with roast loin roll with black and green olives and a salsa of pickled roasted sweet peppers and cherry tomatoes.
Photo: Ian Bartholomew
The Chinese name for this mushroom is the "apricot abalone mushroom" (杏鮑菇). It is widely available in its mature form, huge stumps with a small beige-colored cap. Recently a less mature version, with smaller stems, has become increasingly available on the market, and these have led to my own renewed interest in the king oyster, as this smaller version can be served whole and is less dense and chewy than its grown up cousins, though both are delicious with the right preparation.
King oysters don't look particularly appetizing, but the big ones can be sliced, with a disk of the mushroom resembling a scallop. The texture of these big mushrooms, according to some, is similar to abalone, and one food producer (www.wineforest.com) claims that they have been mistaken for seafood by vegetarian customers, who have sent a dish of sliced king oyster mushrooms back to the kitchen, having mistaken it for a dish of scallops.
The king oyster doesn't have much fragrance when raw, but when cooked they release luscious umami, or savory, flavors that really enhance the food they are served with. A couple of stems thrown in as part of a vegetable stock make a huge difference to the overall oomph of the end product.
In Taiwanese cuisine, king oyster mushrooms are often stir-fried, with deep fried and grilled versions mostly restricted to street food. They are sometimes used as a substitute for meat, and in this role they can be very tasty. My own favorite is as the main ingredient of "three-cups king oyster mushroom" (三杯杏鮑菇), in which the mushroom provides a bulk and umami elements for the rich sauce made of equal parts of rice wine, sesame oil, and soy, flavored with ginger, garlic and basil leaves.
The health benefits of eating mushrooms are widely acknowledged, as they are rich in B vitamins such as riboflavin, folate, thiamine, pantothenic acid, and niacin. They have strong antioxidant properties, are excellent for helping strengthen the immune system and fight chronic disease. As they are low in sodium, fat, cholesterol, and calories, they are also perfect as a diet food. For vegans, they are the only non-fortified dietary source of vitamin D and provide several minerals that may be difficult to obtain otherwise, such as selenium, potassium, copper, iron, and phosphorus.
More mundane advantages of the king oyster mushroom includes a relatively long shelf life, keeping well in the fridge for about a week without discoloration or deterioration. They generally only require the simplest brushing to remove any grit, and often don't even need that. It is not advisable to wash them, as they suck up moisture easily.
Roast loin roll with king oyster mushrooms with balsamic and rosemary
Recipe
This dish is simple to prepare and is excellent as a side dish for meat or as a tapas to go with bread. Using a homemade stock is the key to great flavor as the liquid is reduced down until sticky and sucked up by the mushrooms, so the effort of using your own stock is really rewarded. That said, once you start making your own stock, you'll find it impossible to go back to store bought versions, if for nothing more than the clean, freshness of the flavors.
Roast loin roll with black and green olives
(serves 4-6)
Ingredients
500g pork loin
1/4 cup of dry red wine
1 tsp paprika
1 tsp tapioca flour (or corn starch)
Salt and pepper
Vegetable oil
8 black kalamata olives, roughly chopped
4 green olives, roughly chopped
Butcher's twine
Directions
1. Thinly slice the pork loin. Beat with a meat hammer to tenderize.
2. Marinate in red wine, paprika, tapioca flour, salt and pepper for 20 minutes.
3. On a sheet of greaseproof paper, lay out the slices of pork into a rectangle.
4. Spread with a mixture of chopped olives. Roll this up and bind with butcher's twine.
5. Preheat an oven to 180C.
6. Heat a skillet over medium flame with oil and then fry the roll for eight minutes, turning every two minutes to provide an even browning all around.
7. Place the skillet (make sure that the skillet has no plastic parts) in the oven and finish the cooking for another 8 minutes, or until internal temperature is around 64C.
8. Remove from the oven and allow to cool. Serve warm or at room temperature. Do not refrigerate, as the meat will tend to dry out.
King Oyster mushroom side dish
(serves two)
Ingredients
150g of king oyster mushrooms
4 tbsp extra virgin olive oil
4 cloves of garlic, minced
1 sprig rosemary
1 cup homemade vegetable stock (recipe follows)
2 tbsp good balsamic vinegar
Salt and pepper to season
Directions
1. Heat the olive oil in a small sauté pan and add the minced garlic and rosemary. The mushrooms should be in a single layer, not stacked.
2. Cook over low heat until fragrant. Turn the heat up to medium and add the mushrooms. Season with salt and pepper. Sautee until the stems acquire a little color.
3. Add the stock and balsamic vinegar. Bring to a boil then simmer for approximately 20 minutes or until the liquid is reduced to a thick sauce that almost seems to stick to the pan. Remove the rosemary stem.
4. Can be served warm or at room temperature. Keeps well in the fridge for two or three days.
General-purpose vegetable stock
Ingredients
1 large carrot, cut into thin slices
1 stem celery, cut into thick slicess
2 large onions, roughly diced
1 large potato, roughly diced
50g king oyster mushrooms
A big glug of olive oil
4 stems and leaves of parsley
2 bay leaves
4 liters water
Directions
1. Warm the oil in a stock pot and add the onions.
2. Cook over medium heat until translucent. Add the other ingredients except the water. Cook until softened, about 10 minutes.
3. Add water and bring to a boil.
4. Turn down the heat and cook at a barely perceptible simmer for 1 hour.
5. Strain the stock through a sieve to remove the solids. Allow to cool (in a hot environment a cold water bath is recommended to reduce cooling time). Divide up into convenient portions and freeze for future use. Frozen, it keeps well for two weeks.
Ian Bartholomew runs Ian's Table, a small guesthouse in Hualien. He has lived in Taiwan for many years writing about the food scene and has decided that until you look at farming, you know nothing about the food you eat. He can be contacted at Hualien202@gmail.com.
Comments will be moderated. Keep comments relevant to the article. Remarks containing abusive and obscene language, personal attacks of any kind or promotion will be removed and the user banned. Final decision will be at the discretion of the Taipei Times.