The Vinyl Word
One thing that has always been missing from Taipei's nightlife is a proper rooftop bar with breathtaking views of the city. Fortunately for weekend warriors, that void has now been filled with Kloud, the newest addition to the roof at the hottest place in town, the ATT4FUN building.
After taking the elevators up to the tenth floor, customers walk up one more flight of stairs and are treated to a stunning glimpse of Taipei 101 and the illuminated Xinyi District (信義). Kloud is only open on Saturday nights at the moment, but Fridays will be added in July and August. One of the most unique things about Kloud is that it is an open-air venue, which means there is no covering for the tables or the DJs. While this is incredible when the weather cooperates, when it rains, things can get a little wet.
On most nights, the musical selection focuses on fist-pumping EDM, but tomorrow, Taipei's Paris Nights takes over Kloud with The Lost Island party and promises a mix of tropical house, Caribbean rhythms, dancehall, electro and mash-ups provided by DJs Fratzuki, Cross Cutz and Cola.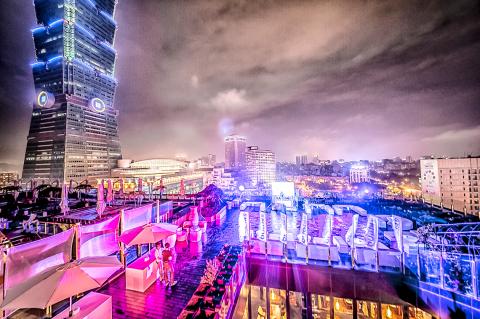 The sky is the limit for Kloud, the newest addition to Taipei's nightlife.
Photo courtesy of Ray Wu
Three years ago, French flatmates Greg Colombet and Morgan Boudet decided that they really enjoyed the time they spent with their friends so they started inviting people over to their apartment all the time. While this was great for Colombet, Boudet and their friends, the neighbors were not so fond of these shindigs because more and more people kept dropping by. They then decided they needed bigger places to drink wine and listen to the music that they liked. It was at this time that they chose the name, Taipei's Paris Nights, and decided to throw monthly themed parties at various venues around Taipei City.
"Paris has one of the leading scenes in the world regarding music and new trends It is a place where people are not scared to experiment, whereas we feel that Taipei is a little reluctant to try new things so we often end up at the same place, with the same people, listening to the same music," Colombet by e-mail.
"Taipei's Paris nights wants to show that anyone can have a great night in any bar, with new people and most of all listening to something else than Top 20 hit music."
Over the past three years, Taipei's Paris Nights have done pink parties, Roman orgy-themed parties, disco parties, beer pong parties and even a throwback party called Time Machine. Colombet's favorite, though, was a 1920s-themed party at Barcode when they collaborated with fashion bloggers The Ginkgo Project. He said it was a huge success because everyone came dressed to the nines in 1920's gear, the music was French and electroswing, and everyone stayed until the end on a Thursday night.
Overall, Taipei's Paris Nights just want to throw memorable events.
"A good party is when you forget everything for one night, and as you go back home, you have this feeling of happiness which will probably vanish the next morning if you don't drink water before going to bed," Colombet said.
■ Taipei's Paris Nights present The Lost Island tomorrow with DJs Fratzuki, Cola, and Cross Cutz from 8pm to 4am at Kloud, 10F, 12, Songshou Rd, Taipei City (台北市松壽路12號10F). Admission is NT$600, which includes two glasses of wine.
Comments will be moderated. Keep comments relevant to the article. Remarks containing abusive and obscene language, personal attacks of any kind or promotion will be removed and the user banned. Final decision will be at the discretion of the Taipei Times.