Taiwan tales: Taipei's 'baddest' taxi driver
The nation's taxi drivers generally make for interesting conversation — even the criminally inclined ones
At any given time, there are about 50,000 taxis on the roads of Taipei and New Taipei City, according to one cab driver I've talked to. I don't know if that's true, but many people have come to depend on always being able to hail a cab at any time of the day. Many of the drivers are strong personalities — which makes for some for memorable rides. I've been on a couple, and this is the story of one of them.
When I got in the taxi and told the guy where I wanted to go, I could hardly hear his reply, his mouth was so full of betel nut.
— I want to go to Roosevelt Road (羅斯福路). Could you go down Heping East Road (和平東路) and then turn left at Roosevelt, please. I'll get off before you hit Shida Road (師大路).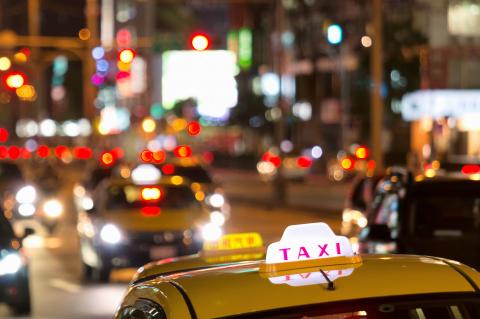 You never know what to expect when you get into a taxi.
Photo: Perry Svensson, Taipei Times
— Heping West and Roosevelt?
— No, just go down Heping East and then turn left onto Roosevelt.
— Are you getting off on Heping or on Roosevelt?
— Roosevelt. Just go down Heping East and then turn left onto Roosevelt. I don't know the exact address, but I know the place. I go there every week.
— Okay.
He stopped. He seemed to get it. Then he handed me a whole bag of betel nuts.
— Here, do you chew? Have one.
— No, I don't. Thanks, though.
— Your Chinese is good. You been here long? Are you an English teacher?
He spit in the plastic cup he had next to his seat, already brimming with old nuts and blood-red spittle. But at least he held the cup up to his mouth before he spat in it so he wouldn't miss. Then he managed to squeeze another betel nut into his face.
— Thanks. No, I'm a translator. You have to be a native-English speaker to be an English teacher these days, and I'm not.
— Where are you from?
— Sweden, so I speak Swedish.
— Northern Europe. Sweden, Denmark, Norway and Iceland. See, I'm good.
— And Finland. You know your geography. Have you ever been to Europe?
— No, no. I'm not leaving this place. I owe the government too much money, NT$8 million or NT$9 million, so they won't let me out.
I was wondering to myself why he would talk of such things to a complete stranger, but I was curious.
— What did you do?
— I didn't pay my taxes.
— Really? You make that much driving a cab?
— No, I was in construction, and the company went belly-up.
— So how much do you have to owe the government before they stop you from leaving the country?
— Oh, NT$1 million, I think. But I owe much more than that. NT$9 million.
— How long will it take you to pay it back?
— I ain't paying it back. I owe the government, I'm not paying them back.
— How come they don't put you in jail, then?
— I've done time before. I like doing bad stuff. I just can't do good things. It doesn't work, I can only do bad things. See, I'm not allowed to turn here, but I'm turning anyway. I don't care.
He's just dying to show me how bad he is. With all the cars whizzing past not expecting us to do what we're doing, I'm sure now I'm going to be in another crash. The last one I was in going to Jiufen (九份) was really quite innocent. The only thing that happened was that the driver couldn't open his door and had to get out on the right side of the car. It was caused by our taxi driver who drove on the left side of the road through a bend. Then he blamed the oncoming guy for driving too fast and in the middle of the road, almost over on our side of the road. Afterward, he still wanted us to take his taxi back to Taipei.
— Yeah, I see. That's alright, though, it's in the right direction.
— I've never had a job. I've tried, and the boss always gets in my hair and then I smack him and I get fired. I'm just a bad guy. I only think bad thoughts and try to find ways of doing bad stuff.
— I guess some people just can't take orders. You should just run your own company so you can make all decisions and come and go as you please.
— But I can't do that. I've tried. I only want to do bad things. It's like at some time in your life, you make a turn down a road and that's what you're going to do for the rest of your life. I did something bad, and now I'm a bad person that can only do bad things, you know, like the five bad elements in China. Have you been there?
— Lived there for two years a long time ago.
— You know that turn before? It was a wrong turn, I think. I seem to be taking you for an extra ride. We could have gone straight.
But you were so eager to show me how bad you are, remember?
— It's fine, we're still going in the right direction.
— We are? Okay. So you know the five bad elements, then? Landlords, rich peasants, counterrevolutionaries, bad elements and rightist elements. I'm two of those, a bad element and a counterrevolutionary. I used to be a smuggler there, you see, smuggled things to Taiwan.
— What kind of stuff?
— Girls.
Then he went into a long monologue about distances in nautical miles and then in kilometers between Keelung and Hsinchu and then for places on the Fujian coast to show that he knew the coast lines of Fujian and Taiwan the way only a smuggler would. I recognized a lot of the names from when I lived in Xiamen but have no idea whether the distances were correct or not.
— Then the Taiwanese government wanted to put me in jail so I moved to China. I stayed there for several years, but then my mom got sick so I came back.
So not even a bad guy in Taiwan isn't that bad. He has to come home and take care of his sick old mom, even if it means going to jail.
— And then they caught you and put you in jail.
— Right. So when I got out, I started driving a cab.
— You have quite a good life, then. You owe the government almost NT$10 million that you refuse to pay back but you still have your freedom to move around and drive your taxi and make money. Pretty good. Nice government.
— Yeah, but I have to go the police station all the time so they can tell me to be a good boy and follow the law, and I can't go anywhere anyway, so I'm still in prison. Here, see. This is the last paper they sent me to tell me to go the police so they can talk to me to keep me from doing bad stuff. That's why I'm driving a cab.
— But with your smuggling connections you could surely go to China anytime you want.
— Sure.
— But then you don't have a passport, so I guess you can't go anywhere else.
— Right, but China is big, there's a lot of places to go, and I can make money there. Hey, you said Sweden, right? Isn't that where Vicky the Viking comes from?
Vicky the Viking is called The Little Hero of the North Sea (北海小英雄) in Chinese and everyone has to bring him up when they hear that I'm from Northern Europe.
— Yeah. Funny that you should mention that.
— I want to be a pirate. I like pirates, they're bad guys, too, like me. It would suit me well.
— But then you should go to Indonesia, not China. There are a lot of pirates in those waters.
— And the Philippines, there are even more in the Philippines. Yeah, I could go there.
— Oh, look at that, here we are, this is where I get off. Thanks for the ride.
I made sure I paid him right. You never know, maybe he really was a baddie. What I do know, though, is that I just have to start taking the taxi more often.
TELL US YOUR STORY: Perhaps you are getting your pilots license or volunteering with children or have been involved in the nation's social movements over the past decade. Every month, the features section publishes Taiwan Tales, a reader-generated column by resident expats keen to share evocative experiences about living in Taiwan. Stories can take the form of memoir, analysis or reminiscence. Submit your personal anecdote of original writing between 700 and 1,000 words, along with your name, address and phone number, to features@taipeitimes.com.
Comments will be moderated. Keep comments relevant to the article. Remarks containing abusive and obscene language, personal attacks of any kind or promotion will be removed and the user banned. Final decision will be at the discretion of the Taipei Times.