Book review: Economic Development of Taiwan, Early Experiences and the Pacific Trade Triangle
Economist authors challenge earlier interpretations and explanations of the country's rapid economic rise
The fact that the Taiwan miracle happened is well known. Why and how it happened as well as who can take credit for it and whether it can be replicated elsewhere are all matters for study and discussion. Economic Development of Taiwan, Early Experiences and the Pacific Trade Triangle delves into all of these issues and comes up with some surprising answers.
Economics may be a science, but it does not develop or take place in a vacuum. As the authors acknowledge, "Geography and history determine the economy and politics, and politics and economics are closely interwoven." This makes the scope of this work enormous. It spans numerous political and nationalistic struggles from the Japanese colonial era, through pre and post-World War II, the 1949 influx of the Chinese Nationalist Party (KMT), into the export-driven 1960s to 1980s (the prime years of the miracle) and up to the present rise of China.
The husband-and-wife authors, Frank S T Hsiao (蕭聖鐵) and Hsiao Wang Mei-chu (蕭王美珠), are nonetheless well-suited to the enormity of this task. Both have doctorates in economics (Rochester University), and each is a professor emeritus of economics at the University of Colorado — one at Boulder, the other at Denver. Both grew up in Taiwan during its crucial pre and post-World War II eras, before heading to the US in the 1960s to study economics. Combined, they speak, read and write Mandarin, Hoklo (commonly known as Taiwanese), Japanese and English — the major languages of almost all key resources needed to study the miracle.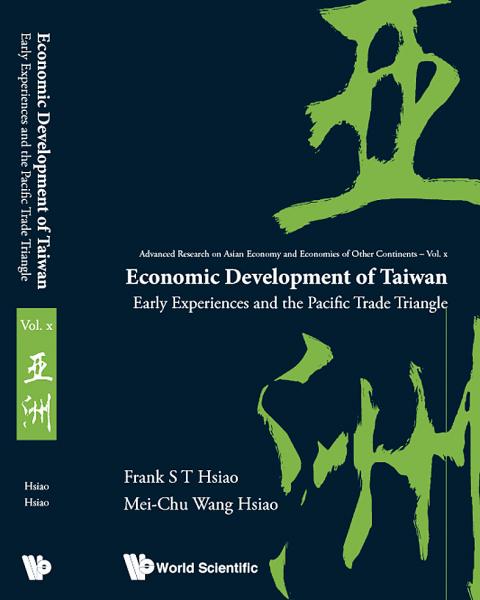 Economic Development of Taiwan, Early Experiences and the Pacific Trade Triangle, edited by Frank S T Hsiao and Mei-chu Wang Hsiao.
The authors challenge earlier credits for the miracle. Chapter five addresses the "myth" of the rags-to-riches story of Taiwan, particularly the misconception that "Taiwan began from scratch as most developing countries face today." They also question the common assumption that the Japanese developed Taiwan's agriculture and the Chinese developed its industry. This is, in their words, "too simplistic and inaccurate."
The lengthy first chapter presents the perspective of how Taiwan was no "backwater agricultural land" under Japanese colonialism. It had reached a peak of self-sufficiency in the pre-war era when Japan began minor industrialization. That agricultural strength, however, would help it feed KMT forces in China from 1945 to 1949 and support the extra two million KMT fleeing China after it lost the civil war.
Taiwan's infrastructure was damaged during World War II, but that damage increased dramatically after the war as the KMT pillaged Taiwan's food and industries to aid its losing war effort in China. The authors suggest that Taiwan's postwar development would have progressed more quickly if not for that.
The KMT's one-party state ruled with martial law until 1987. Dissenting voices were either imprisoned, or if abroad, blacklisted from return. Freedom only blossomed in 1992 when the Garrison Command was disbanded, those blacklisted were allowed to return and free multi-party legislative elections were held. This, according to the authors, was unnecessary; Japan and South Korea's miracles did not need those restrictions. Explanations of the Taiwan miracle before 1992, therefore, run the risk of being panegyrics to the KMT if only because of limited and restricted access to actual records.
The authors write in chapter seven that the 228 Incident, an anti-government uprising and subsequent brutal crackdown that occurred in 1947, was inevitable. The KMT's demand that all Taiwanese speak Mandarin and its outlawing of the use of Taiwanese or Japanese, hindered communications and restricted positions of power to the emigres. The KMT also brought a semi-feudalistic mentality from China to a colonial Taiwan that had already tasted modernity with Japanese development.
Land reforms in the 1950s was a crucial part of the miracle, but it mirrored what the US was developing in postwar Japan and was not without exploitation. It did successfully give more land to Taiwanese but the development of the textile industry (much of which is today in China) and the IT industry came only because the KMT had nowhere else to go. In retrospect, it is ironic that land reform proved successful on land cultivated during the Japanese colonial era, but not in China.
Another crucial aspect of the miracle was the Pacific Triangle, with Taiwan exporting to the US and importing technology from Japan. Taiwanese fluency in Japanese language and methods helped here, and the small and medium-sized enterprises were crucial. The success of South Korea, the other Asian Tiger that is not a city-state, is credited with also having a similar Japanese background. That all parties in this triangle now focus on China suggests the miracle is over.
This book, divided into three parts — the overview, colonial linkages and early postwar development — is not a easy read. A review can only scratch the surface of so much content. Its tested strength is that it is a composite of conference and institute papers (1989 to 2002) subsequently refereed, critiqued, updated and published in journals over the following decade. However, this process also makes chapters topical instead of chronological. Readers must be prepared to approach and read it in this way. The overview closes with chapter three, written last year. The Economic Cooperation Framework Agreement's (ECFA) over-dependence on China may prove fatal instead of being a proclaimed panacea. The coming Trans-Pacific Partnership (TPP) is worth a separate look.
This book challenges many previous interpretations of the Taiwan miracle and with support from a vast array of charts, figures, references and application of economic theories. Its scope and innumerable references make it a major resource not only for comparative studies of Taiwan's economy but also for research in developing Asian economies. Its conclusions can be disputed but not ignored.
Publication Notes
Publication Notes
Economic Development of Taiwan, Early Experiences and the Pacific Trade Triangle
By Frank S T Hsiao and Mei-chu Wang Hsiao
602 pages
World Scientific
Hardback: Singapore
Comments will be moderated. Keep comments relevant to the article. Remarks containing abusive and obscene language, personal attacks of any kind or promotion will be removed and the user banned. Final decision will be at the discretion of the Taipei Times.