A third wheel with four legs
In the upcoming play 'Sylvia,' a man gets a dog during his midlife crisis and all hell breaks loose at home
Men who are unsatisfied at the midway point of their mundane lives sometimes do nonsensical things like buy Ferraris, take up skydiving or start affairs with women who are much younger than their wives. In Sylvia, a play directed by Brook Hall happening over the next two weekends at The LAB Space (實演場) in Beitou, the lead character, Gary, thinks that getting a dog will help solve his midlife crisis issues, but things actually go from bad to worse.
The play, written by AJ Gurney, originally premiered off-Broadway in 1995. It is the third production this year for Hall, who is one of the country's better-known directors and producers of English-language theater.
"I believe this is a clever way of looking at relationships," he said. "It's about a man finding a younger woman to love him unconditionally, but in the play, the woman is a dog."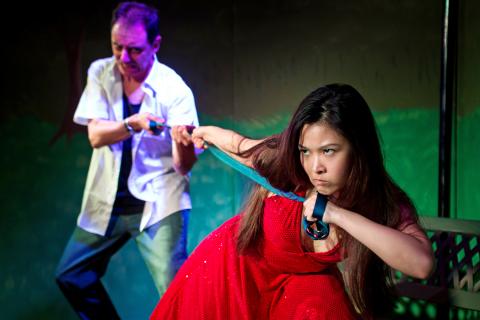 Tiffany Tsai and Maurice Harrington star in Sylvia, a play about a man who deals with a midlife crisis by getting a dog.
Photo courtesy of Fabian Hamacher
Hall invited Tiffany Tsai (蔡天芸) to audition for the role of the saucy younger woman/dog — who ends up sparring with Greg's wife, Kate — when he heard Tsai was having weekly actor meet-ups at her house. Tsai was flattered but nervous about the auditions. Now that she's earned the part, Tsai said that she sees in herself many similarities to Sylvia.
"Sylvia is not afraid, has no real inhibitions, and she's really raw and instinctual," Tsai said. "I think I'm like that in real life."
VETERAN AND NEWBIE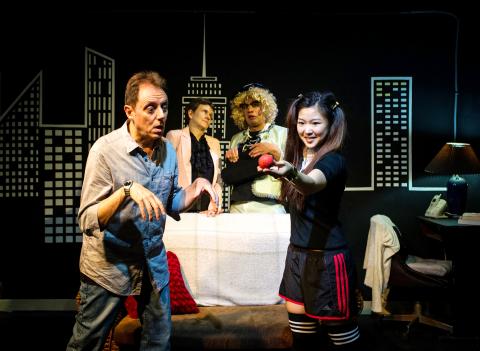 From left, Sylvia cast members Maurice Harrington, Sarah Brooks, John Brownlie and Tiffany Tsai.
Photo courtesy of Fabian Hamacher
Maurice Harrington has lived in Taiwan for 24 years and was once involved in its theater and film scene, but this is his first play in 14 years. Hall used to see Harrington's name around a lot so when he needed a mature actor to play Greg, Hall looked up Harrington. When asked if anything has changed since his last play, Harrington said, "The lines don't go as in so easily, so it must be age."
On the opposite end of the acting spectrum, Sarah Brooks, who plays Kate, is starring in her first show. Brooks' background is in journalism, but she caught the performing bug when she took the stage during open mics at Red Room Radio Redux. Soon she started taking Hall's acting classes, auditioned for the play and the rest is history.
"I'm pretty freaked out and nervous," Brooks said.
Sarah Brooks and Tiffany Tsai are at odds in Sylvia.
Photo courtesy of Fabian Hamacher
DISCOVERING NEW TALENT
By having his own theater and planning a lot more shows, this year has been a banner year for Hall — and it is only halfway over. When Hall finds talented people, he works with them over and over again. This includes set designer Ross McCarry, costume designer Jenna Robinette and sound designer Anton Botes. Actors and actresses, though, are a different story because certain roles need specialized people.
Hall said his acting classes are great opportunities to cultivate new talent and see if people are natural thespians. Hall's The LAB Space also hosted auditions for smaller roles on Martin Scorsese's movie, Silence, which recently wrapped up shooting in Taiwan. "That film brought a lot of new people out," Hall said. "And I think it opened a door for a lot of new artistic relationships."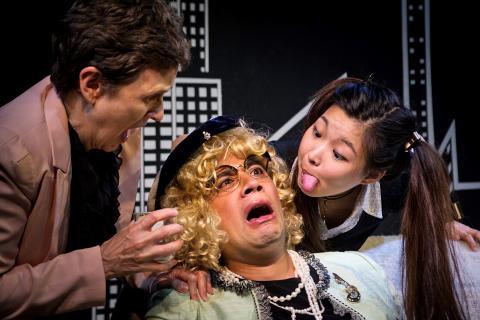 Sarah Brooks, John Brownlie, and Tiffany Tsai clown around on the set of the play.
Photo courtesy of Fabian Hamacher
Performance Notes
What: Sylvia
When: Friday to Sunday and June 26 to June 28 at 8pm
Where: The LAB Space (實演場), 3F, 9, Beitou Rd Sec 1, Taipei City (台北市北投路一段9號3樓)
Admission: NT$550, available through accupass.com/go/sylvia or at the door
On the Net: www.facebook.com/labspacetw
Comments will be moderated. Keep comments relevant to the article. Remarks containing abusive and obscene language, personal attacks of any kind or promotion will be removed and the user banned. Final decision will be at the discretion of the Taipei Times.