The Vinyl Word
For most parties, organizers need to be extremely strict about what time the DJs are on because if given the opportunity, most will just keep playing and playing. Last weekend, DJs SL95 (real name: Liu Xuan, 劉軒), Dominik T (real name: Dominik Tyliszczak) and Mr Smith (real name: Eryk Michael Smith) were given free rein about the times and lengths of their sets at Triangle. They decided to play back-to-back-to-back for three hours, and the results were spellbinding. Like when a basketball team starts making crisp passes and every shot goes in which brings the home crowd to their feet, these three veteran DJs played one track each, then handed over controls of the party to the next one, and scorched the dance floor the whole time.
Justin Robinette, the manager of Triangle and organizer of the event, promised to put on an outfit resembling Dr Rockso, the heavy metal clown from the cartoon Metalocalypse, if the party was exceptional. By 2am, Robinette was decked out in a lime green unitard showing off his chest and wearing a pink curly wig. He looked slightly ridiculous on his 40th birthday, but was cheering for the three DJs as loud as anyone in the venue.
REAL RASTAMAN VIBES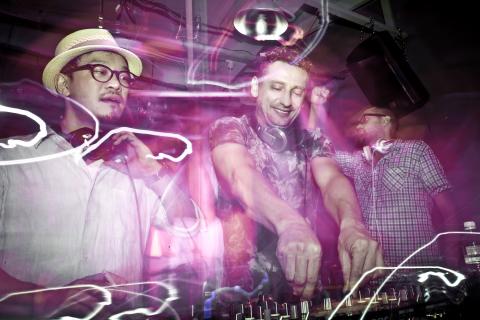 DJs SL95, Dominik T, and Mr. Smith shared some pretty magical moments last weekend at Triangle.
Photo courtesy of Jamie MacGregor (Mactography)
The weather is sweltering outside, so that can only mean one thing — reggae music must be blasted at a loud volume to cool things down. Thankfully, the O-Brothaz Sound System is back tonight at Revolver with Roots Dub Sessions.
The O-Brothaz Sound System is two hard working reggae lovers, Lion Harley and Thierry Cuvillier. For the past decade, they have been pushing the people of Taiwan to get into dancehall, reggae and other Caribbean music like soca. Tonight, the focus is on roots, which is the most popular form of reggae with artists like the almighty Bob Marley and Peter Tosh.
Lion said that right now in Jamaica there is a big movement back to the roots and dub, which is the real rastaman music.
"We have always been trying to push these vibes here and finally now feels like it is the time. Dub clubs are popping up all over the globe, small sound systems playing old and new heavy roots and dub tunes, keep the original Jamaican dance vibes alive," Lion said in an e-mail interview with the Taipei Times.
Lion added that those who show up at Revolver tonight can expect "a Jamaican-style session, with good vibes and the real original Jamaican reggae roots and dub music played inna Jamaican style."
Sherwyne Splenda, the charismatic lead singer of the local reggae band Dread Rider, will be making an appearance on the microphone. He is sure to turn the intimate gathering of friends into a hot and sweaty dance party.
■ Island Jam presents: Roots Dub Session is tonight at Revolver from 10:30pm to 3:30am, 1-2, Roosevelt Rd Sec 1, Taipei City (台北市羅斯福路一段1-2號). Admission is NT$300, which includes a drink.
Comments will be moderated. Keep comments relevant to the article. Remarks containing abusive and obscene language, personal attacks of any kind or promotion will be removed and the user banned. Final decision will be at the discretion of the Taipei Times.