Art exhibition listings
The advancement of technology has made possible methods of communication that were unimaginable in the past, chipping away at boundaries such as time and space. With this in mind, the Digital Art Center in Taipei is currently showcasing Post Necromancy (後喚術), a collaborative exhibition featuring works that question the possibility of communicating with the dead via technology. Fascinating? Yes. Morbid? Absolutely. Crazy as it seems, the exhibition does a good job at fleshing out the idea of a person not being a "real person" in today's world, as we are so consumed by our gadgets, letting these machines dictate how we live our lives, rather than making decisions ourselves.
■ Digital Art Center (台北數位藝術中心), 180, Fuhua Rd, Taipei City (台北市福華路180號), tel: (02) 7736-0708. Open Tuesdays to Sundays from 10am to 6pm
■ Until June 21

Lee Chung-chung, Pure Space (2015).
Photo courtesy of Liang Gallery
I've yet to come across an artist who manages to make childlike squiggles appear so poignant than Chinese artist Wang Huang-sheng (王璜生). Sent to the countryside with his calligrapher father during the Cultural Revolution, Wang had ample time to ponder and doodle. His signature style — ink squiggles on paper done with a single, unbroken line — is in part a critique on the elite, exclusive nature of literature, calligraphy and the like. Moreover, the squiggles point to the fact that there exists a world outside the realm of what words can capture. Wang's paintings are currently on display at Taipei's Lin & Lin Gallery. The exhibition is entitled Roaming | Apparition (游·象).
■ Lin & Lin Gallery (大未來林舍畫廊), 16, Dongfeng St, Taipei City (台北市東豐街16號), tel: (02) 2700-6866. Open Tuesdays to Sundays from 11am to 7pm
■ Opens tomorrow. Until July 5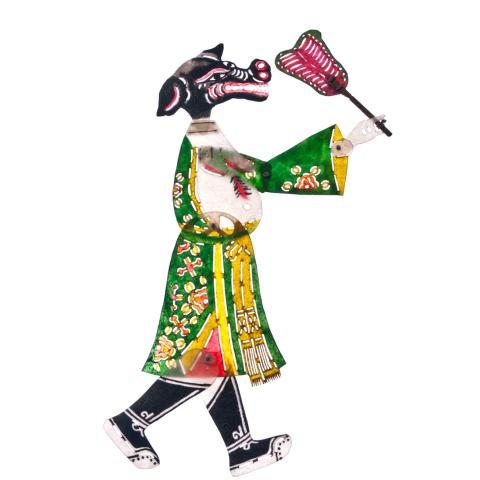 Sun Shih-wei, Peng Jheng-wei and Lin Wei-chi, Spatial Memory (2015).
Photo courtesy of Digital Art Center
Elegance of Landscape (山水風華) is a solo exhibition at Taipei's Liang Gallery by Chinese-born Taiwanese artist Lee Chung-chung (李重重). Lee has been creating beautiful, bold abstract landscape paintings for decades. Born into a literary family from China's Anhui province, her paintings are as deeply poetic. Images from Lee's childhood in the Tainan countryside are translated into ink, expressed through baby blue skies, white sand mounds and topsy-turvy green pastures — all highly distinct from her father's preference for traditional ink painting. While Lee's father might have strived to conform, she wanted to stand out. According to Lee, bright colors such as pink and yellow are meant to create a loud statement, just like how "an elephant heavily puts down its foot."
■ Liang Gallery (尊彩藝術中心), 366, Ruiguang Rd, Taipei City (台北市瑞光路366號), (02) 2797-1100, open Tuesdays to Sundays from 11am to 6pm
■ Until July 19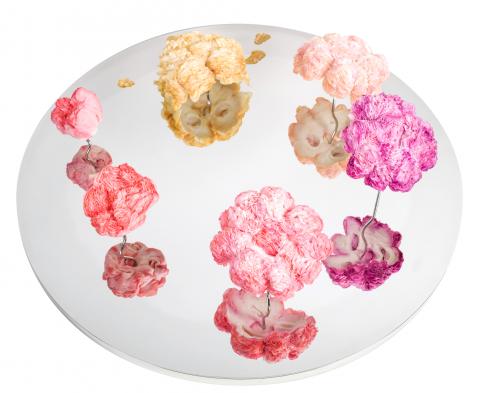 Hsu Wei-hui, Flower of Life - Smiling to Life (2014).
Photo courtesy of MOCA
Each time I return from visiting my family in South Korea, my suitcase is laden with top-of-the-range face masks and cosmetics — a symbol of both my unabashed vanity and the success of consumer society in convincing women that they "need" these products in order to be "attractive." Chungli-born artist Hsu Wei-hui (徐薇蕙) has been challenging this idea of a constructed feminine beauty since her college days in Savannah, Georgia, to her residency in Seoul. She uses face masks — and cheek masks, neck masks and breast masks (who knew there was such a thing?) — as her prime medium, which she dyes with various shades of pink and twists into shapes that resemble flowers and firearms. The result, which is simultaneously beautiful and repulsive, enables viewers to envision the constant pressure that women are under to look and act a certain way. Her contorted face masks can be viewed at the Museum of Contemporary Art (MOCA) in Taipei in an appropriately-titled exhibition, Unknown Depths (未知的深處).
Female artists are really holding fort at MOCA this month. Another exhibition with a strong feminist flair is South Korean artist's Yee Soo-kyung's When I Become You: Yee Soo-kyung in Taipei (當我變成你:李受俓在台北). Yee is most well-known for her Translated Vase Series, a collection of sculptures made out of ceramic shards, twisted and reshaped to resemble curves on the female body while also protesting the archaic idea of "no pain, no gain." For this particular exhibition, Yee created female alien-like sculptures inspired by religious figures. While visibly different than her ceramic shard sculptures, similar themes, such as traversing the separate worlds of tradition and modernity, and consciousness and subconsciousness, are explored through these figurines as well.
■ Museum of Contemporary Art, Taipei (台北當代藝術館), 39, Changan W Rd, Taipei City (台北市長安西路39號), tel: (02) 2552-3720. Open Tuesdays to Sundays from 10am to 6pm
■ Unknown Depths opens tomorrow and is until July 19. When I Become You is until Aug. 2
The National Palace Museum in Taipei has been rather fashion-forward this past year, showing one exhibition after another revolving around different fashion trends throughout Chinese history. Their latest exhibition, The Splendor of Ethnic Costumes and Accessories from Guizhou (銀燦黔彩─貴州少數民族服飾), is not to be missed for those immersed in the world of fashion or the study of ethnic minorities. Guizhou province in southwest China, known for its spectacular mountain scenery and ancient villages, is also home to some ethnic minority groups like the Miao and the Dong. Settling in the area hundreds of years ago, these various ethnic groups have long produced vibrant folk art incorporating elements from various cultures. This is exemplified in many aspects of life in the villages, most notably in weaving and embroidery, as well as in jewelry-making. Some of the gorgeous costumes and accessories are currently on display as part of the museum's exhibition.
■ National Palace Museum (國立故宮博物院), 221, Zhishan Rd Sec 2, Taipei City (台北市至善路二段221號), tel: (02) 2881-2021. Open daily from 9am to 5pm
■ Until Sept. 1
Comments will be moderated. Keep comments relevant to the article. Remarks containing abusive and obscene language, personal attacks of any kind or promotion will be removed and the user banned. Final decision will be at the discretion of the Taipei Times.