Live Wire: A Happy Wake for Lynn Miles
In the middle of last month, word began circulating among expat and activist circles that Lynn Miles's cancer had taken a bad turn. I received a message from one of Miles's friends, activist Sean Wratt, who wrote that Miles was "in the final stage. The doctors have said two weeks."
"Lynn had one more request," Wratt said. "He wanted us to organize one last party."
So Wratt and others close to Miles, including democracy activist Linda Gail Arrigo and members of the Taiwan Association for Human Rights, hastened to organize FamFest, a small music festival on a mountain farm in Shiding (石碇), a quiet township to the southeast of Taipei. There would be bands, music, food and beer. Miles's friends would be welcome to camp on the site.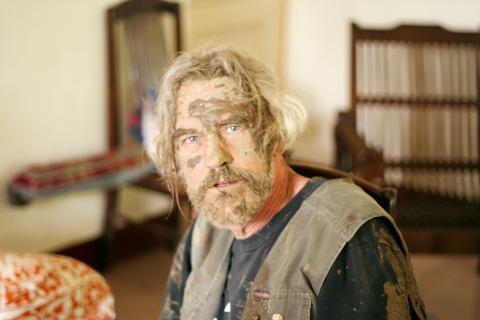 Democracy activist Lynn Miles at 2008's PeaceFest. Musician David Chen said Miles was probably the "muddiest of all people there."
Photo Courtesy of David Chen
Wratt described it to me as "a happy wake," and, though Miles was bedridden in a hospice at the time, he avowed, "Lynn is a stubborn old bastard. I'm pretty sure he'll stick it out till after the fest."
The event dates were set for May 30 and May 31. The farm was well beyond the grip of Taipei, its suburbs and its politics, which with Miles had almost continuously jousted for most of the last 50 years of his life. It was a small patch of orchards and meadows carved out of a narrow, steep valley that followed a creek up toward the mountains that form the north rim of the Feitsui Reservoir. The air was sticky with heat but clean, and the grounds were tidy. A sound system was set up in a small shed, a handful of tents were strung along the road, and some yellow fabric was draped against a stone retaining wall in the shape of a peace sign.
The event was a sort of coda to PeaceFest, a music festival Miles founded in 2003, together with Wratt, Dave Nichols, Blaine Whiteley and Molmol Kuo (郭沛豐).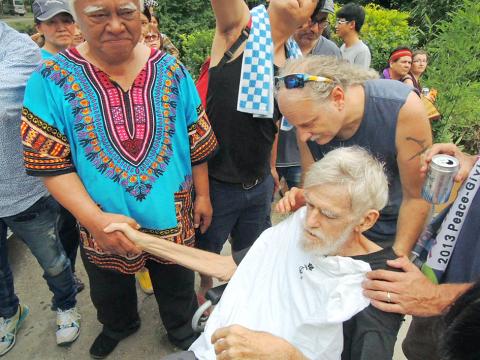 Lynn Miles shakes hands with Aboriginal singer Kimbo Hu at last month's FamFest, put together as Miles's "last party."
Photo: Liberty Times, courtesy of Hou Tsong-hui
PeaceFest was born from the protests against the Iraq War at the American Institute in Taiwan (AIT), Wratt said.
Following the US invasion of Iraq in the spring of 2003, anti-war protests broke out in front of AIT, the US de facto embassy in Taipei. The movement reached a climax in March of that year, when marches drew hundreds of supporters, and Miles famously burned his passport in front of the American diplomatic office.
"When the crowds started to get big, the police said, 'You've got to stop,'" Wratt, who was a protest organizer at the time, says. "There was pressure from above to get me kicked out of Taiwan, so I said to some of the others, 'Is there any way we can use this energy and do something else?'"
So Wratt, Miles and company launched the first PeaceFest a month later as an outdoor camping festival in the mountains of Taoyuan. It was a hippie party — anti-authoritarian undertones and all.
PeaceFest would be held yearly from 2003 to 2010 before spinning off into other smaller events around Taiwan. At its peak in 2008, the lineup featured around 50 bands and DJs, including locally famous Aboriginal singers like Biung (王宏恩) and Kimbo Hu (胡得夫). When the event made money, proceeds were donated to Oxfam's missions in Iraq, anti-landmine campaigns and other charities.
Musician David Chen, a blues singer who plays with the Muddy Basin Ramblers (泥灘地浪人), remembered that year's event: "That year it had rained and many people were covered in mud. Lynn, as always was the case with PeaceFest, was the spiritual heart of the party. One moment he was in front of the stage dancing to the bands, another he was backstage, making sure the bands were running on schedule. (Of course they weren't.) He was probably the 'muddiest' of all the people there."
Chen added, "I think he liked our band because we used to play the folk/gospel song, Ain't Gonna Study the War No More, an anthem of his generation, which oversaw the folk revival in the 50s and 60s."
Each PeaceFest included a group chant, a communal ritual inspired by Aboriginal dances. Attendees linked hands, chanted and danced in a ring.
"The peace circle was there from the beginning," Wratt said. "We would have it at sunset and hold a moment of silence, then the the drummers and didgeridoo artists would give us a tempo that slowly picked up in speed, then the circle would move around and take on a life of its own."
Two weeks ago in Shiding, the peace circle was smaller, perhaps 15 or 20 people, but the spirit was still there. At the center of the ring, Miles sat in a wheelchair, with an oxygen tube running from a cannister to his nose, while his friends played hand drums and danced around him. A chant was led by Hu, who one week later would be playing to thousands in the Kaohsiung Arena at a concert commemorating Taiwan's "campus era" folk movement. But here, Hu was celebrating one last time with an old friend.
When the mood hit a climax, Miles began dancing in his wheelchair. Eyes bulging and exerting his wasted muscles so that he could smile, he extended his thin arms before him, waving them vigorously, as if conducting the music.
Miles was soon exhausted by the effort, and a minivan was called to take him back to the hospital. He died eight days later. But back at the farm, the bands played till midnight, and the mood was lively. Yes, there were a few bittersweet moments. But when it was all over, everyone agreed that it was a good party.
Comments will be moderated. Keep comments relevant to the article. Remarks containing abusive and obscene language, personal attacks of any kind or promotion will be removed and the user banned. Final decision will be at the discretion of the Taipei Times.