Battle Up
Taiwanese take on the dance-off genre is a total failure
There is really nothing good to say about Battle Up (舞鬥), even to a dance fan willing to sit through the film's stagnant plot just to see some impressive moves. But when the credits roll, the fan will probably regret not walking out of the movie earlier and having to endure the final showdown — which is just as dull as the awkward voiceover by the heroine, which, at the very least provides a barely recognizable thread of coherence throughout this hodgepodge directed by Ho Ping (何平) and Yang Ta-ching (楊大慶).
For ordinary viewers, it is a chance to see how the film's NT$10 million subsidy — funded by tax money — has gone down the drain.
At center of the sloppy show is Wang Lei-lei (Kuo Shu-yao, 郭書瑤), a cute southern lass who moves to Taipei and quickly bewitches one of her new classmates, Hsiao-tien (Percy Chan, 詹博翔). A member of the street dance club in school, Hsiao-tien is thrilled to discover that Wang also loves dancing.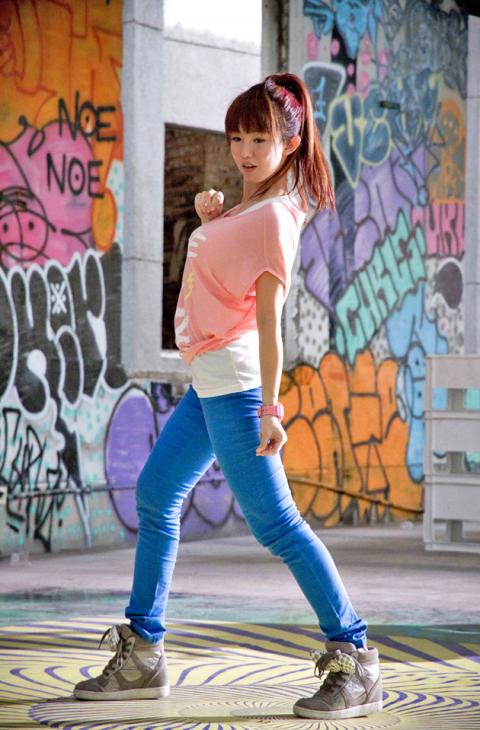 Kuo Shu-yao stars in Battle Up.
Photo courtesy of Sky Films Entertainment
She joins the club, but the obstacles quickly come. Deeming the young street dancers a bunch of troublemakers, school authorities decide to stop funding the club unless they win the upcoming national high-school street dance championship.
Worse still, the club leader, Chiang (Huang Chun–yu, 黃俊羽), accidentally injures his neck during a dance-off. Feeling desperate, the gang sends Chiang to the care of Hsiao-tien's grandfather, played by veteran kung-fu actor Wei Zi–yun (衛子雲), a martial artist and Chinese medicine man.
A eureka moment occurs when Wang wonders if it is possible to fuse their dance moves with martial arts techniques to win the competition.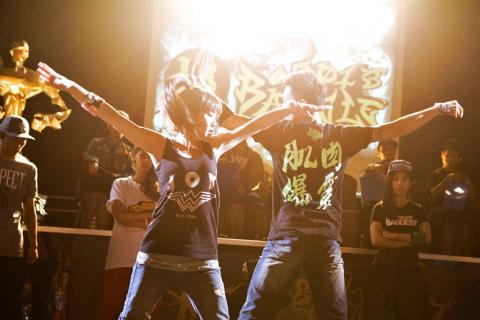 A dance scene from Battle Up.
Photo courtesy of Sky Films Entertainment
The idea of combining the two genres is invigorating, but it comes too little, too late. By this time, the film is already weighed down by tired dance numbers and undeveloped storylines. The attempt to spice things up with manga-esque sequences and kung-fu action is largely feeble, leading up to an anti-climactic showdown between rival ensembles where all the stomp and backflips appear more repetitious than fun.
Ultimately, Battle Up feels like an echo of what Kuo's character says toward the end of the movie. After losing the contest, the heroine contemplates off-screen how hard it is to marry kung fu and street dancing and concludes that it will be a long, trying process. The problem is that someone who paid NT$250 for a movie ticket expects to see a finished product.
Publication Notes
Battle Up 舞鬥
Directed by: Ho Ping (何平) and Yang Ta-ching (楊大慶)
Starring: Kuo Shu-yao (郭書瑤) as Wang Lei-lei, Percy Chan (詹博翔) as Hsiao-tien, Wen Chen-ling (溫貞菱) as Hsiao-ching, Huang Chun–yu (黃俊羽) as Chiang
Language: In Mandarin with Chinese and English subtitles
Running time: 81 minutes
Taiwan release: Today
Comments will be moderated. Keep comments relevant to the article. Remarks containing abusive and obscene language, personal attacks of any kind or promotion will be removed and the user banned. Final decision will be at the discretion of the Taipei Times.