Book review: Little Emperors and Material Girls: Sex and Youth in Modern China
'Little Emperors and Material Girls' provides a fascinating overview of the topic but ultimately fails to excite
China has always been seen in the West as exotic, and though this view subsided after 1949, it seems from this new book to be making something of a comeback. "Prepare to see China in a whole new light," proclaims the publisher's blurb. The author introduces, we're told, characters that range from "a man training students in the arts of love to the women who work the red-light districts." However, Little Emperors and Material Girls, though in many ways a commendable publication, is somewhat different from what's suggested by this promotional material.
To begin with, the number of people interviewed is limited. The book is divided into chapters on such topics as the role of the Internet, Chinese wedding ceremonies, the status of women, China's new young Christians, and so on. Much space is devoted to an overview of each particular situation. The number of interviewees ranges from two to five in each chapter, in varying levels of depth.
I well remember an article published in Hong Kong on the territory's gays, back when homosexual acts were still illegal there. It simply consisted of interviews set out as monologues, with no background information. I found that format compulsively readable, and very vivid. If this new book had presented the voices of hundreds of Chinese young people describing their sex lives, without much additional comment, I would have found it more alluring than what we have here.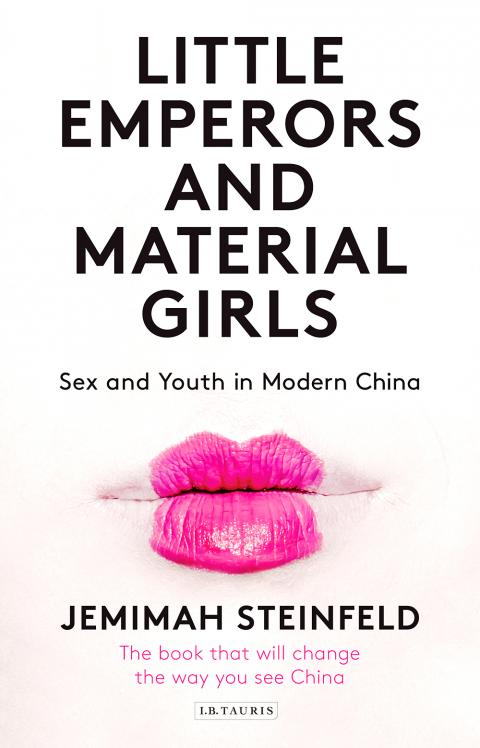 Little Emperors and Material Girls: Sex and Youth in Modern China, by Jemimah Steinfeld
That said, this book does have real virtues. The author lived and worked as a journalist in Beijing for eight years, and has been actively involved in some of the scenes she describes. She met one of her interviewees, a TV actor called Sying, "handsome by both Western and Chinese standards," at a Beijing club, as a result of which they had a "fling." She clearly knows what she's talking about.
Sying is interviewed in the context of a discussion of the advantages of being a Communist Party member. Others talk about the importance of guanxi (關係),the perceived significance of blood groups, doctored online self-portraits, "leftover women" and "bare branches" (unmarried older women and men respectively), KTV girls, "second wives" (ernai, 二奶), "phoenix men" and "peacock girls" (newly rich males and rich and attractive women), and many more relatively well-worn topics.
The desire to provide background to the interviews is understandable, limited in scope though some of these are. But, paradoxically, I would have preferred this book to be more sensational. There's a big difference between explaining such things as traditional Chinese marriage or the history of attitudes to homosexuality in China, and the presentation of personal experience and life-histories. One is generalized and public, the other unique and private. The author clearly hopes she's offering a balance between the two, but I would have liked more of the detail. There are already plenty of books about life in contemporary China, after all.
But there are fascinating snippets of information on offer. I had no idea the British royal family are rumored to be all of the comparatively rare O Negative blood group (the author is too, and was as a result jokingly referred to as being a spy for the UK royals). I also didn't know that in China couples still require their boss's permission to have a child, or that the country is estimated to manufacture 80 percent of the world's sex toys, and that there are now 2,000 shops in Beijing alone selling them.
We also learn that Beijing's biggest gay club is called Destination, that it boasts some 800 patrons on an average weekend night, and that Shanghai has even more gay clubs than the capital. That there are still no openly gay politicians or showbiz personalities is also interesting, if not altogether surprising. As for the "man training students in the arts of love," this turns out to be someone called Tango, and he trains "his students," often rich middle-aged men and not students as such, in dating etiquette and not in sexual technique.
Elsewhere "love markets" are described (areas in parks where singles advertise themselves). And among China's paradoxes it's noted that the one-child policy, now modified, has produced a generation in which daughters, considered less desirable than sons, have often become hot properties.
One of the book's highlights is a protracted interview with Wang Yue (王悅, stage name Gia), the vocalist, starting at just 15, with the all-female punk band Hang on the Box, originally formed in 1998. Steinfeld describes her as "the most confident, outspoken Chinese girl I know."
Elsewhere the author describes a Museum of Ancient Chinese Sex Culture in Tongli, Jiangsu Province, refers to doctors who don't know how to conduct a smear test, says the death penalty is sometimes given for possession of small amounts of drugs, claims the belief Chinese-made products are often faulty is common, and that there are online naked chat-rooms (though they're "not widespread"). "China's youth and sexual cultures are evolving faster than the country they are in," the author concludes, which must surely be true.
Essentially the approach of this book is intelligent and sympathetic. Steinfeld talks at the end about her "love affair" with China, and though she's not blind to its problems — she cites poverty, political imprisonment, pollution and forced abortions — her mission appears to be to proclaim to the world that Chinese youth are as tech-savvy and avid for fun as the young elsewhere. Censorship, the author adds, isn't as strict as outsiders assume.
Nevertheless, this remains an account that doesn't have quite the sexual explicitness its publishers lead you to expect. It rarely deals with areas outside Beijing, and its coverage of familiar background topics will interest Westerners who've never left home more than those living in the region. Even so, it's fair-minded, youth-oriented and likely to raise a few eyebrows in places where the media are in the habit of looking for stories less likely to challenge their blinkered preconceptions.
Publication Notes
Publication Notes
Little Emperors and Material Girls: Sex and Youth in Modern China
By Jemimah Steinfeld
230 pages
IB TAURIS
SOFTBACK: UK
Comments will be moderated. Keep comments relevant to the article. Remarks containing abusive and obscene language, personal attacks of any kind or promotion will be removed and the user banned. Final decision will be at the discretion of the Taipei Times.