Bubbling under
Two American expats are living every beer lover's dream — brewing and selling their own beer
Beer. It's the beverage that unites friends, strangers, teams, nations.
Former US president Abraham Lincoln said that people can be relied on to meet any national crisis, if you "bring them the real facts, and beer."
Beer is the world's most popular alcoholic drink — and among all drinks, it ranks third behind water and tea, according to The Barbarian's Beverage: A History of Beer in Ancient Europe.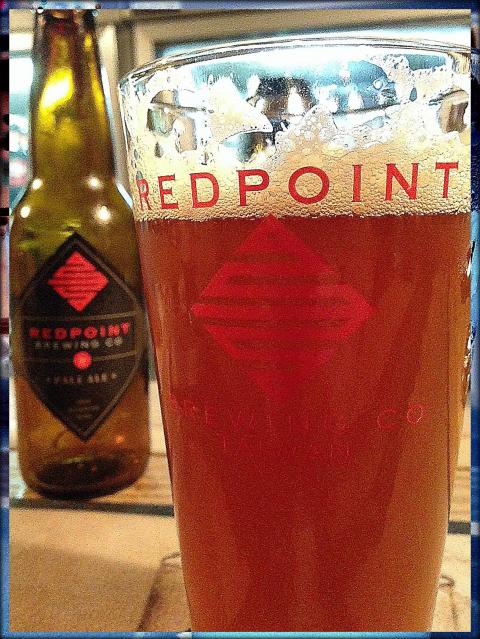 The Redpoint TaiPA is Redpoint Brewery's flagship beer, which the co-founders say is the first local pale ale in the Taiwan market of beers brewed by foreigners. Warning: Excessive consumption of alcohol can damage your health.
Photo courtesy of Redpoint Brewing Company
In the US, beer is a huge industry, with more than 3,000 breweries meeting an unquenchable thirst.
Taiwan, by contrast, has one major brewer — Taiwan Beer — that accounts for about 70 percent of the local market, thanks to the monopoly it enjoyed from 1947 until 2002, when the country was required to open up its markets if it was to join the WTO.
A handful of independent craft brewers have since joined the scene, but they remain largely unknown, except among the most discerning of beer drinkers.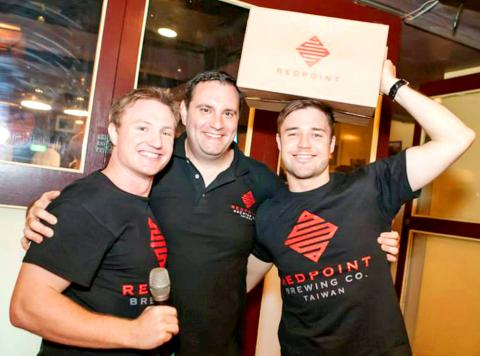 Spencer Jemelka, left, Doug Pierce, center and Tom Gray are pictured at Redpoint Brewery's launch at Brass Monkey in Taipei in March last year.
Photo courtesy of Brass Monkey
Spencer Jemelka, 29, and Doug Pierce, 39, both from the US, but who now call Taiwan home, are the founders of Redpoint Brewing Co, which has been making a name for itself among local drinkers since its launch a year ago.
The two men met seven years ago on the Bailing sports field in Taipei's Shilin District (士林), with a mutual love of rugby bringing them to the Taipei Baboons rugby club.
The pair also shared a love for beer, but found the variety of brews available in Taiwan lacking compared with the rich array in their homeland.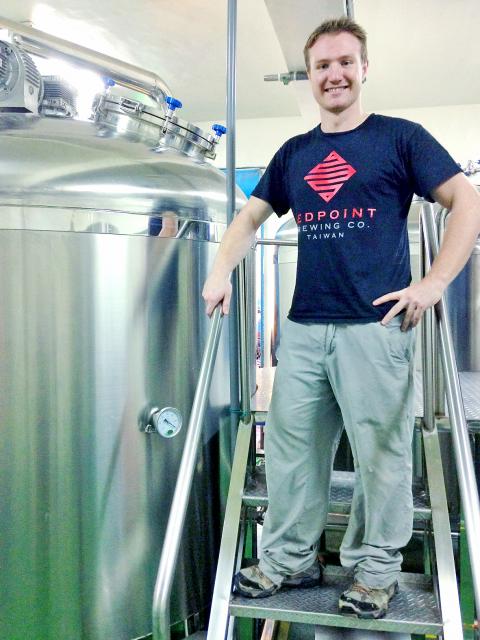 Spencer Jemelka monitors brewing at Redpoint Brewing's contract brewery in Hsinchu last year.
Photo courtesy Redpoint Brewing Company
Their solution? Brew their own beer.
REACHING THEIR REDPOINT
However, getting started was not easy, as the pair found it difficult to find ingredients and equipment.
Homebrewers in the US number 1.2 million, according to the American Homebrewers' Association, while here, it would be safe to say the industry is fledgling at best.
Lack of ingredients was one thing; lack of brewing experience was another.
"Everything was self-taught," said Jemelka, a sandy-haired, broad-shouldered scrumhalf from Boulder, Colorado who came to Taiwan in 2008 to study diplomacy at National Chengchi University.
So began many hours of beer research — reading books and online materials as well as watching Youtube tutorials.
What started out as a hobby soon took on a life of its own, as the two men honed their craft over many brews, and they started to find that it was too much for them to consume on their own.
So they started giving out samples to their friends, "mostly on the rugby team, because they'll drink anything," Jemelka said.
Soon they were making new brews every two weeks, so popular was their drop.
"People started telling us, 'you know what, this is getting pretty good,'" Jemelka said. "Then we had an idea this was something special. That was sort of when the light went on."
That light was the idea that the two men could make a business of their passion — Redpoint was born.
The name Redpoint will catch the eye of rock climbers, as it is a term that means reaching the end of a climb you have attempted before without falling.
It can take many attempts to complete a climb successfully — to reach your redpoint.
"It means basically practice makes perfect," Jemelka said.
It's a notion that has held true during this journey for the pair — for whom rock climbing is yet another one of their passions — as they upgraded from a 20L system to a 100L system, perfecting their recipe again and again.
"Each time [we upgraded], we practiced our recipe until we got it where we wanted it," said Jemelka.
With their recipe perfected, they approached a contract brewer in Hsinchu, who now brews their beer using a 2000L system.
PIONEERS
Jemelka and Pierce say they take pride in being the first foreigners to introduce a local pale ale to the market.
The Redpoint TaiPA (台PA) — a play on words combining the first character for Taiwan with IPA (Indian Pale Ale) — is their flagship beer.
It's an American-style IPA, full of hops, which took 80 brews to perfect.
They use an aroma hop known as Cascade to bring a slight grapefruit taste to the beer, while the bitter hop, called Sorachi Ace, is from Japan. They add this in the beginning of the boil to give the beer its trademark bitterness.
While the trend in brewing in the US is to make highly bitter IPAs, Jemelka and Pierce resisted, deciding instead to push the hop aroma characteristics of their beer.
"It was a risk," Jemelka said. "When we brewed it, people were very surprised — we were using 20 times more hops than anyone else was. They thought it wouldn't work."
That is, their doubters didn't think the local market would be ready for a more bitter beer.
"It turns out that's not really the case; we've had really good feedback on our IPA," Jemelka said.
Their second beer, Redpoint Long Dong, is what the pair call their "session beer" — a brew that has a lighter flavor and is easier to drink over a longer period. It is named after one of their favorite rock-climbing spots, Longdong (龍洞), on the northeast coast.
The Long Dong lager is proving popular as a draft beer, but that also comes with its own challenges.
Pierce said that manufacturers are responsible for putting a draft system into a bar, so its cost and maintenance fall back to the brewer.
As much as they would like to, due to financial constraints, they are not able to put draft systems in bars all over Taipei.
"People ask, but we have a waiting list," said Pierce, a towering front rower for the Baboons, who came to Taipei 13 years ago.
TACKLING CHALLENGES
Born in Peoria, near Chicago, Pierce is a Baboons veteran who once overpowered a famous Samoan international at a Manila 10s tournament, and it is this fearlessness, along with business savvy, that steers the him through the firm's many challenges.
He and Jemelka want to expand from their contract brewer to their own brewery, which would allow them to have more control over the brewing process and more flexibility with their brews — as well as the addition of new brews — but this also requires capital.
Morever, there is the challenge of sifting through, understanding and abiding by government regulations, which, Pierce says, are largely vague, and if they misstep, could bring everything crashing down.
"That's scary from a business perspective," Jemelka said.
Current zoning laws also mean that the firm's brewery would have to be in an industrial zone outside of Taipei.
Jemelka says this is because of the misperception that brewing beer is a dirty process.
"You have to be extremely clean, otherwise you make bad beer," he said.
While it is becoming more popular for restaurants to sell their own beer, usually brewed on site (known as brewpubs) it is difficult to do this in Taipei due to zoning laws.
In the US and Europe, a whole industry has risen around the brewpub concept, and it's a dream the pair have for Taipei.
"How cool would it be to be able walk down the street here and have someone just making their own beer and selling it at their restaurant? That's so common all over major cities in the US," Jemelka said. "So it's frustrating that Taiwan has these regulations around making beer."
Another challenge for the brewers — and the domestic industry as a whole, they say — is the relatively high tax on beer, which is NT$26 per liter.
While Taiwan Beer, which has a stronghold on the market, can afford to sell its beer cheaply, for smaller brewers, it's a struggle.
"I'm not against paying some sort of a tax, but at this rate, it is stifling the industry," Pierce said, adding that the pair one day hopes to export their beer.
"Craft beer is expensive, and for many Taiwanese, it is prohibitively expensive," Jemelka added. "People's tastes are beginning to change though. The popularity of craft beer is growing."
RISKS AND REWARDS
Like any business, the territory comes with risks, and Jemelka and Pierce have put it all on the line. They have both given up their jobs — Jemelka as a manager in a software company and Pierce as business consultant — to focus on Redpoint full time.
But what do their families and friends think?
"My family thought I was nuts," Pierce said. "I'm almost 40 years old, and here I am giving up a good job to make beer. But I wouldn't have it any other way. I wouldn't [do] anything else. I love making beer."
Jemelka had a mixed response at first: "My mom was very supportive; my dad said: 'Don't do it.' But once I made the choice, they were extremely supportive."
Their friends, perhaps unsurprisingly, are 100 percent behind them.
"We have plenty of quality testers," Jemelka joked.
While challenges remain, the pair's upbeat attitude reflects their indomitable spirit on the rugby field, tackling challenges head-on and enjoying the unexpected journey their love for beer has taken them on.
"We're doing something we love, and we're sharing what we love to do," Jemelka said. "It's been an adventure for sure."
Warning: Excessive consumption of alcohol can damage your health.
Comments will be moderated. Keep comments relevant to the article. Remarks containing abusive and obscene language, personal attacks of any kind or promotion will be removed and the user banned. Final decision will be at the discretion of the Taipei Times.