Taipei Watcher: Hawking a 7-Eleven education
The large number of higher education institutions has turned students into consumers and teachers into salespeople
If you were a university professor, what would you do if your students kept playing with their smartphones or tablets in class? Assistant professor Lin Wan-hua (林婉華) banned their use. And guess what? She was almost fired by Da-Yeh University (大葉大學) in Changhua County, where she has taught English at its International Language Center for 14 years.
STUDENTS AS CUSTOMERS
After banning electronic devices, Lin got into an argument with a student who refused to turn off his smartphone. The student later filed a complaint to the university. Surprisingly, the school allegedly threatened to dismiss Lin over the dispute.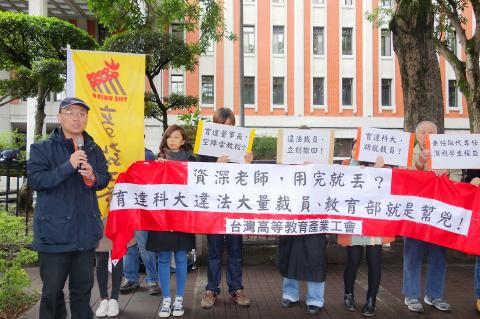 A group of laid-off teachers protest in front of the Ministry of Education in mid-January, when they accused Yu Da University of Science and Technology of illegally firing over a dozen senior teachers.
Photo: Wu Po-hsuan, Taipei Times
According to a report in the Apple Daily (蘋果日報), the university told Lin not to return [for work] next week and give back her letter of appointment voluntarily. "Student satisfaction is our concern," the school reportedly told her when suggesting that she resign.
The university apologized to Lin after she filed a complaint with the Taiwan Higher Education Union (高教工會), claiming that it did not force her to resign. Although the case came to an end on the surface, it highlighted a serious problem in Taiwan's higher education.
"More and more universities are seeking profit, as if they are operating department stores, treating students as their customers and educators as their salespeople," said professor Kuo Li-an (郭麗安) of National Changhua University of Education (彰師大), adding that having to ingratiate oneself with students can curb a teacher's ideals and enthusiasm.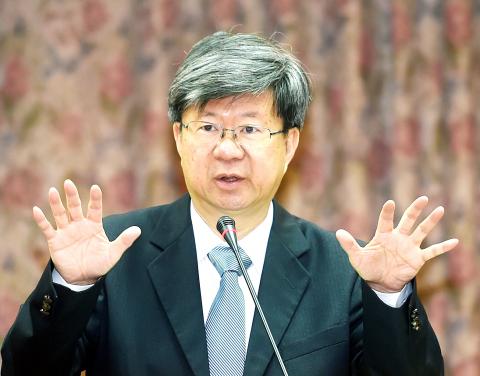 Minister of Education Wu Se-hwa discusses the Higher Education Innovative Transformation Program at the legislature on March 30.
Photo: Fan Pin-chao, Taipei Times
"Is this the kind of higher education that we want?" she asked, stressing that the Ministry of Education (MOE) should rein in the practice by setting up evaluations for universities.
THE CUSTOMER IS ALWAYS RIGHT
The cause of the problem is obvious: there are too many colleges and universities competing for too few students. No wonder most schools are treating students as customers.
Given this situation, more and more teachers are forced to curry favor with students to keep their jobs — because "the customer is always right." Not to mention that their performance is directly graded by those picky "customers" at the end of each semester.
The problem originated in the 1990s under then president Lee Teng-hui (李登輝), as the Cabinet's Education Reform Committee (教改會), led by then Academia Sinica president Lee Yuan-tseh (李遠哲), urged the government to establish more universities because it was thought that this would boost the overall quality of Taiwan's labor force. Politicians jumped on board because it attracted votes.
The situation got out of hand when then-president Chen Shui-bian (陳水扁) realized the campaign promise that there would be "one [public] university for each city and county" (一縣一大學). By 2007, the number of universities had ballooned to 164.
Today, there are still 159 universities in this country of 23 million, including graduate institutes offering 851 doctoral programs as well as 3,334 master's programs. Some people joke that Taiwan has almost as many graduate programs as convenience stores.
And with the birthrate declining, some schools have barely been able to recruit enough students. Two private universities closed last year, and at least one is slated to close this year.
THE MOE'S PLAN
To prevent the situation from getting worse, the MOE proposed the Higher Education Innovative Transformation Program (高等教育創新轉型方案) on March 27, planning to merge or close eight to 12 of the 51 public universities and 20 to 40 of the 108 private universities in the nation by 2023.
To achieve this, four strategies were drawn up: forcing under-performing universities to close down, introducing teachers into other domains or industries, encouraging schools to develop their own characteristics and promoting school cooperation to integrate educational resources. However, the success of the program lies in whether the MOE can effectively implement it.
For example, the MOE's policy is expected to throw as many as 11,000 full-time and countless part-time university professors into unemployment in the next few years. Despite the ministry's promise to protect teachers' rights, some private universities are already firing teachers.
A group of laid-off teachers staged a protest in front of the MOE in mid-January, accusing Yu Da University of Science and Technology (育達科大) in Miaoli County of illegally firing over a dozen senior teachers to save costs when two departments stopped recruiting students last year.
"Many of the laid-off faculty were named outstanding teachers in the past, but the MOE directly approved the school's dismissal plan without reviewing our performance," said Hu Kuei-ling (胡桂玲), a lecturer who was dismissed after teaching at the school's Department of International Business for over 14 years when it suddenly stopped recruiting students last year.
According to Article 15 of the Teachers' Act (教師法), when dealing with a course or organizational adjustment, the "school or the authorized educational authorities will first help transfer those qualified teachers who would like to continue teaching or have other suitable work."
But the university simply fired Hu and other full-time teachers while hiring part-time teachers to save money. The protesters said that the school did not even hold any teacher's review committee meeting as required by law.
PROTECTING TEACHERS' RIGHTS
Although the MOE promised to hold a meeting with school and teacher representatives in July last year, it failed to keep its promise and rashly approved the school's dismissal plan in January this year. None of the teachers had a chance to defend him or herself.
The Taiwan Higher Education Union criticized the MOE for acting like an "accomplice" for schools by approving the flawed and illegal dismissal plan.
Encouraged by the government's higher education policy in the past, many great talents studied hard to earn their doctoral degrees and then devoted themselves to their schools and students wholeheartedly. Unfortunately, the MOE plans to close down dozens of universities in the next few years, and Taiwan's higher education crisis is about to explode soon.
The MOE should protect the rights of schools and students. But it shouldn't be at the expense of teacher's rights. More substantial action must be taken to prevent unjust dismissals from occurring in the future.
Comments will be moderated. Keep comments relevant to the article. Remarks containing abusive and obscene language, personal attacks of any kind or promotion will be removed and the user banned. Final decision will be at the discretion of the Taipei Times.